Office Design
Updated 2/2/23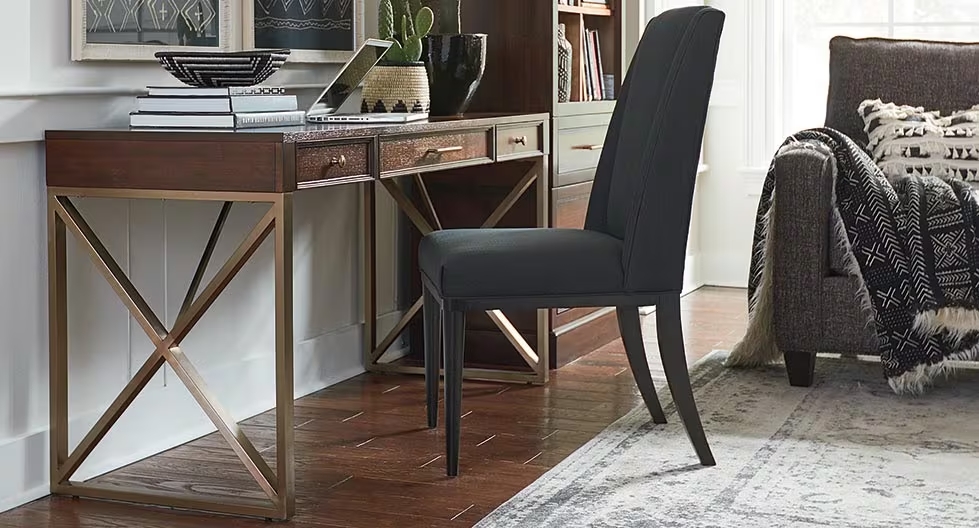 When it comes to home office design, your lifestyle and the space you have available make all the difference. Creative interior designs for home offices can help you feel more productive and stylish while doing your work. See how to get started here.
This article comes in two parts. First, we'll look at some general design tips to make sure you get the most out of your small office layout. Second, with the help of diagrams, we'll provide some tips on how to arrange a small office layout.
Office Design Tips
Below are some general tips for office design, including storage and furniture considerations that can help maximize your space
1. Organize Your Space with Modular Storage
Many home offices have limited square footage, which just means you have to organize your space efficiently – both vertically and horizontally. Using your wall space helps get papers and office equipment off the desk, yet allows you to keep important papers and office tools within arm's reach.
Think about your current storage needs, and then consider how those needs may change over the years. Will toy shelves one-day display books or picture frames? Make sure the storage pieces you buy will house what you already have and can easily accommodate additions.
Both open bookshelves and modular storage, such as the pieces found in the B-Logic collection, allow you to change the interior designs for home offices as your needs change, or as your role changes. Perhaps you'll find that you pace during conference calls, or you telecommute more often than you expected.
With modular storage like the Compass Tall Wood Double Display Cabinet, you have the flexibility to use each space for books, knickknacks, or baskets of odds and ends. Your furniture can't anticipate your needs, but it can have the versatility to adjust to them.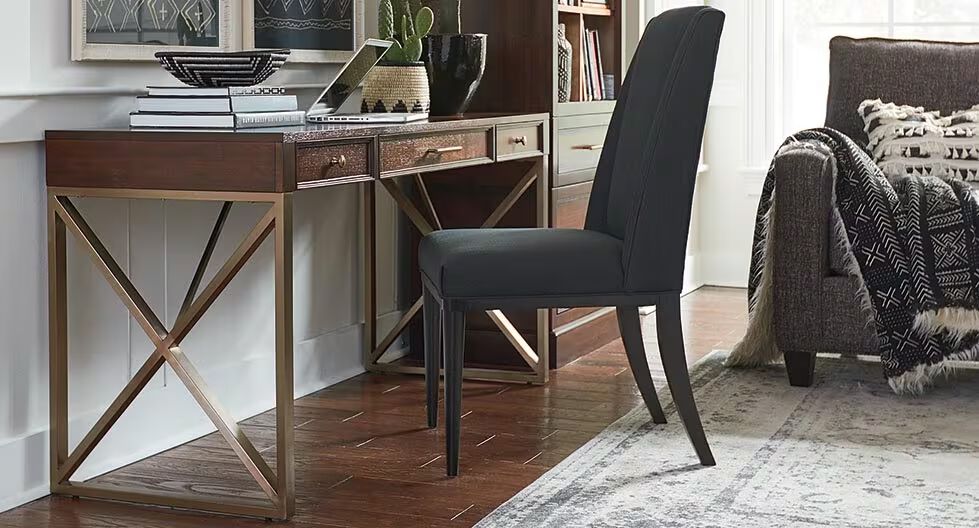 2. Choose the Right Type of Home Office Desk
There is a different type of home office desk for any type of work you might want to do at home! Various styles and footprints can fit your needs, depending on whether you have a laptop or a desktop computer, and how much space you have.
• A corner desk like the Commonwealth Corner Desk Set combines storage and function, and also provides extra legroom.
• A writing desk like the one found in Bassett Furniture's Sheridan collection has a smaller footprint that integrates well into a quiet corner or can sit behind a sofa.
• A credenza, which is a desk with an attached cupboard, works well in dining or living rooms.
• Bassett's Sheridan collection also features an executive desk that features larger dimensions, incorporating a large work surface and storage. The scale of these desks makes them ideal for a dedicated home office.
3. Maximize Space with Multi-Purpose Furniture
Your home office furniture arrangement is so much cozier than a cubicle. For a dedicated home office space that only sees occasional use, mixing in upholstery is one way to help the room get as much use as possible. Adding two small chairs or a sleeper sofa creates guest seating and also allows the room to do double duty as a guest room.
Do you work with clients in your home office, share the office with someone else in the family, or help out with homework or household tasks? An upholstered dining chair makes a great solution for extra seating.
4. Choose an Interior Design That Complements Your Home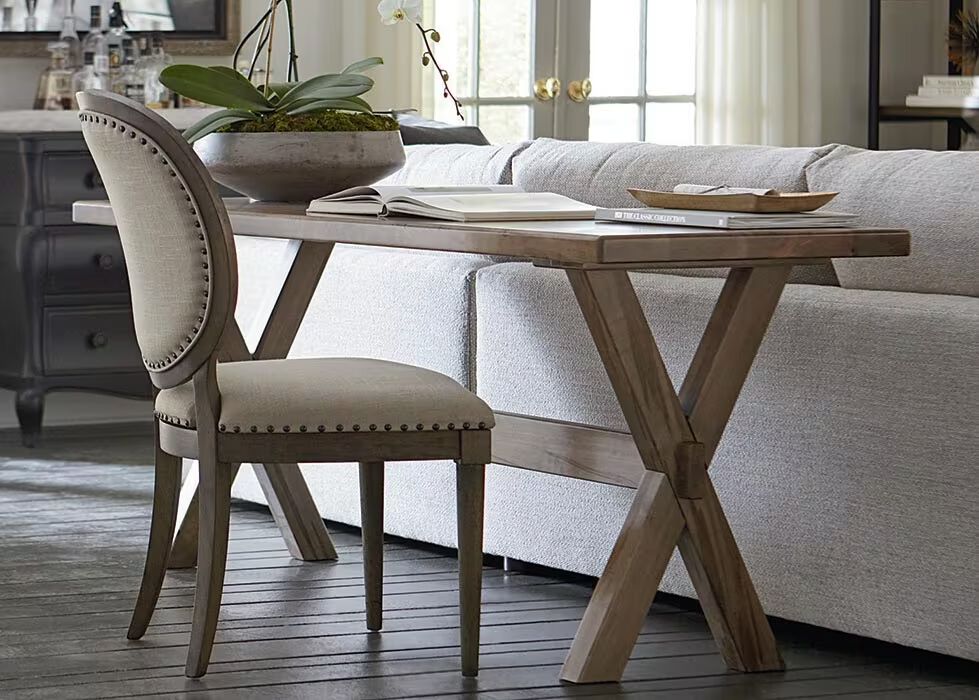 Consider your workflow and what items you need to have close at hand before selecting home office furniture. Then look for pieces that are functional but reflect the rest of your living space. Functional pieces are easy to find in our featured home office.
If your home has contemporary decor, artistic pieces or modern metal furniture are ideal. If your home is traditional, your home office might feature warm wood and soft, comfy chairs, or even a loveseat.
Office Furniture Arrangement (With Layouts)
Home offices don't have to be big to be functional. You can take advantage of the space you have by taking the time to arrange the furniture in a way that works for the room and for you. Check out these three small office furniture arrangements for ideas on how to revamp your home workspace.
1. Extra Seating in the Front, Business in the Back
If you need space in your small home office for guests and clients, this furniture arrangement is the perfect setup. By pushing the desk to the back of the room, you can free up floor space for extra seating and still have room to place bookcases on either side of your desk for additional storage. Just be sure to choose smaller chairs and a small accent table to avoid overwhelming the space with furniture.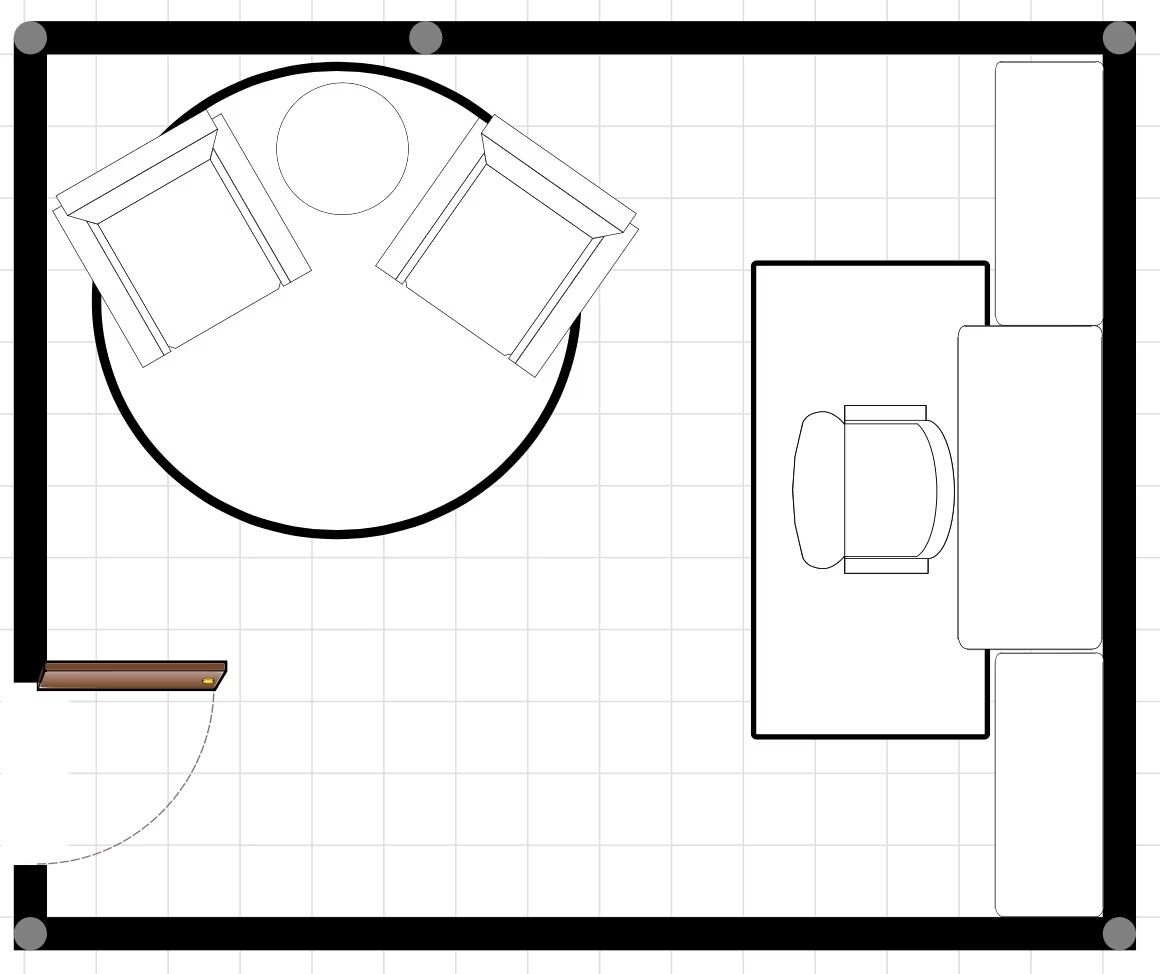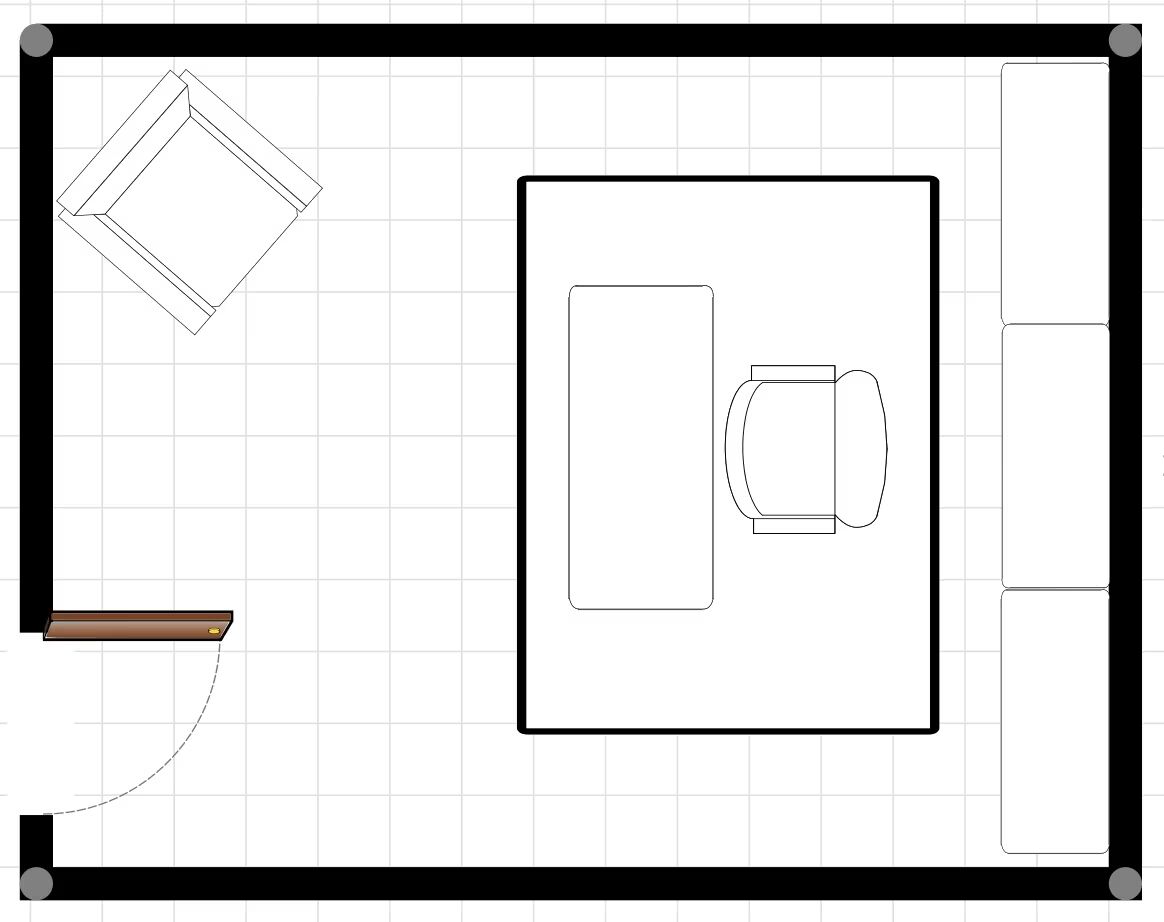 Your desk is where you get your most important work done, so why not let it take center stage in your home office? By moving your desk and chair away from the wall, you can free up that space for bookcases or custom storage units. If your room is large enough, you can place a small accent chair in the corner for guests, clients, or Fido. To break up the room, try adding a large rug directly in the middle (under your desk).
3. Corner Desk, Lots of Storage
Corner desks are a great way to utilize every bit of space in a small office. This layout packs in as much storage as possible by placing two filing cabinets and two bookcases on either side of the desk. Again, we've thrown a chair in the corner because you never know when you're going to need extra seating. Or just when you want to escape from your desk chair for a little while.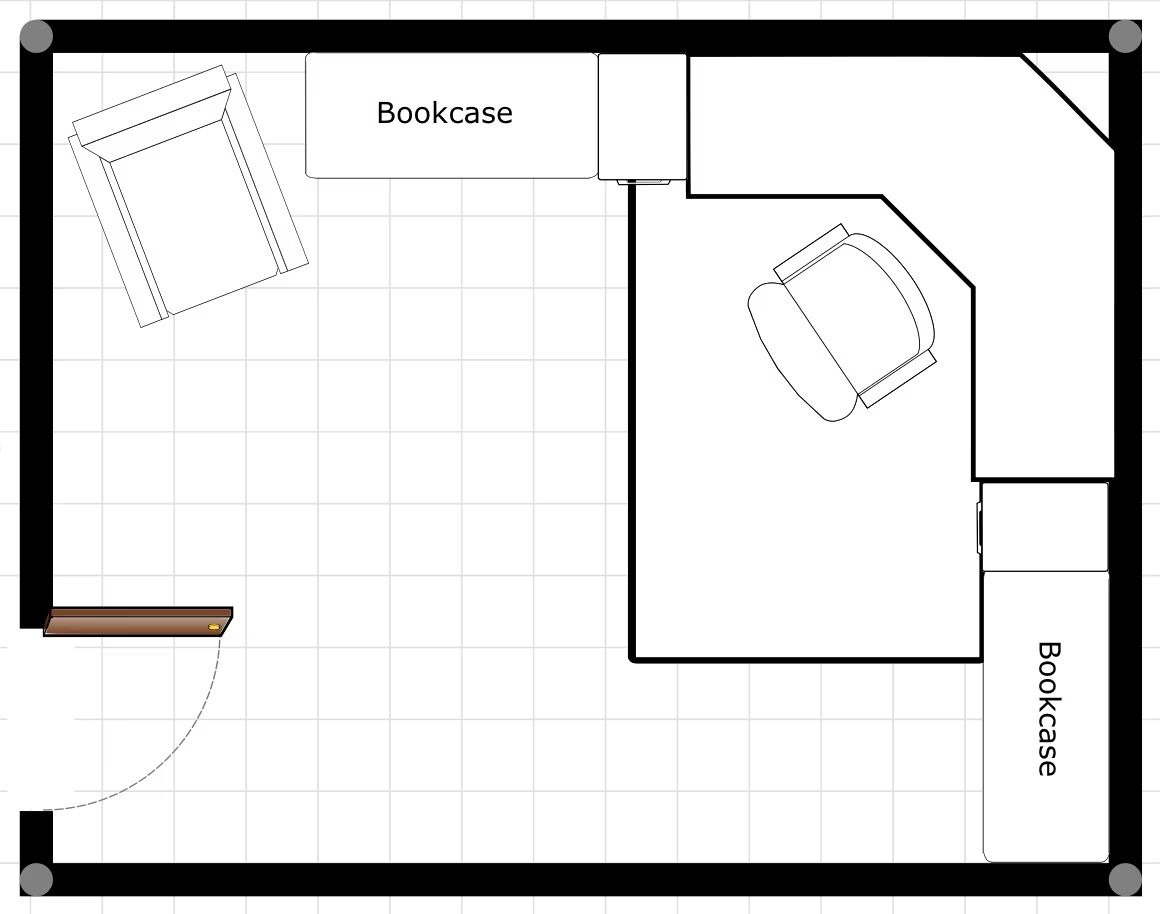 Design Your Home Office With Bassett
With thoughtful home office design, your workday can be the best part of the day. Whether you're looking for a desk, filing cabinet, extra storage, bookcases, or open shelving, shop Bassett Furniture's complete selection of home office furniture and start making your interior design for your home office a reality.