Dining Room Decorating Ideas That Will Wow You
Updated 3/31/23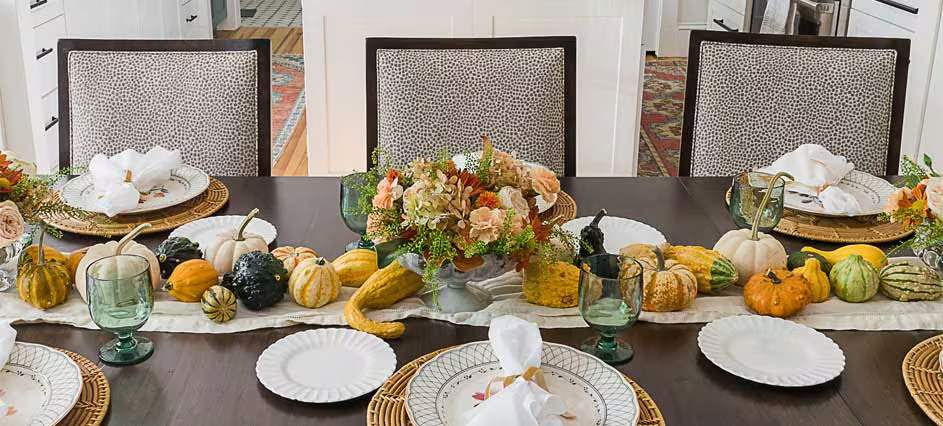 If you're like most people this time of year, you probably spend a lot of time entertaining in your home. Whether it's just family or a larger group, the dining room is often the setting for holiday meals and family celebrations. A dining room is where you can show off your style and taste, not only with what's on the table but with the furniture itself.
If you're looking for some inspiration for how to showcase your personal style in your dining room, here are some ideas that will help make your next Fall gathering a hit.
Finding your Dining Room Style
The dining room is often the most formal space in the home, and it can be a great way to showcase your personal style while entertaining guests. While some people prefer a traditional dining room with heavy furniture and embellishments, others prefer an ultra-modern and sleek look. The right table and chairs can set the vibe for the room.
When deciding on what kind of table to buy for your dining room, think about how much entertaining you plan to do in this space. If you're hosting large parties or family gatherings regularly, then you'll want a table that can accommodate everyone comfortably without elbows crowding into each other.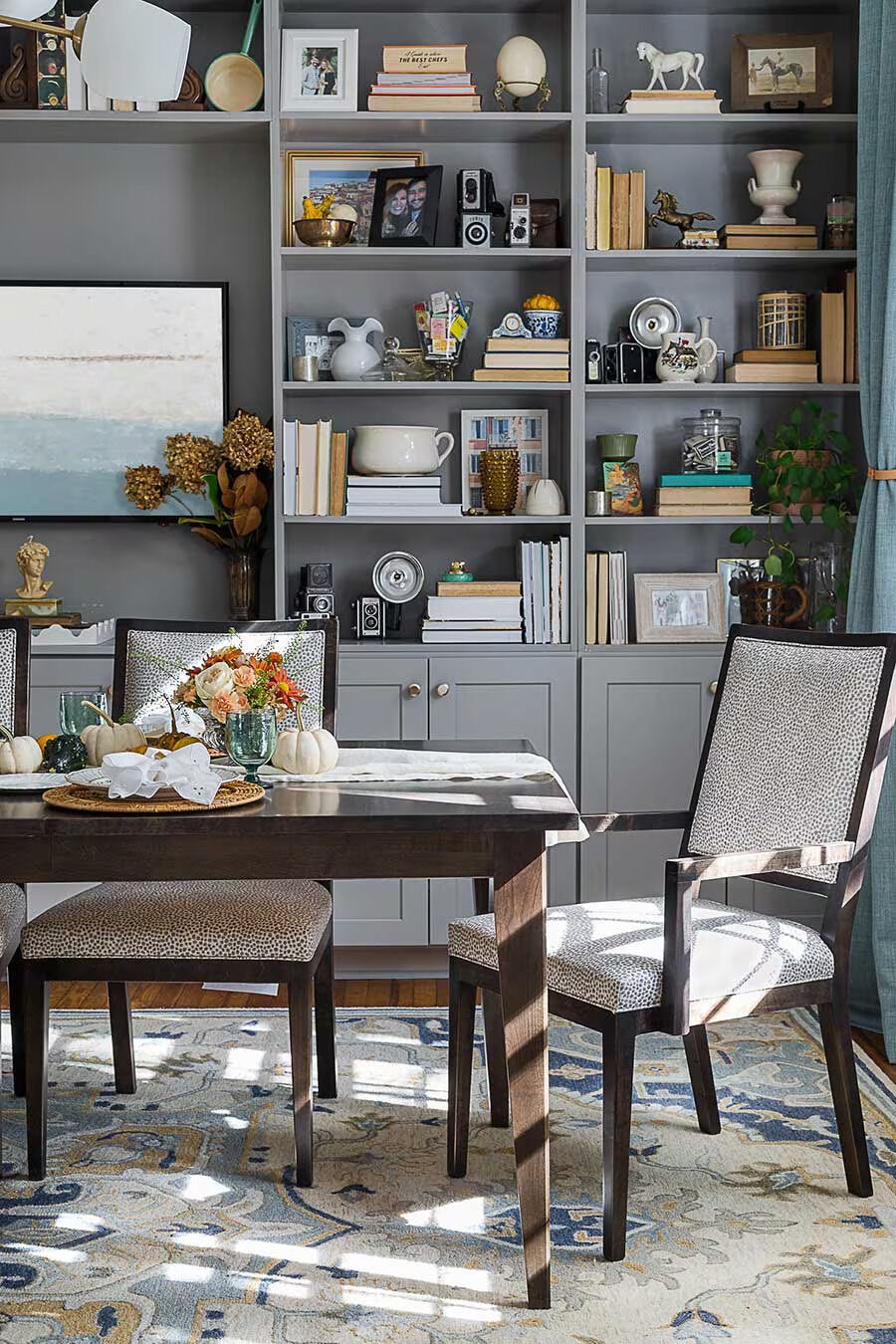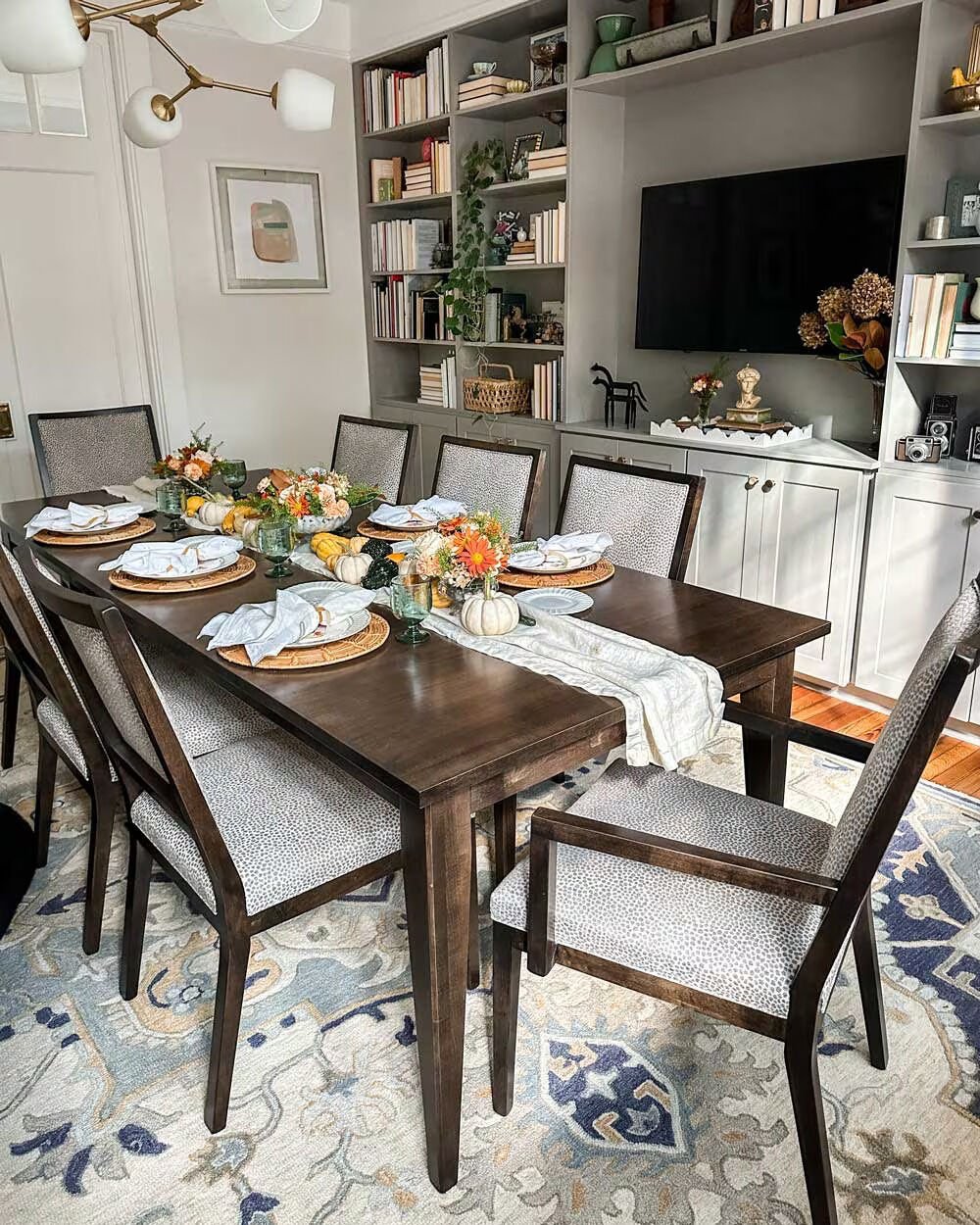 If you're not sure how often you'll be entertaining at home, then consider purchasing a smaller table that fits your needs now but can easily be expanded or changed if needed later. A table with an expandable leaf is a great option if you want the choice to host more people in the future without the table usurping your room now.
Chairs help elevate the style of the room, and they don't always have to match the wood of the table. They are integral to the comfort of your guests during dinner, so whether you get an upholstered or unupholstered chair, consider how your guests may feel sitting in the chair for an hour during dinner. Chairs are also a great way to add color and pattern to a white dining room thanks to a variety of options in upholstery.
Showcase Your Entertaining Style
You'll want to find an entertaining style that suits how you like to host guests. Will you be setting up a buffet and let guests come and go as they please? Are you inclined to have family-style meals where everyone passes the dishes around the table? Or do you opt for a more formal, seated dinner route?
Knowing how you like to entertain guests will help you create an optimal dining room and can plan fall decorations accordingly.
Decorating for Fall Holidays
Fall is a time of harvest, so why not decorate your dining room for fall holidays using natural elements foraged outside alongside other earth-toned items?
Using natural elements like mums and pumpkins will add a rich texture to your table. The colors of these pieces can be used as inspiration for your table setting as well as the overall look of the room. Mixing a variety of soft (flowers) and hard (pumpkins) items make for an interesting display during the fall Holidays.
Fall colors are synonymous with Earth tones. When choosing to outfit your table, look to rich rusts, medium ochres, and soft creams to play up for your fall table. Whether you incorporate just a pop of heavy color or saturate your table with it, using these colors will instantly add a welcoming feel to your table.
In the end, the decorating style you choose should be reflective of your own unique personality—you want your dining room to reflect who you are and how you invite guests into your home. If you're stuck deciding which theme to incorporate into your design, don't be hard on yourself.
The most important thing is welcoming people into your home and connecting during the Holidays. By incorporating your personal style into the way you like to entertain, you can create a beautiful dining room that is functional for your family and guests.
For more dining room design ideas, shop Bassett online or in-store or book an appointment with a Bassett Design Consultant.