Coffee Table Decorating
Updated 9/20/22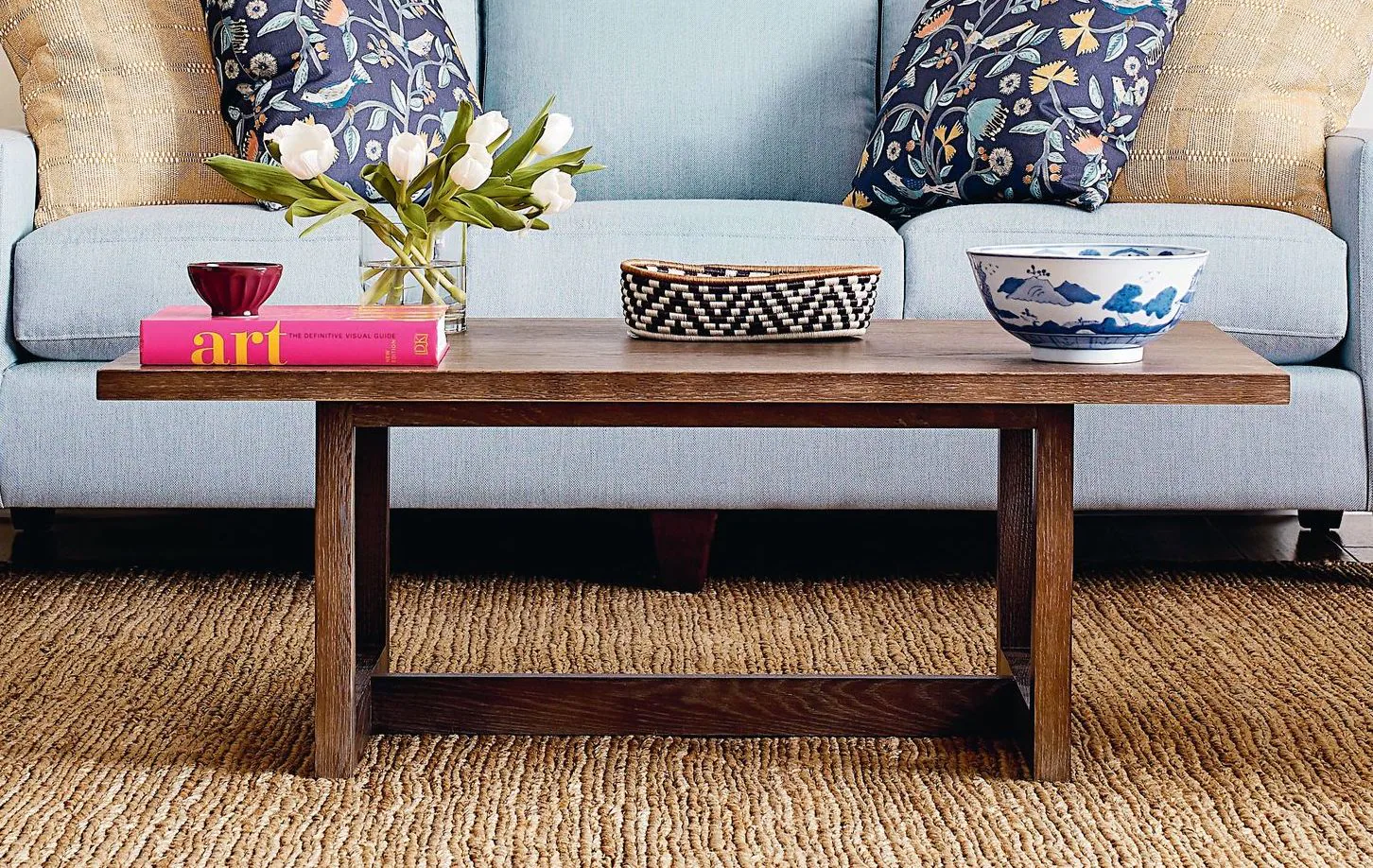 The best part of decorating the table in your living room is that you can change the way it looks as often as you'd like. It can be a place to hold food during parties, set presents down for birthdays, decorate for each holiday, set out pictures of loved ones, and so much more! With the help of one of our stylists, this guide will provide tips and ideas for living room table decor for your console, sofa, end, or coffee tables.
How to decorate a coffee table
Looking to freshen up your living room? Heather Moore, one of our professional stylists, was happy to share with us some of her top living room table decoration ideas that you can use in your own home:
Stand on the shoulders of giants: When you're looking for coffee table decorating ideas, Heather says by all means "see something you like and replicate it!"
Style while organizing: One thing that's different in the store than in a real living room is that people have remotes. Heather suggests, "If you can corral them in a tray or a bowl that you like, that helps."
Get visual: There are a number of coffee table decoration ideas to make your table a little more interesting without a lot of effort.
Heather suggests using a mix of shapes, materials, and surfaces to keep up that visual interest. (A coffee table like the Bratton Hexagon Bunching Cocktail table may have some of these interesting elements already mixed in!).
Be yourself: Heather has one final tip for styling your table: "Whatever it is you are, be that." In other words, if you're a person who collects interesting items, your home won't ring true if your coffee table holds just a few things selected from a big box store. "Decorate how you are.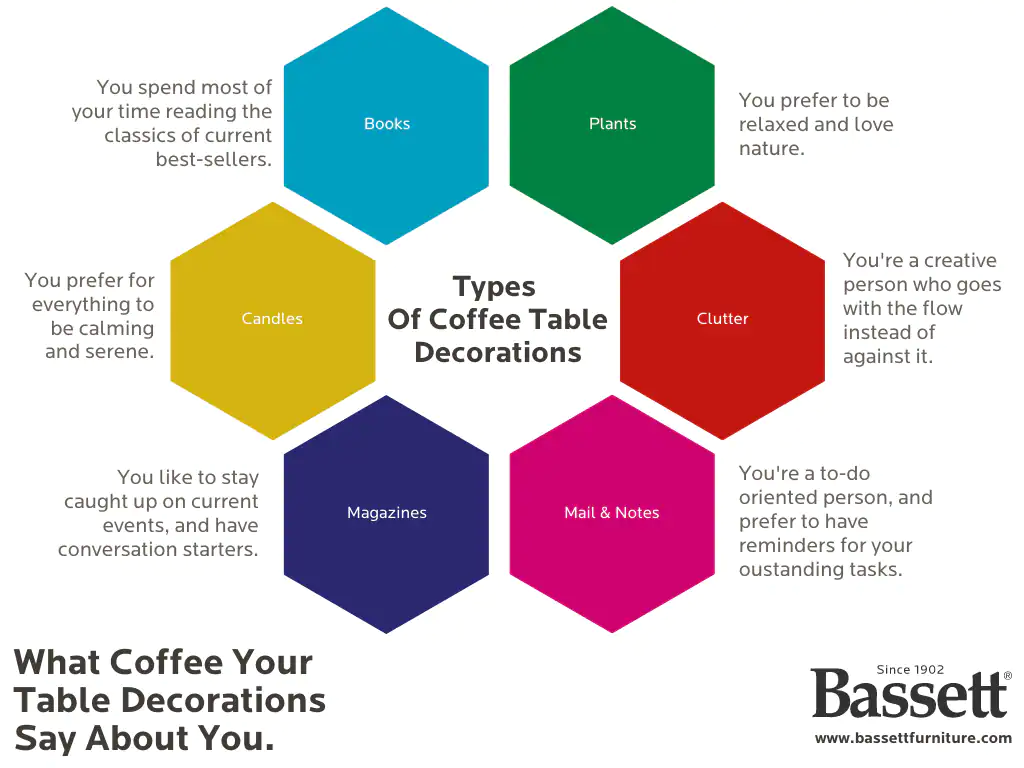 If you're a person who leads a cluttered life, let your coffee table represent that. Don't follow the rule of removing items. Do whatever makes you happy. A worse offense is doing something that doesn't represent you.
Tell a story: Along with that, she says, the best coffee tables are personal, and tell your personal story. "Objects that have meaning to you will speak to others."
Decorating ideas for living room tables
Based on these principles, below are some ideas for decorating your sofa table or coffee table.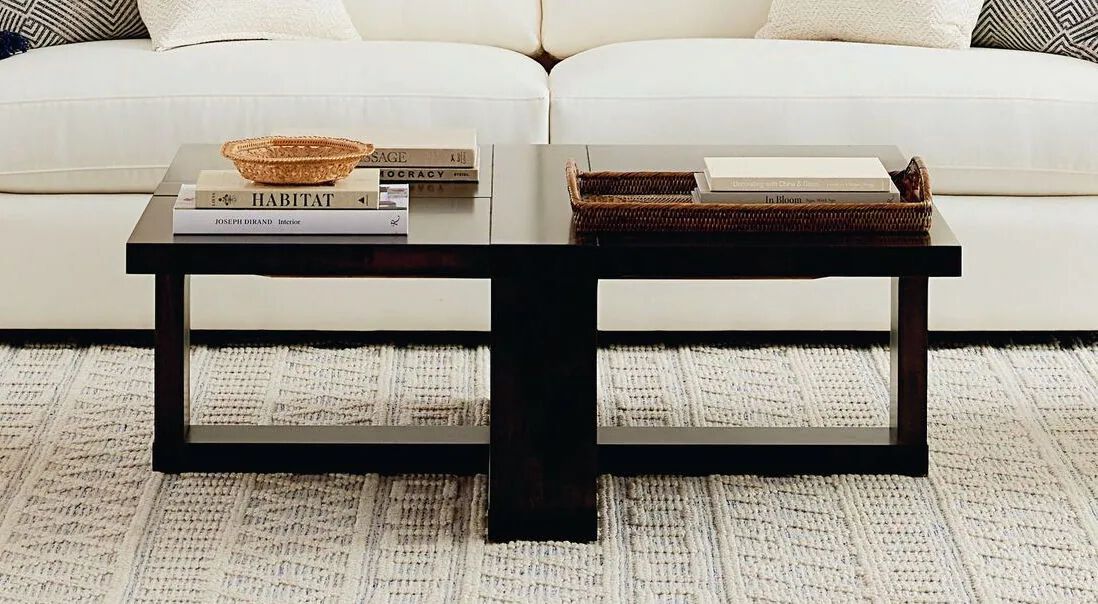 • Books. You can find large "cocktail table" books that are attractive and say something about you. If you have a table with a shelf below, like the Bluffton Rectangular Cocktail Table, you can stack some on the lower level as well.
• Bowls. A larger statement bowl, or smaller bowls to stack on top of books, provide an interesting variation in shape.
• Trays. Using a tray to corral items "does a little more to elevate the look." In particular, with round cocktail tables, Heather likes to use rectangular and square trays "so you don't have a circle on the circle." One of her favorite tables to style was the Artisinal Tray Cocktail Table, which has three trays included.
• Natural elements. Chunky wood beads bring in a little bit of texture. Books are all slick surfaces, and a tray might be a sleek surface. Natural elements that introduce a variation in texture, like bowls made from a woven material, are a nice way to introduce visual interest.
• Plants. Always, plant life – either a house plant or a bouquet of flowers – is a good thing.
• Try metallics mixed with textural wood objects.
• Use a soft, fuzzy throw on the sofa contrasting something sleek on the table.
• Incorporate plant life to create a softness and a balance to the sleek surface of the table.
• A minimalist approach is never a bad idea. People may put so many things on a surface that your eye jumps around. Look again and take a few off.
• a stack of books
• woven bowls that are colorful and fun
• big wooden beads –"I love draping beads over books!"
• a knickknack or sculptural object (but nothing too breakable!)
• spiky balls that are made of metal or wood, stacked on top of books, as shown on the Modern Axel Round Cocktail Table.
How to decorate a console table
Go symmetrical or asymmetrical! For both the orderly and the eccentric, you can choose to add two of each decorative piece, or jazz it up with decor of every size.
Create a focal piece. Choose a dominant piece to feature on your console, whether it be a mirror, artwork, vase, basket, or whatever! You can have it centered or spotlight it on the side. The choice is yours!
While we've mainly focused on coffee tables and centerpieces, it's important not to neglect the console table that may be hanging out against a wall out of direct attention. Below are some tips for decorating console tables: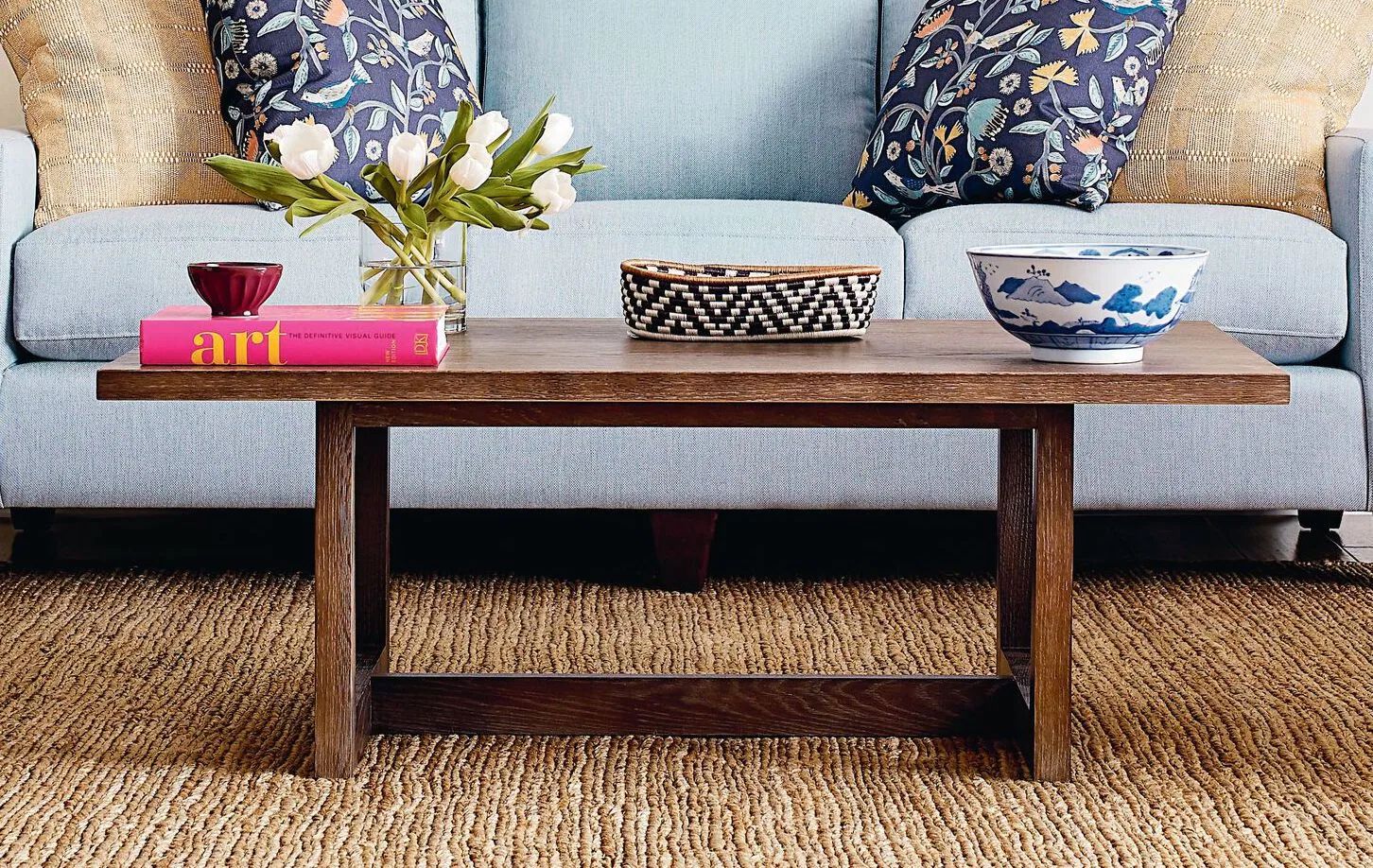 Don't be afraid of white space. There is such a thing as too much decor; so let your console table speak for itself by minimizing what you put on it. After all, the console table alone can be a decoration all by itself.
Add pops of color. Even if your living room has a cohesive color scheme, don't be afraid to go bold with the color of your decor. For instance, if your room is largely decorated with neutrals and blues, add a pop of orange or yellow for an exciting contrast of color.
Put a lamp on it. Have a favorite lamp but don't know where to put it? A console is a great location, as it can help light up a part of your living room that your regular lighting wouldn't have reached. You can also go wild and use a lamp that might not necessarily fit with the rest of your decor.
Sofa table dimensions and height
While there are no standard sizes or even shapes for sofa tables, usually they are narrow — at least 10 inches but no more than 15 inches — offering a stylish accent to the back of the sofa. But design experts agree: don't be afraid to break the rules to accommodate your taste, style of furniture, and layout of your room.
And the placement of the sofa table is also a consideration when choosing dimensions:
• A sofa table paired with a sofa floating in the center of the room looks fabulous when it reaches the height of the sofa.
• A slightly taller table can rise above a sofa when both are backed up against a wall. Such a placement not only adds some visual interest behind the sofa but allows clearance for climate control vents that may be placed on the floor.
• Length is another dimension that should be proportional to the size of your couch. Too long, and it overwhelms the couch and prevents easy passage around the furniture. Too short, and it will be too small for optimal use and will look lost. The ideal length of a coffee table is about 2/3 the length of the couch.
• Just because you love the look of a coffee table in the showroom doesn't mean it's the right coffee table for you. If you have existing furniture, you'll want to choose a coffee table that is the same height or one to two inches lower than the top of the seat cushions on your couch. Its size should allow for comfortable use of the space, and its style should complement your existing furnishings.
• In order to optimize the functionality of your coffee table, place it 16 to 18 inches from the edge of the sofa and any other seating around the table. That's close enough for people to rest a beverage but far enough to allow legroom and walking space between the seating and the table.
• While any furniture choice is a matter of taste, there are some basic rules of thumb for making a furniture grouping look appealing! The dimensions of a sofa table take their cues from the height and length of the sofa. Sofa tables generally look best when they are the same height as the back of the sofa and should be 12 inches shorter in length than the sofa.
Find your style with Bassett