How to Care for Wood Furniture
Updated 9/23/22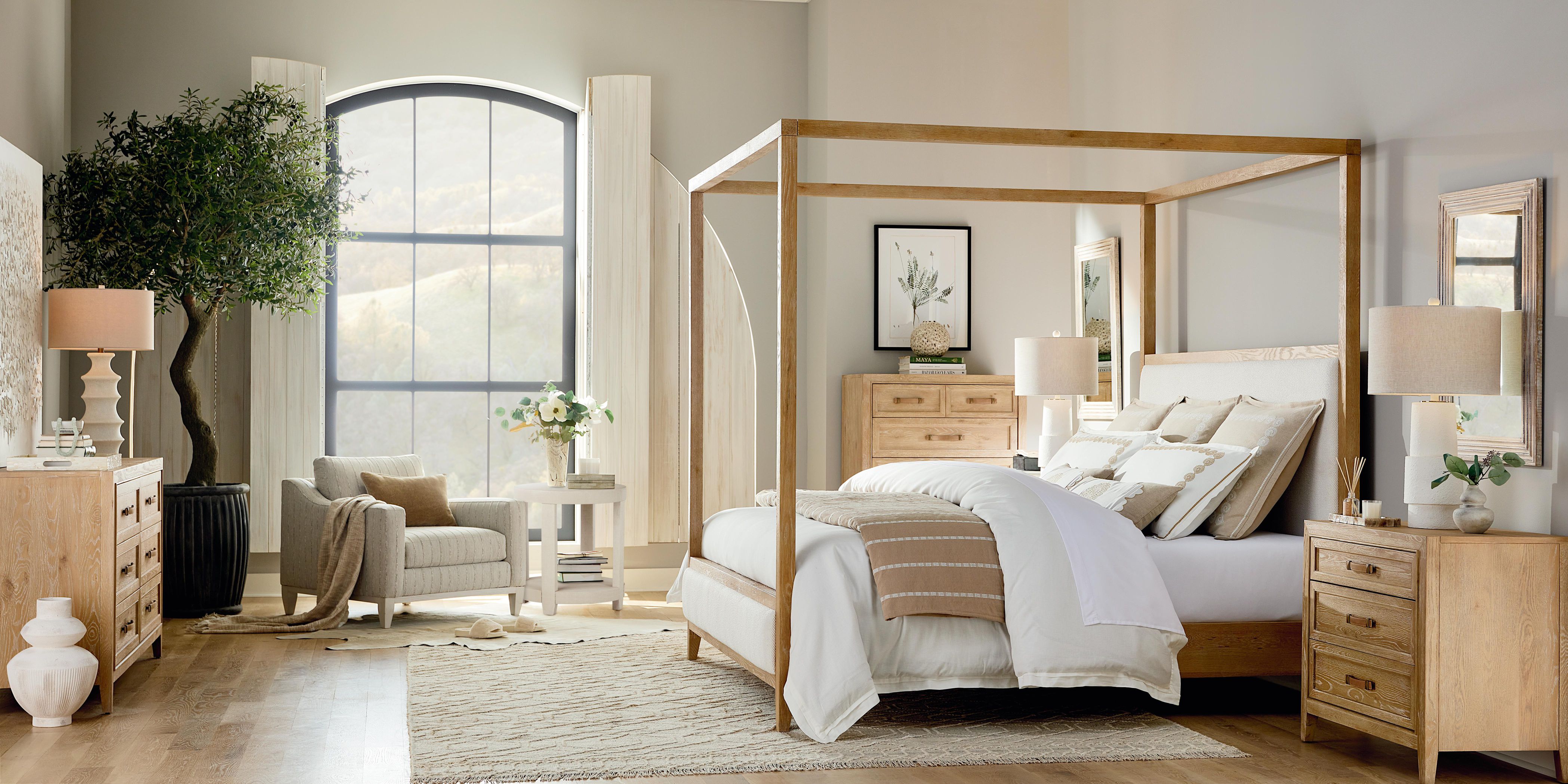 Congratulations! You've made an investment in your home décor. Now that you're sitting back, relaxing, and enjoying your new surroundings, we know you'll want to keep things looking this new for a long time.
The great news is that Bassett furniture is built to last—the same as we did more than 100 years ago. So, with minimal maintenance, your wood furniture will be a lasting masterpiece. Here's what you need to know about how to care for wood furniture.
In this article, we will discuss several ways to maintain, protect, and treat wood furniture (and even flooring). Topics include:
1. Wood furniture maintenance.
2. Protecting wood furniture.
3. Minor touch-up techniques for wood care.
4. How to keep furniture from sliding on a wood floor.
*Bonus: How to age new wood furniture.
How to Maintain Your Wood Furniture
How do you clean wood furniture? How do you repair wood furniture? These are two questions that we get asked a lot. In fact, taking care of wood furniture is easy. You don't have to dust your furniture every day, but we do recommend that you do a quick cleaning once a week. Our goal for this post is to make sure you know what to do if you come across one of your wood furniture pieces that needs some minor repairs, cosmetic work, or more than just a quick cleaning.
Another question we are asked a lot is, why is solid wood furniture expensive? Our answer is simple; the quality. We want to help you protect that quality; here you can find the knowledge to do so.
Regular Wood Furniture Cleaning
Simply wipe down your furniture with a dampened cloth. Then wipe away any remaining moisture with a dry cloth. Use cotton, as synthetic fibers can cause surface scratches.
For Bassett's Custom Dining and BenchMade collections, a performance finish is applied, and that can be cleaned with a 100% cotton cloth slightly dampened with water and a mild dish detergent. Be sure to wipe away any detergent residue, and follow with a clean, dry cloth.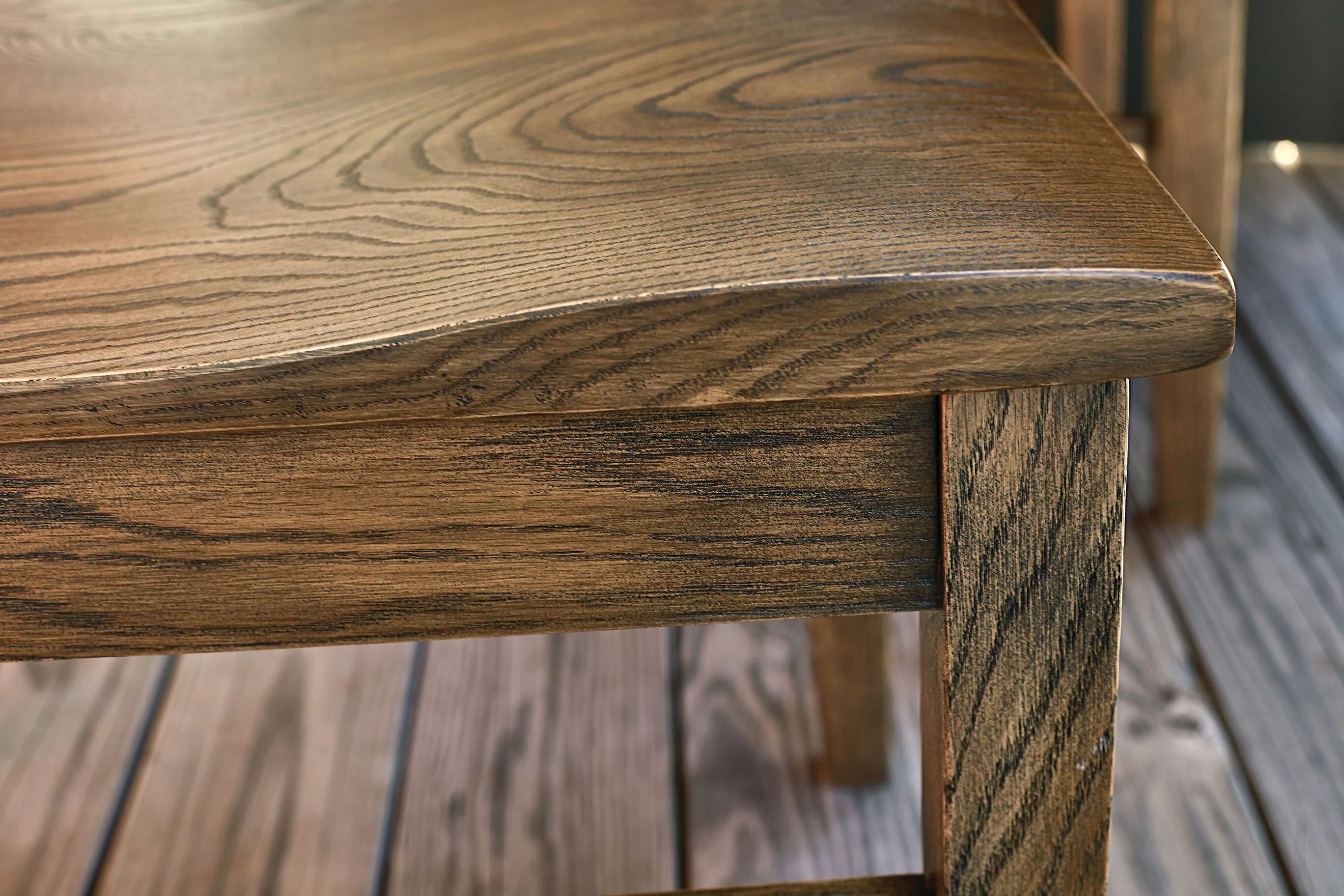 Most finishes today are designed to be low sheen with no "luster." So, to maintain the beautiful finish on your wood furniture, we recommend avoiding wax-based polishes and polishes containing silicone. These products will accumulate in crevasses of the wood grain, contaminate your finish, and detract from the overall look of your furniture.
How to Protect Your Wood Furniture
As with anything you buy, misuse or abuse can create damage over time. So, here are a few do's and don'ts that will help prevent damage to your beautiful wood furniture.
• Always use a coaster under glasses, mugs, plates, etc. Use a pad under hot plates and pizza boxes.
• Hot, cold, or moist items will react with the wood surface and create discolored white rings or other marks.
• Use felt pads under lamps, vases, some coasters. and other decorative accessories that may scratch the surface when moved.
• Avoid allowing plastic, nylon, or rubber materials to remain in contact with your wood surface. This includes the feet on computers, alarm clocks, and other electronics. These items can cause an adverse reaction to your wood finish over time.
• Avoid resting your feet on the furniture. Embellishments and rough or sharp edges on shoes can scratch your wood furniture.
• Don't let pets walk across or scratch your wood furniture. As much as we love our furballs, they can cause inadvertent damage too. Besides, the carpet or your lap is probably a lot more comfortable!
• When writing, place something thicker underneath your paper, such as a book or magazine. Wood is soft, so your handwriting can travel through the paper and onto your tabletop.
• Keep your furniture away from a fireplace and heating and cooling vents; away from moisture sources, such as humidifiers; and out of direct sunlight. As much as we love the sun, it can be brutal. Just look at what it can do to your skin in a few hours or to a newspaper in a day. Daily exposure to heat or sunlight - even indirect sunlight – may fade your wood finishes and dry the wood, which can create cracks over time.
• Control your climate. Wood can swell or contract, depending on the surrounding atmosphere. If you live in a dry area, you may need to use a humidifier in your home. And if you live in a humid environment, you may need to control the moisture in your home.
How to Take Care of Wood Furniture: Minor Touch-Ups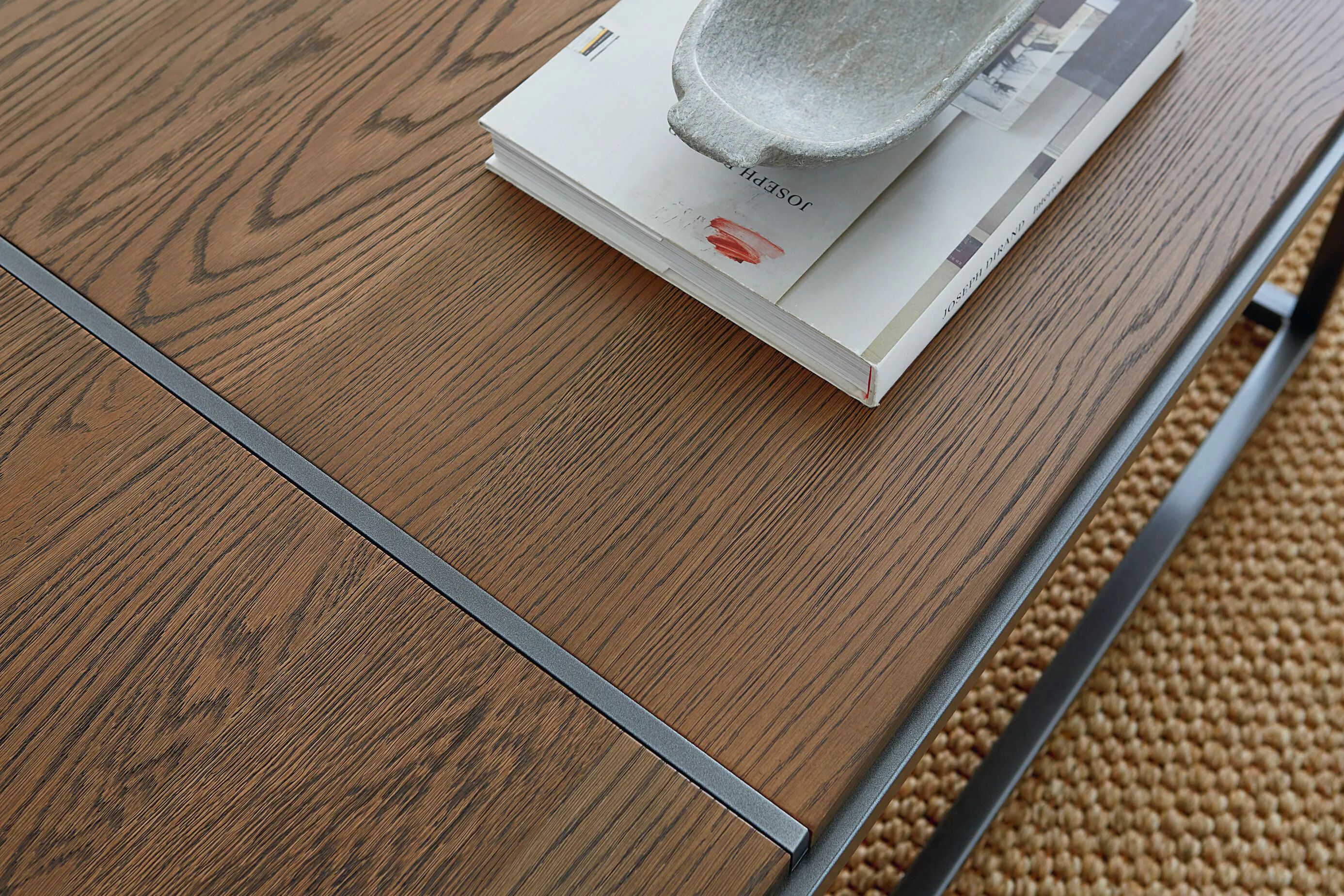 Even when you take the best care of your furniture, accidents can still happen. A spill can go unnoticed, a glass can leave a watermark, and pets and kids can scratch or damage your wood. That's OK. Thankfully, most damage can be easily repaired. Here's what you need to know.*
• Minor Scratches and Dents: For a quick touch-up, you can match a marker, shoe polish, or a furniture pen color to the finish of your furniture. Simply rub it into the affected area and your blemish will be less noticeable or barely noticeable at all.
• That Annoying White Ring: Woops! You forgot to use a coaster… or your child put a hot dish right on the table surface. Watermarks, or white rings, are a result of moisture from a glass or bottle migrating into the outer surface of the furniture's coating. You can try the following home remedies to remove the moisture from your wood surface.
Softly wipe the ring with rubbing alcohol. As the alcohol evaporates, it may draw moisture from the immediate area, reducing the coating on the surface.
Apply a blow dryer using less than 160 degrees of heat. Mild, warm heat—not hot—may assist in removing the outer surface moisture
Iron the white ring using medium heat over a cotton cloth. The heat may assist in removing the outer surface moisture.
Try using Guardian Signature Plus Protection Plan's water ring remover, found online. This product has great reviews.
How To Eliminate Odor From Furniture
Once a funky smell gets ahold of your new wood furniture piece, it may not want to let go easily. Some odors can be very difficult to remove, dependent on how porous the wood is, what type of finish it has, and what the source of the odor is, of course.
However, there are some tried and true ways to eliminate moldy, mildew-like smells from your otherwise impressive acquisition.
Remove the odor from your furniture with a solution of vinegar and water. This is an old-school method that almost always works. Your solution is made of equal parts water and white vinegar. Then, simply soak a clean rag and wipe the surface.
A commercial cleaner may be in order. If vinegar doesn't work, Murphy's makes a cleaner that is specifically formulated to clean wood. Just put a little bit on a clean rag and rub over the furniture once.
To eliminate smoke smells, try lemon oil. Lemon oil is a powerful cleaner and a very effective tool for eliminating various smoke odors.
Bleach and water should do the trick. Be sure to wear rubber protective gloves when handling this solution. Use a mixture of 10 parts water to every 1 part bleach. Soak a clean cloth in it and ring it out. Now wipe over the furniture surfaces and let air dry.
How To Keep Furniture From Sliding On A Wood Floor
While wood floors aren't necessarily furniture themselves, caring for them is similar to caring for wood. One problem many people grapple with is, when you've got beautiful wood floors, you often have to worry about the risk of sliding furniture that can scratch your wood floor every time you sit down. Below are some effective (and some rather not effective) solutions to this problem:
Felt Pads
You'll often see the furniture surfaces that touch the floor covered with felt pads to protect the wood flooring. While this is a common solution that may work for a time, it is problematic because the furniture will still slide (and more over time).
Velcro
Probably the most cost-effective solution to the problem, Velcro adhesive grippers are easy to find and inexpensive, usually coming in packs of 6. These grippers are about the size of a nickel and have an adhesive side and a grip side. To apply them to your furniture, just peel off the protector on the adhesive side and stick them on the side of your sofa, resulting in an inconspicuous and easy solution to the problem.
Area Rugs
Although area rugs aren't the cheapest option, they can provide you with the most overall protection, potentially saving you money in the long run by preventing scratches to your floor. Along with this added protection, area rugs can also add character and vibrancy to your room design. To use an area rug for scratch prevention, just make sure the area rug covers the entire area of your furniture plus a few feet. To prevent the rug from sliding, it is also important to make sure to use non-slip padding underneath the rug.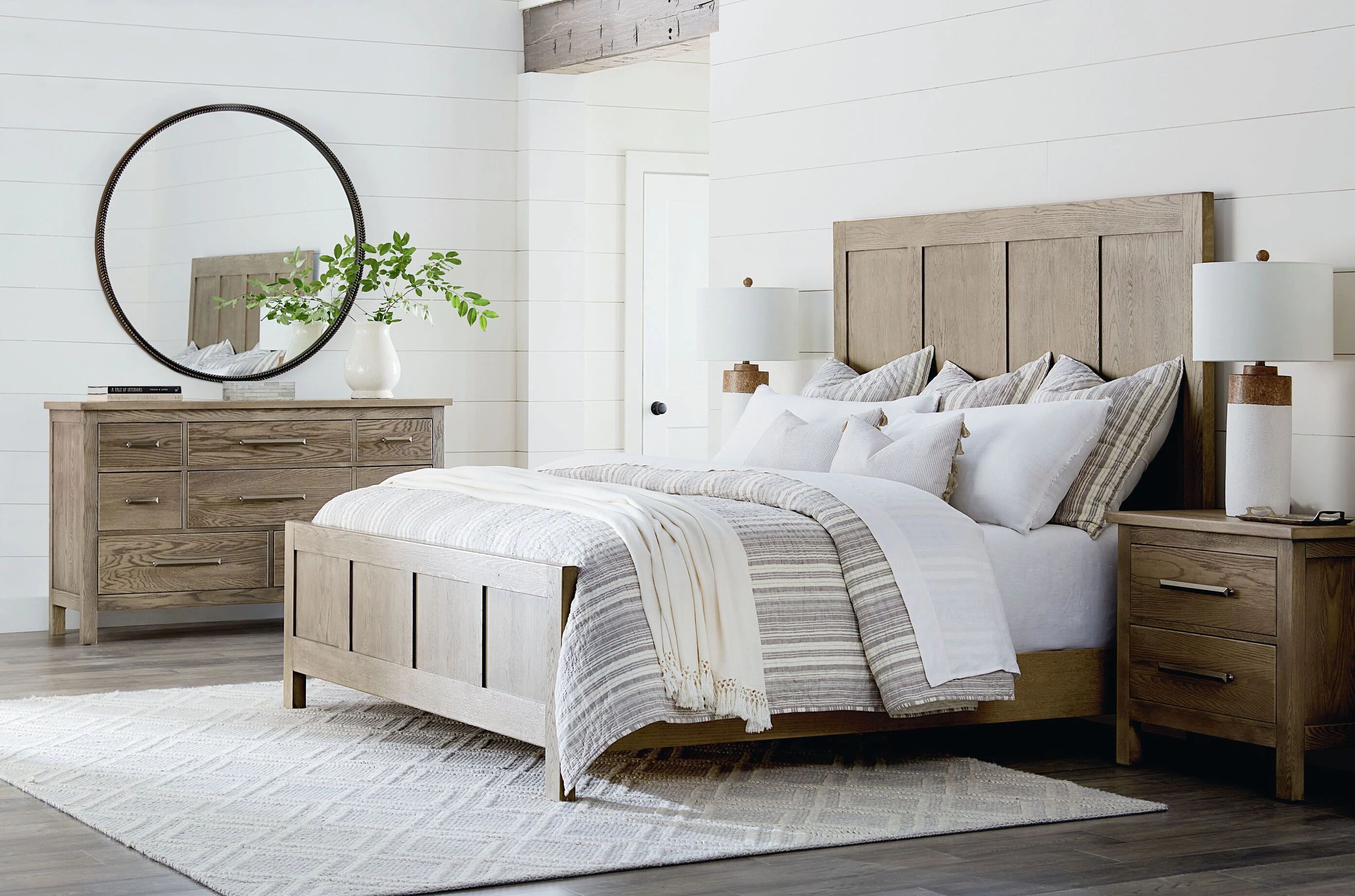 *Bonus: How to age new wood furniture
So far we've discussed ways to protect wood furniture and flooring. In this final bonus section, we'll look at ways to make it look more weathered. But why would you want to do this? Who knows. Maybe you're into that shabby chic look. Or perhaps you're replacing old wood with new and need to match the weathered look that's already there.
While you can purchase stains or varnishes for this purpose, the task can be accomplished just as effectively and even less expensively using some things you likely have around the house. In this case, we're using vinegar and iron oxide. And some tea for good measure. Before moving forward, it would probably be a good idea to see if your furniture is under warranty. If so, there is a good chance that altering your furniture with chemicals can void the warranty.
With that said, below are two options that can be effective in aging new wood furniture:
Option 1: Prep your wood aging solution
To start, take a mason jar and fill it halfway with vinegar. Use a wide mouth jar as you'll be painting from it. Tear some steel wool into small pieces and drop it into the vinegar. Screw on the lid and let that sit overnight. In the morning, you'll have a vinegar/iron oxide solution for staining. Now, dilute the solution with an equal amount of water. So if your mason jar was half full with vinegar, add water until your jar is full.
Test your solution first to make sure it gives you the desired effect. Make sure you test your aging solution on the same type of wood you'll be treating. You should start to see the weathering effect very soon after it dries. You may wish to make the solution weaker or stronger depending on the results from your first test.
Option 2: Use tea to age your wood furniture
People have gotten a great effect by adding tea to the process. You'll get a slightly darker look but the weathering effect is basically the same. Just brew a strong pot of tea shortly before you're ready to treat your lumber. Paint the tea on the wood and let it completely dry. Now brush on the solution you made the night before. The wood will age before your eyes. The iron oxide reacts with the tea to effectively tannin the wood.
This method is effective on anything from fencing to outdoor furniture or decking.
About Bassett's Guardian Signature Plus Protection Plan for Your Wood Furniture
At Bassett, we want to help you take care of your furniture in the best way possible. Bassett recommends the Guardian Signature Plus Protection Plan for your wood furniture repair needs. This Plan covers all accidental stains, marks or rings caused by liquids, cracking, bubbling or peeling of finish from a specific incident, breakage of wood, among other damage incidents.
To learn more about our furniture and the Guardian Signature Plus Protection Plan, set up a design appointment today.
*Note for Guardian Signature Plus Plan Holders: Only blot stains before calling. Do not attempt to clean until given specific cleaning instructions. Many stains and damage issues are time-sensitive. For this reason, you must notify them within 30 days of a stain or damage occurrence.