Small Living Room Ideas
Updated 1/27/23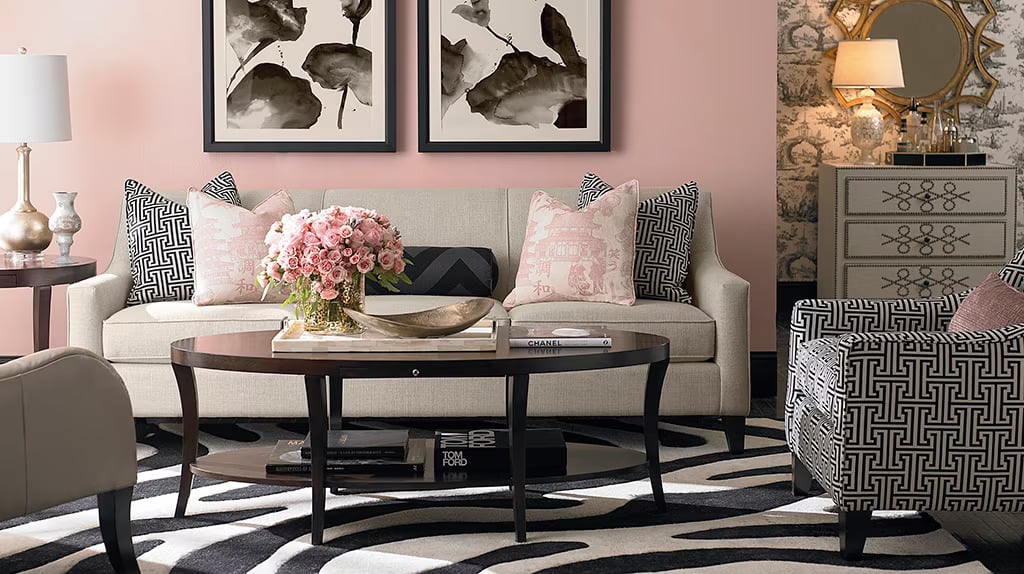 Small living rooms can still be cozy and spacious—with the right design and layout tips. Ingenious designs like these are helping crowded city slickers and small family home dwellers max their square footage making almost every space more livable. If you get a little creative with your storage solutions in a small living room, you're on your way to designing a beautiful living room space perfect for your style. Small areas, especially small living rooms, require thoughtfulness and creativity when creating a layout.
So, want to learn more about decorating small living rooms? This article can help. We provide tips and ideas for decorating, organizing, arranging furniture, and designing layouts for small living rooms and small living room spaces.
As a bonus, the end of the article has ways to maximize space in your small living room and save money.
So, want to learn more about decorating small living rooms? This article can help. We provide tips and ideas for decorating, organizing, arranging furniture, and designing layouts for small living rooms and small living room spaces. As a bonus, the end of the article has ways to maximize space in your small living room.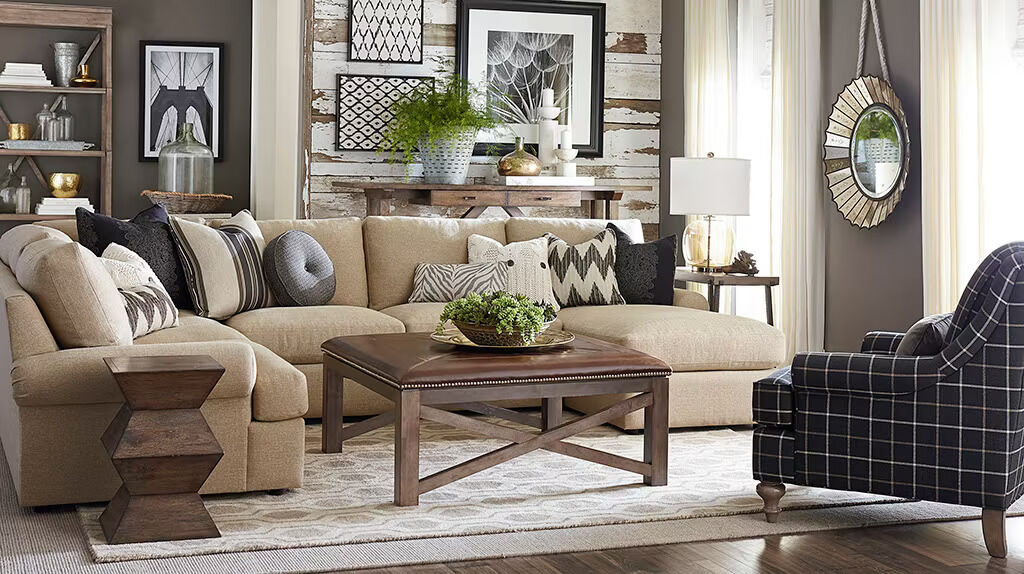 Use Living Room Furniture as Storage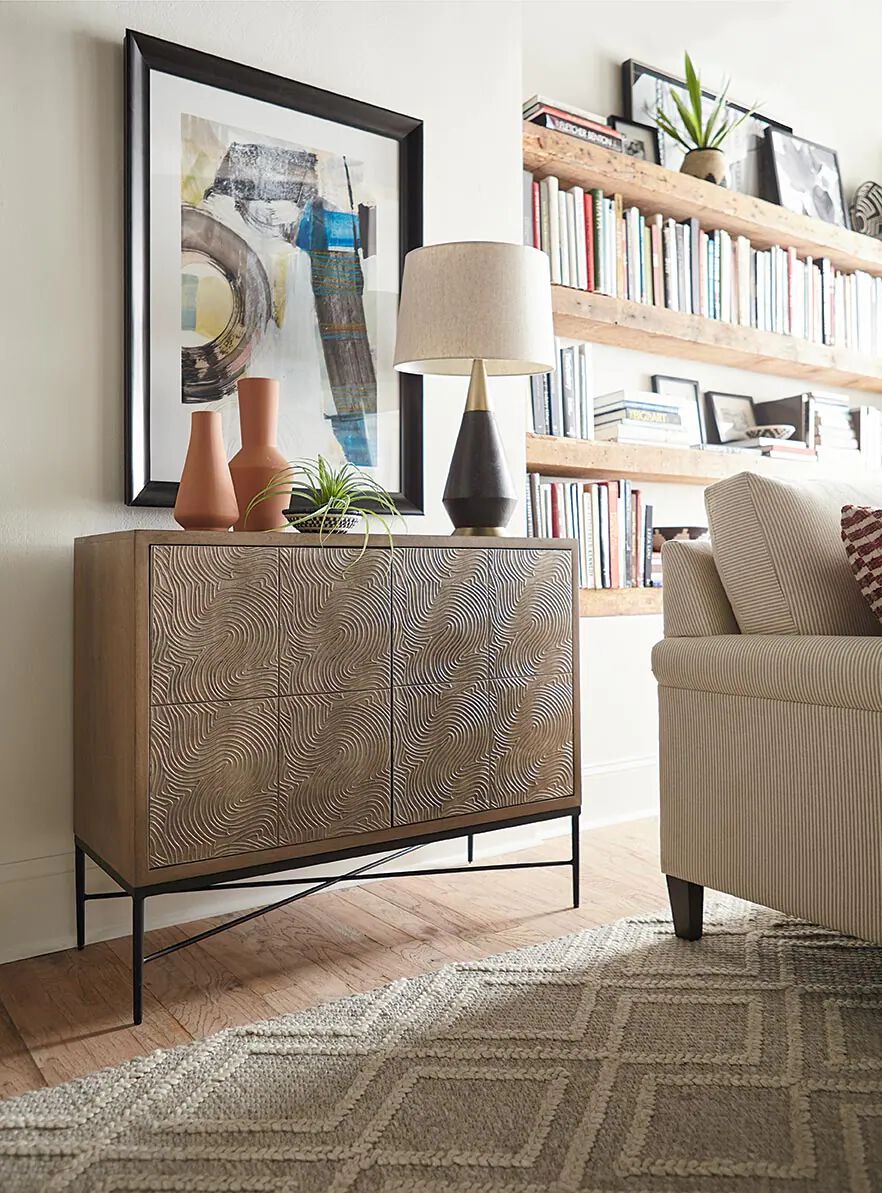 Choose furniture pieces carefully that are both beautiful and multifunctional to save space. Designers swear by dual-purpose furnishings in small spaces to double up on function and reduce visible clutter, making your living room appear more spacious. Seeing multifunctional furniture pieces drop from the ceiling, stairs that pull out like drawers, cribs that transform into beds, coffee tables that lift to become desks, and bi-fold doors disguised as a bookcase really is a bit like seeing Alice in her wonderland turned funhouse.
Dual-purpose, convertible, and multifunctional furniture for small rooms give new meaning to the term "smart home."
Below are some tips for saving space in your living room by using multifunctional furniture:
• An ottoman can double as a coffee table, a storage unit and a place to rest your weary feet. Additionally, a storage ottoman to fit blankets in or a credenza to hold your records, books, and more with a mounted television. Consider buying an ottoman that serves as a storage space rather than an ottoman and an additional cabinet or shelf space. Why have a separate, clunky cabinet or trunk full of blankets and other items in the living room when you could use a storage ottoman with your sofa?
• A sofa table or console can serve as a dining table and writing desk.
• If you are looking for an entertainment center, console or credenza, make sure you find one with plenty of drawers or cabinets for ample storage.
• Now let's take a look at the TV. You could put it on a simple TV stand or use multifunctional furniture designed for small rooms, like an accent chest. Use the drawers to organize the remotes, pairs of eyeglasses, out-of-season sweaters, placemats and table linens, blankets and bed linens, or whatever you need to store!
• Choose lamps with swing arms for maximum flexibility.
Use Light to Make Small Living Rooms Seem Larger
• Take advantage of natural light by choosing window treatments that allow as much natural light into the room as possible.
• Mirrors are a decorator's best friend! Mirrors are not just used to maximize light and encourage a bright, open feeling; they also create the illusion of space.
• Place a mirror across from a window to reflect the natural light and create the effect of another window. Using full-length mirrors between two windows is an excellent way to achieve this effect.
• Use neutral paint colors on the walls to make the space feel open and bright. White or sandstone walls, pale wood floors, and soft-shaded upholstered furniture keep the room light and airy.
• When combined with neutral walls, mirrors can make a wall seem to "disappear," opening the confines of a small space.
• Colorful artwork, if used correctly, can also add space to your living room. Along with your neutral-colored walls, one piece of large-scale wall art gives the room a sense of open space.
• But what if you don't have space for a full-length mirror? Invest in smaller mirrors to create a mirror gallery. A narrow mirror flanked with art is beautiful and can uplift the entire arrangement.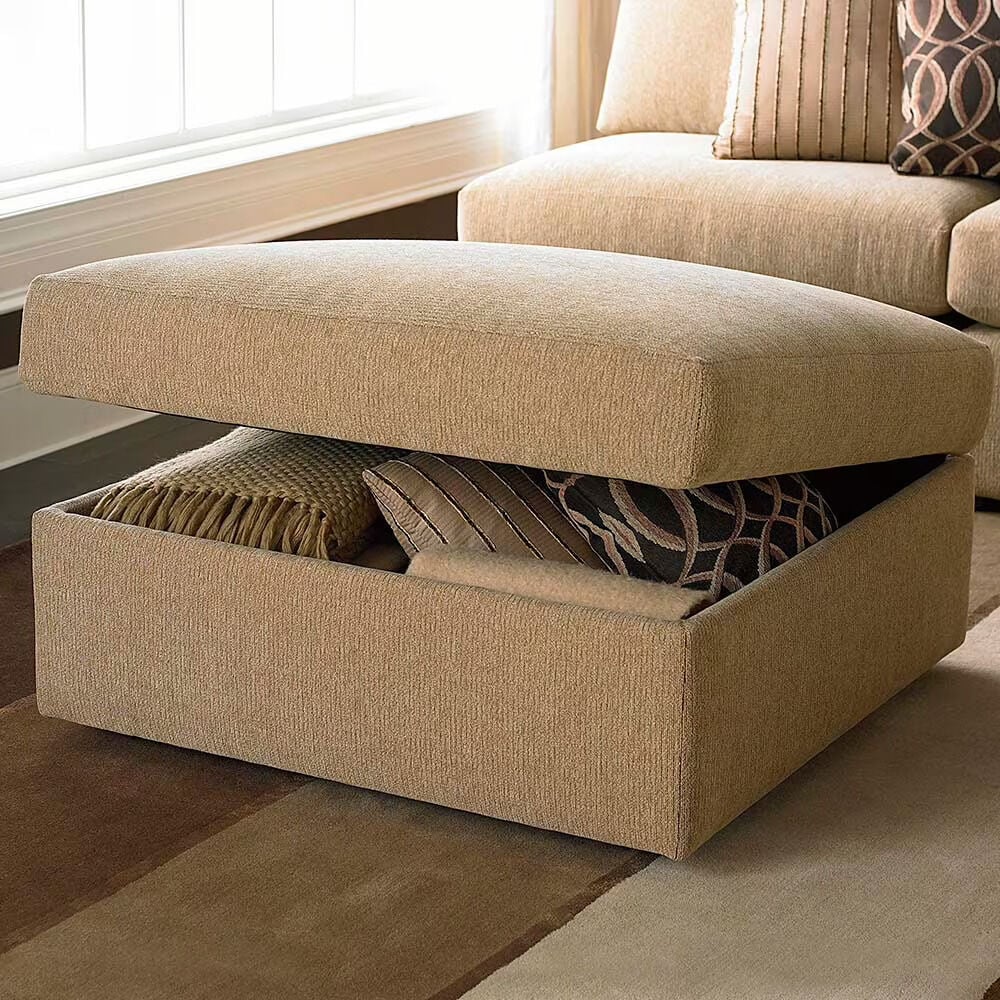 Utilize Height to Save Room Space
Use the height of the room to make it appear larger. Taking advantage of the third dimension saves space in two ways. First, tall furniture takes up less floor space and, depending on how much storage it has, can store just as much as a shorter piece with an equal mass.
• Include a tall bookcase or shelves, and add accessories to the top to draw the eye upward.
• Hang sheers higher than the window to create the illusion of length.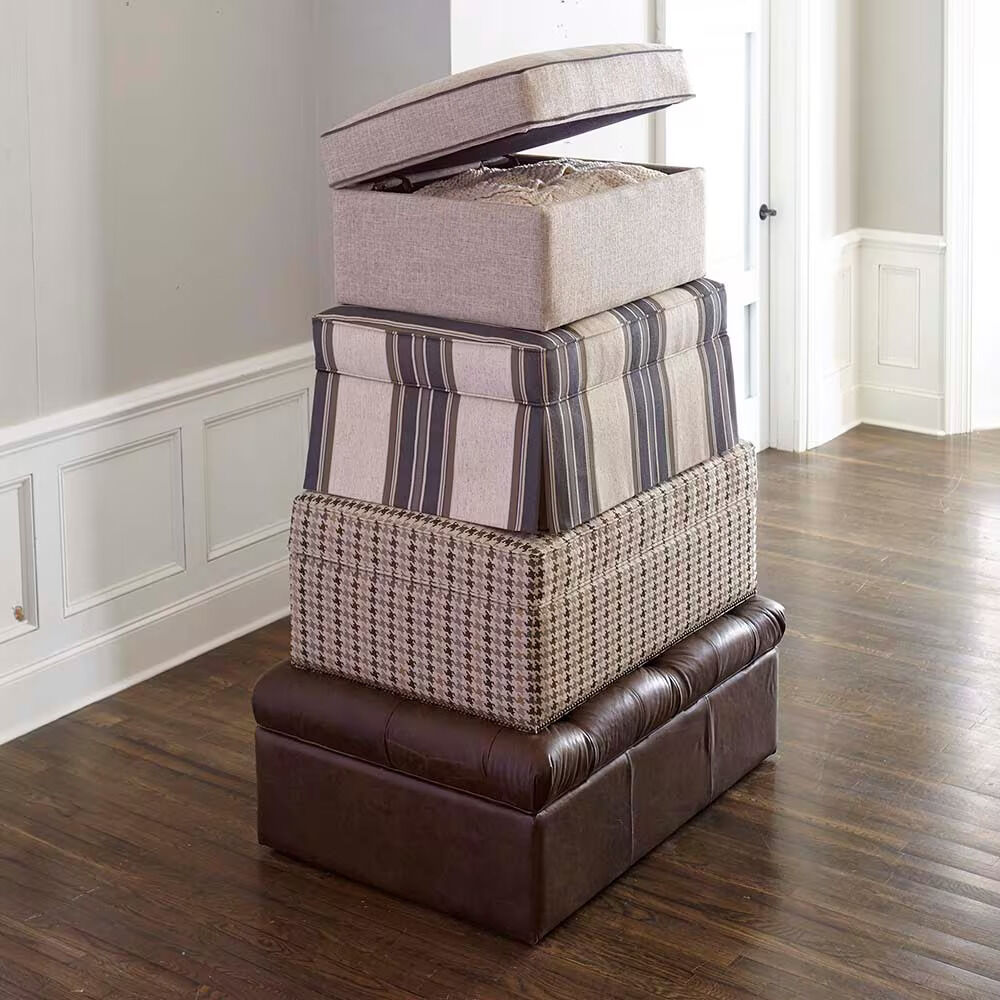 • A tall floor lamp or a swing-arm wall lamp instead of a table lamp will render a clutter-free look and bring light in from above the rest of the furniture.
• Hang floor-to-ceiling drapery or sheers as high as possible to convey longer lines and a sense of grandness to your small room.
• Place eye-catching accessories on the tops of tall hutches or bookshelves to draw the eye upward.
• You can include a wall of hooks above a storage bench or a mirror above a media console to create the illusion of space.
• For storage, using the area above cabinets, TV entertainment centers or media consoles, and singular, open bookcases are excellent ways to maximize your space!
Smart Design Tricks to Make Your Room Look Bigger
Make your room look bigger by including visually lightweight furniture. Below are some tips for how to use furniture that appears smaller:
• Sofas and chairs with visible legs look lighter than those with skirts or bun feet.
• Transparent acrylic tables or a glass top table with a delicate metal frame allow you to see through the furniture. The uninterrupted sightlines give a sense of space.
• Choose proportional furniture for the size of your room. Armless chairs and sofas have a more streamlined look and take up less space.
• Bigger isn't always better; sometimes, you may need to choose smaller furniture. Consider investing in apartment-size furniture that is slightly smaller scale and designed for small spaces. Add an oversized accent piece for visual interest.
Create an Efficient Living Room Furniture Arrangement
Sometimes, you don't need optical illusions or multifunctionality to make a room feel smaller. By adhering to traditional interior design principles, you can create more space:
• Furniture does not need to hug the walls. In fact, by bringing furniture away from the wall, you make the illusion of more space. "Float" a couch or sectional to face a fireplace window or media wall and unite the room's elements with an area rug.
• You can arrange your furniture for the most efficient use of it by eliminating the need for end tables with one centrally located coffee table and wall-mounted lamps.
• If you don't know what to put beside a television, you may have room for a small desk or bookshelf.
• Divide a long, narrow room into segments. Create a conversation area by grouping chairs and a couch together. Then, place a sofa table behind the couch and use it as a writing desk, snack or dining area, or for storage and display.
• You can also mount the television and cut out a media console or TV stand altogether.
• If you have a relatively small open space, create room dividers with functional storage solutions, such as open shelving solutions.
• Shorter furniture, such as low credenzas, consoles, benches, and media consoles, is perfect for small living room spaces near the front door that don't have entryways.
• Including hooks or shelves above benches and consoles is the best way to utilize space by tucking away shoes, purses, keys, and more—especially when you don't have a corner closet!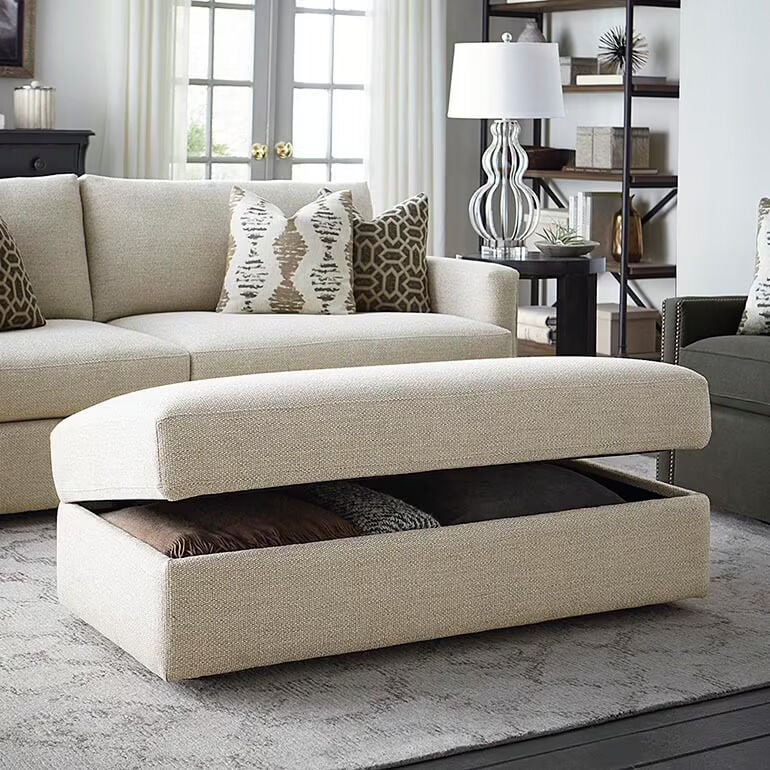 Decorating Ideas for Small Living Rooms on a Budget
Decorating any small room can be difficult, and coming up with living room ideas on a budget can be a unique challenge. Here are a few pointers to help you create a great living room where friends and family love to gather for just about any occasion. When decorating a living room on a budget, consider these tips and tricks for making the most of your space.
Focus on multifunctionality. Of all the living room ideas on a budget, using multifunctional pieces may be the best combination of class and practicality. Replace the standard coffee table with smaller, more portable storage ottomans that can easily be pressed into service wherever they are needed or moved out of the way when they are not needed.
Utilize mirrors. When buying all new furniture is out of the question, consider how you can brighten your space and best utilize mirrors to create the illusion of more room. Adding decorative mirrors not only dresses up surrounding repurposed furniture but can work wonders in your small living room to make the light, airy look you've been searching for—all for a much more affordable price.
Choose neutral furniture. When decorating your living room on a budget, tones are imperative. Instead of buying a couch in a dark or trendy color, stick with some neutral. You can always spice it up with colorful pillows or a patterned accent chair, but a neutral couch will help your small living room appear brighter and less cluttered. Incorporate light-colored furniture for a less weighty look.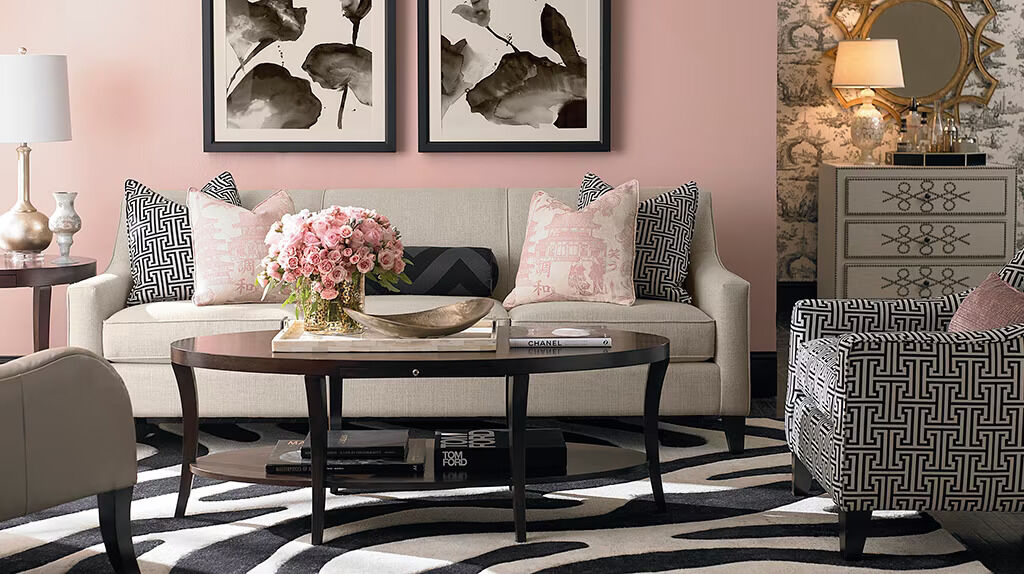 Decorate with the furniture you already have. Sometimes you can redecorate without spending a ton of money at the store. The trick is to buy a few high-quality pieces that will last a long time, then save money by repurposing other items you already own.
For example, you can try repurposing an old nightstand into a new end table and turning a chair you no longer use into an eclectic nightstand.
Living Room Furniture Arrangements for Every Space
Let Bassett Furniture help you furnish your small space with living room furniture made with the uncompromising quality you've come to expect from Bassett Furniture. From love seats and sectionals to ottomans and area rugs, count on us to meet your furniture needs. You don't have to sacrifice the functionality of your family room to create more space. Learn how to use your small space more efficiently and create the illusion of a larger scale without losing functionality. Our design consultants at Bassett Furniture believe these concepts (with tons of examples) can help you make the most of your space in your living room.