Modern Foyer And Entryway Design Ideas
Updated 2/1/23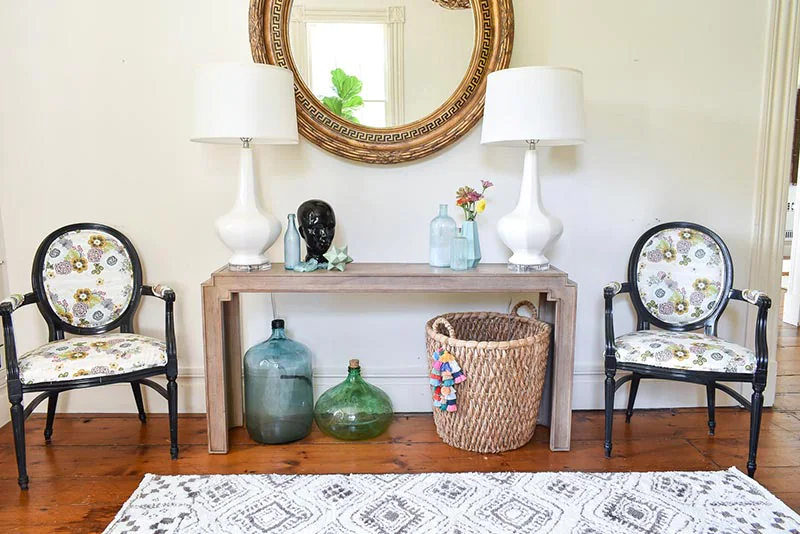 Your foyer design defines your home and creates a warm welcome for anyone who walks through your door. Every once in a while, taking a fresh look at your entry space furniture will help ensure it's in step with the rest of your beautiful home. Entryways give visitors the first impression of your home, and implementing modern foyer design ideas will make that impression unforgettable. Read on to see more.
Refreshing & Modern Foyer Design Ideas
1. Create a place to welcome guests or say goodbye.
2. Set the mood. Every element of your entryway will work together to set the tone of your home from the very first impression. Here is where your lighting really "shines," and a stylish pendant can create an overall glow. Your rug and other accents, the style of the furniture, and the artwork all send a message about the style of your home. Beautifully framed art lets you immediately express your style when guests enter the door.
3. Allow some storage. Bassett Furniture design consultant Luci Most suggest, "Pieces with drawers are great because they hide clutter." Particularly if your space is limited, an entryway storage cabinet can be a great place to tuck off-season accessories, blankets, and more. A storage ottoman, accent chest, or entryway table with storage can provide the same function. It just depends on how you want to design the space.
4. Provide people a seat to pull off (or put on) shoes. An accent chair, bench, or storage ottoman in the entry ensures that guests don't have to do an awkward one-footed dance as they remove their boots. Luci Most notes, "Young families like a bench with a shelf that can be used to house shoes and other items coming in and out of the house."
5. Position a mirror to check your appearance or fix your collar as you head out the door.
6. Create a temporary place to set essential items like keys and mail. According to Luci Most, "a foyer should have a piece of furniture where people can place items when coming into the home." Here's where an entryway console table or an entryway cabinet, set out of the way against a wall, can function as a convenient drop zone and a place for a lamp or decorative accent. Entryway console tables take up very little space for the function they provide.
Make an Impression in an Eye-Catching Foyer
Does your home's architecture leave your foyer undefined? In those cases, use our modern foyer design ideas and start with a substantial furniture piece that defines the space. That could be something as simple as a stylish storage credenza setting off the space from the rest of the room, with a handy side chair for a quick pause. Or, as Bassett Furniture design consultant Luci Most suggest for open spaces, "I like to place a round table with a beautiful vase or platter. Custom Dining options allow you to create a look for any design scheme. This technique separates the entry from the rest of the living space."
If you just want to make minor changes to spice up a dated foyer, Lucy Most advises, "Paint the space to spruce it up and change the vibe. Add a new rug and perhaps a mirror and new lighting." If you want to make sure your foyer is living up to its full potential with our modern foyer design ideas, evaluate the whole space to ensure it performs all the above functions.
Visit a Bassett Furniture store to make your entryway a welcoming space with a style that transitions into the rest of your home.