How To Get Your Dining Room Ready For Fall
Updated 3/31/23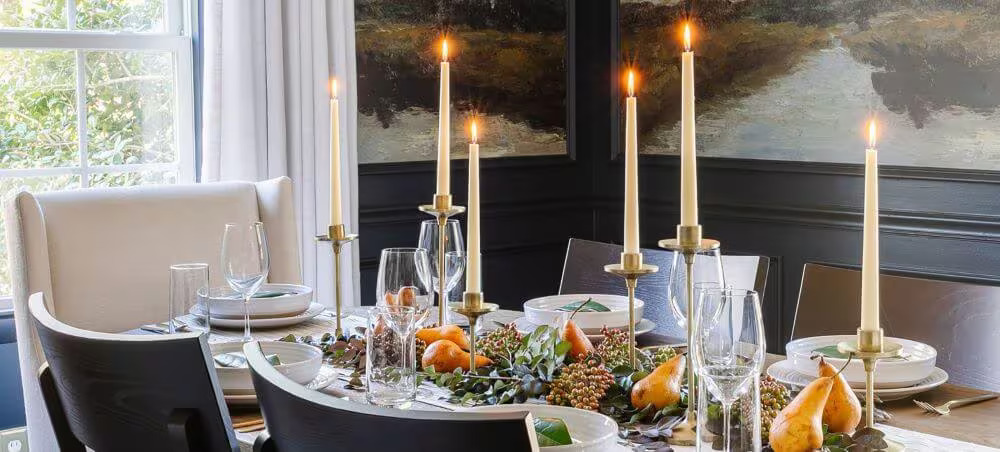 Get Ready for Dining & Hosting This Autumn
As summer gives way to fall, we naturally gravitate back to the rhythms of the school year, social gatherings, and annual family events.
It's a time when connecting and celebrating at home often means meeting at the dinner table. It's the season for holiday dinners, football festivities, casual game nights with friends, or weeknight dinners where we share details of our daily lives at school and work.
Now's the time to get ready for the busy months ahead. So, ask yourself: how's your dining space working for you? Does it...
• Provide the comfort and function you need?
• Flex to accommodate multiple purposes when necessary?
• Convey a sense of hospitality when you entertain?
• Make you smile and draw you in with its style?
• Feel inviting and have a good ambience?
We've collected some dining space "do's and don'ts" to help you prepare for the fall hosting season and make the most of your dining furniture year-round.
Do: Choose Your Table Size and Shape Wisely
Choosing the best table size and shape depends on the dimensions of your dining room itself.
Regardless of the shape and size of your dining room, priority number one is to maximize seating. Next, you need to ensure there's enough room for chairs to move so you can pass behind others seated at the table.
Start by measuring your space. To determine the maximum size of the table, subtract 36" from each wall or walkway. Ideally, you'd want to have 42" to 48" to accommodate more effortless movement, especially if the dining space is adjacent to a major walkway in the home.
If the dining space is more square than rectangular, go for a square or round table so the proportions feel right. Tables with rounded edges like circles and ovals tend to feel more casual and intimate than those with sharp corners.
Rectangular tables allow for greater seating capacity and are often the best choice for a rectangular space.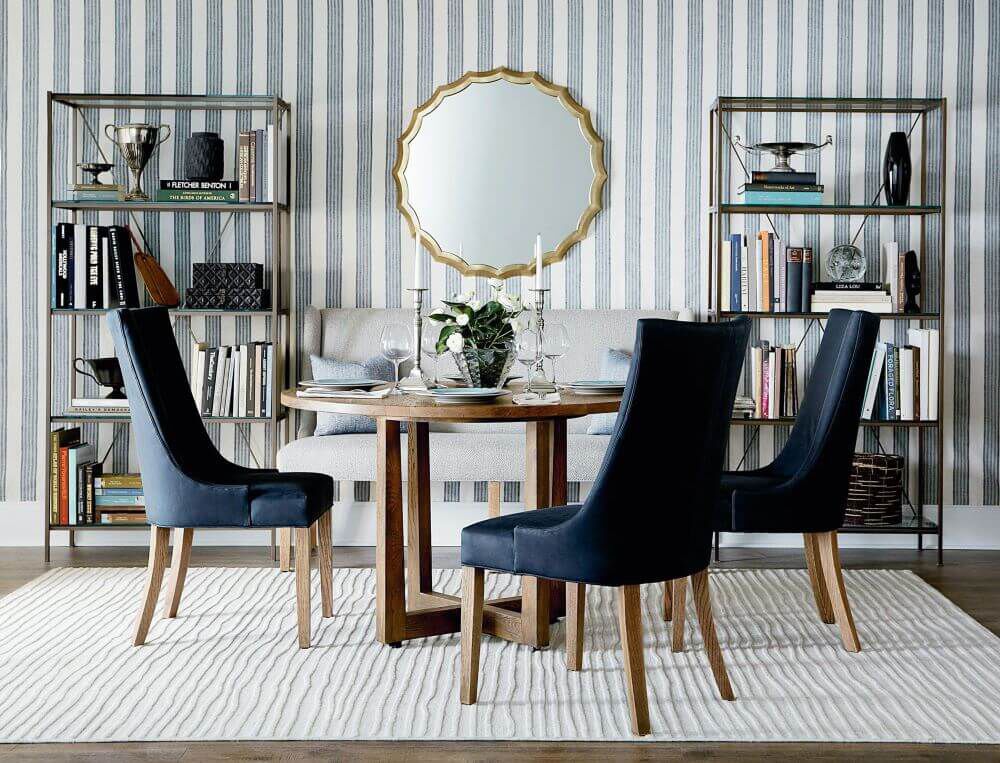 Don't: Overestimate Your Seating Capacity
Next, consider how many people you'll want to seat. A common mistake people make when figuring out what table size they need is assuming that the chairs' width determines how many people can fit. While chair size is a factor, it's more important to consider how much space each person needs to dine comfortably.
Each person ideally needs a 24" wide dining space to sit comfortably and allow for elbow room at the dining table. Divide the length of your table by 24 to see how many people can fit comfortably. The average dining side chair is 16" to 20" wide, so while your chairs may all fit beneath your table when empty, it may be a different story once guests are seated.
Legroom is a significant comfort factor, so don't forget to pay attention to your table's base. Pedestal and trestle bases tend to offer more legroom than tables with wide legs at the corners. For trestle styles, you'll want to check how the chairs align with the base to see whether guests need to adjust their leg positions to fit. If the table width is less than 40" wide, you'll want to consider whether the people seated at the ends will be knocking knees with guests sitting on the sides.
Extension tables with leaves to insert can be a great way to add seating or serving space only when needed. Although, keep in mind that if the leaf is less than 24" wide, it may not always add two more seats comfortably.
Do: Prioritize Your Seating for Both Function and Style
Beyond serving the practical function of seating, the dining chairs also define the style of the space, set the mood, and determine the comfort level. Do you prefer a more formal or casual style?
Choose a seating style that complements your table yet can stand alone. Consider a complementary or contrasting finish or material for an interesting textural mix between your table and seating options.
Upholstered seating becomes a more viable solution for dining spaces with today's performance fabrics that are easy to clean and stand up to everyday use. Often an ideal choice for adding color, pattern, and texture, upholstered seating also has clear benefits in the comfort category. Choose an elegant velvet if your style leans more formal. For a casual style, opt for crisp, tightly woven linen looks to provide casual yet tailored elegance or cozy, nubby textures to relax the look.
Our BenchMade wood chairs come in various styles and finishes, and the comfort curve wood seats are ergonomically designed to cradle you in comfort not often found in wood seats. You'll need to try it out to get the full effect.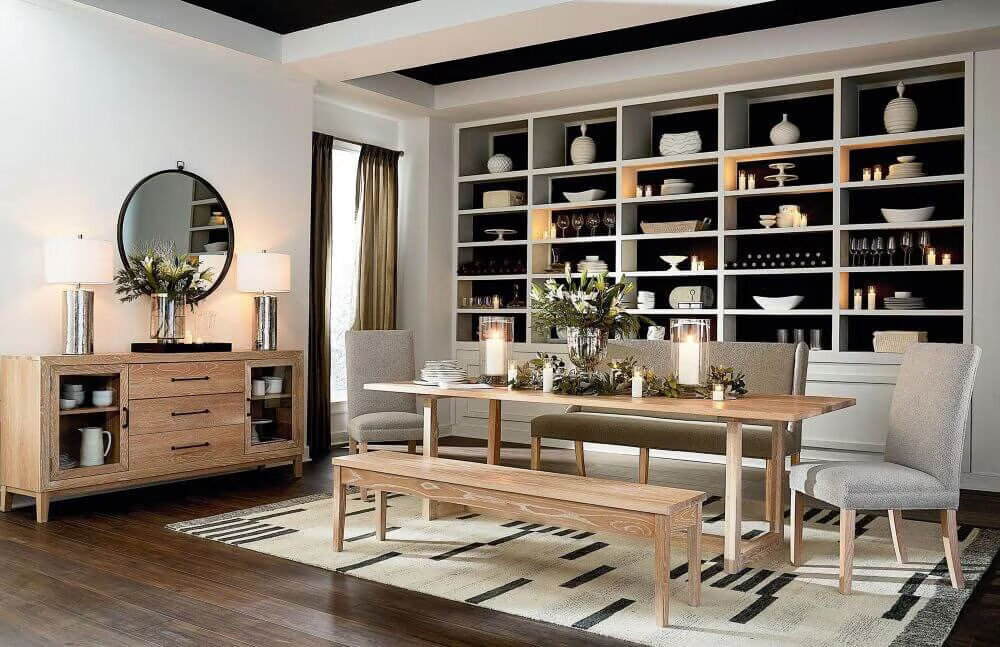 Don't: Limit Yourself by Matching Everything
The days of matching dining sets have faded—you are now free to create a more visually interesting space that also amps up comfort. While there's nothing wrong with choosing matching chairs, tables, and storage pieces, it's often more appealing to thoughtfully mix finishes, fabrics, and textures to create a designer look.
Upholstered host chairs at the ends of a rectangular table can add color, pattern, and texture to the space and take the comfort up a notch. And they can easily transition into the living space for extra seating when needed.
Dining benches can be an unexpected and stylish solution, adding lots of seating capacity without taking up too much space. Banquettes can elevate the style and offer a streamlined look.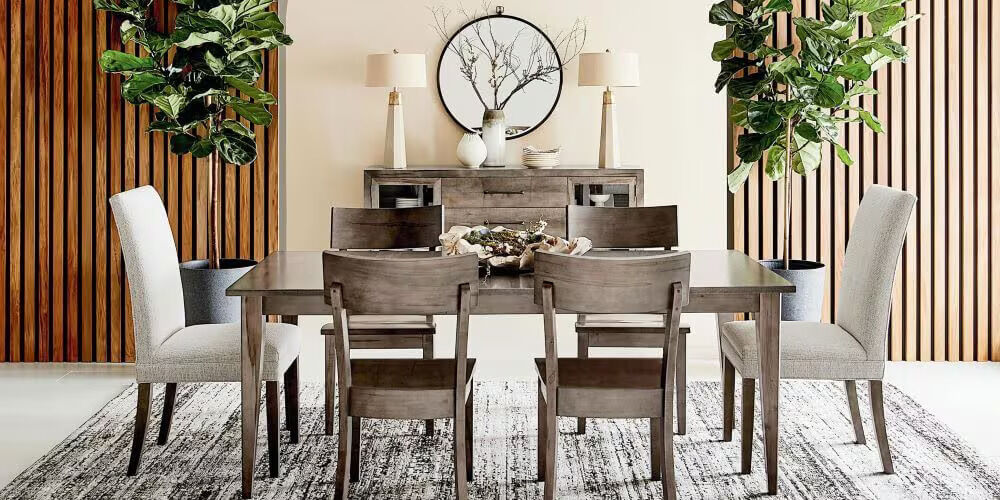 Don't limit yourself to coordinating the furniture with the existing wall color. Choose the rug, furniture, and fabrics you like, and then choose the wall color. With thousands of paint colors and wallpapers from which to choose, it's much easier to change the wall color than limit your furniture selections.
Do: Pick Practical Pieces for Storing and Serving
In today's lifestyles, versatile pieces like credenzas and sideboards can give you tons of functionality and convenience while also adding an element of style.
Flex your creative muscles and find a unique piece with character and presence in a complementary or contrasting finish to the table and chairs. It can be a statement piece or a more subtle addition to a supporting role.
Look for a piece that offers concealed storage for an uncluttered look.
If you have a few cherished items you'd like to display or want to have the option to add audio/video components, opt for cabinets that combine open storage areas or glass doors with concealed storage.
Some cabinets include electrical outlets and wire management openings to make it easier to achieve multiple purposes.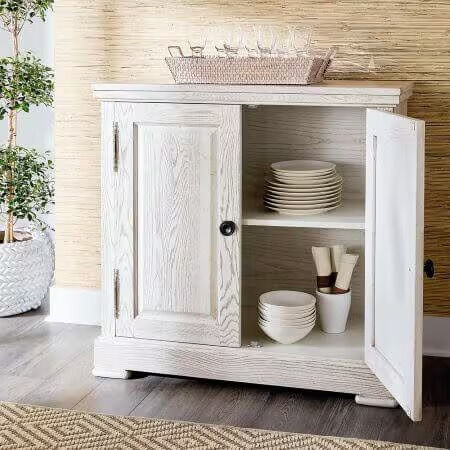 These multi-purpose pieces are great for the dining space and can also transition into living rooms or foyers if your needs change over the years.
Don't: Crowd the space with little used pieces
Are you holding onto a bulky china cabinet, filled with china and serving pieces that get used no more than 3-4 times a year? Does it take up a lot of space?
It may be time to let it go. While it may have some sentimental value, having been in the family for years, if it's no longer useful, give yourself permission to lift the burden of keeping it in the room.
Perhaps it can be repurposed as a bookcase and blanket holder in your guest room, especially if that room doubles as your home office. Convert it into an indoor greenhouse, with grow lights and mini fans. A plethora of creative ideas can be found on Pinterest and similar sites, making it easier to justify letting the china cabinet leave the dining space.
Removing the china cabinet not only lightens up the space, but it usually tones down the formality a bit as well. And you don't have to keep everything shined up!
Do: Pay Attention to the Ambience
How you feel in the space will affect how often you use it. Do you want it to be reserved for special occasions, or prefer to have it be a room you'll enjoy more often?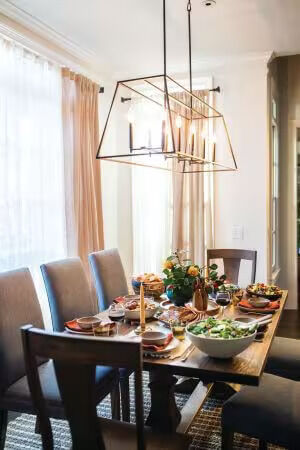 When designing, it often works best to start with a rug and then choose the fabrics, finishes, and other colors to coordinate with it. Make sure your rug is large enough so that chairs stay on it when pulled out for seating.
If lighting with a chandelier, its size should be relative to the size of the space and the size of the table. You'll want both ambient light and accent lighting to illuminate and highlight, so layer your lighting with multiple points of light in the space.
When dressing your table, keep the centerpiece low so it's not an obstruction to the conversation. Add candles for an inviting look and a gentle light source, and use flickering LED candles when small kids are around.
If you're looking to forego a tablecloth, the durable finish on BenchMade dining tables allows you to let the beauty of the wood shine through. Consider a decorative table runner to soften the look, and use placemats to protect the surface from hot items.
Don't: Skip the Soft Stuff
Ever been in a dining room that feels echoey and hollow? Or a restaurant that's loud and clamorous? That's because dining areas have so many hard surfaces off which sound is reflected.
Rugs, upholstered seating, and draperies do more than add color and texture. They absorb sound and add warmth. Don't let them be an afterthought. And while we're at it, soft background music can relax the mood and ease social interaction.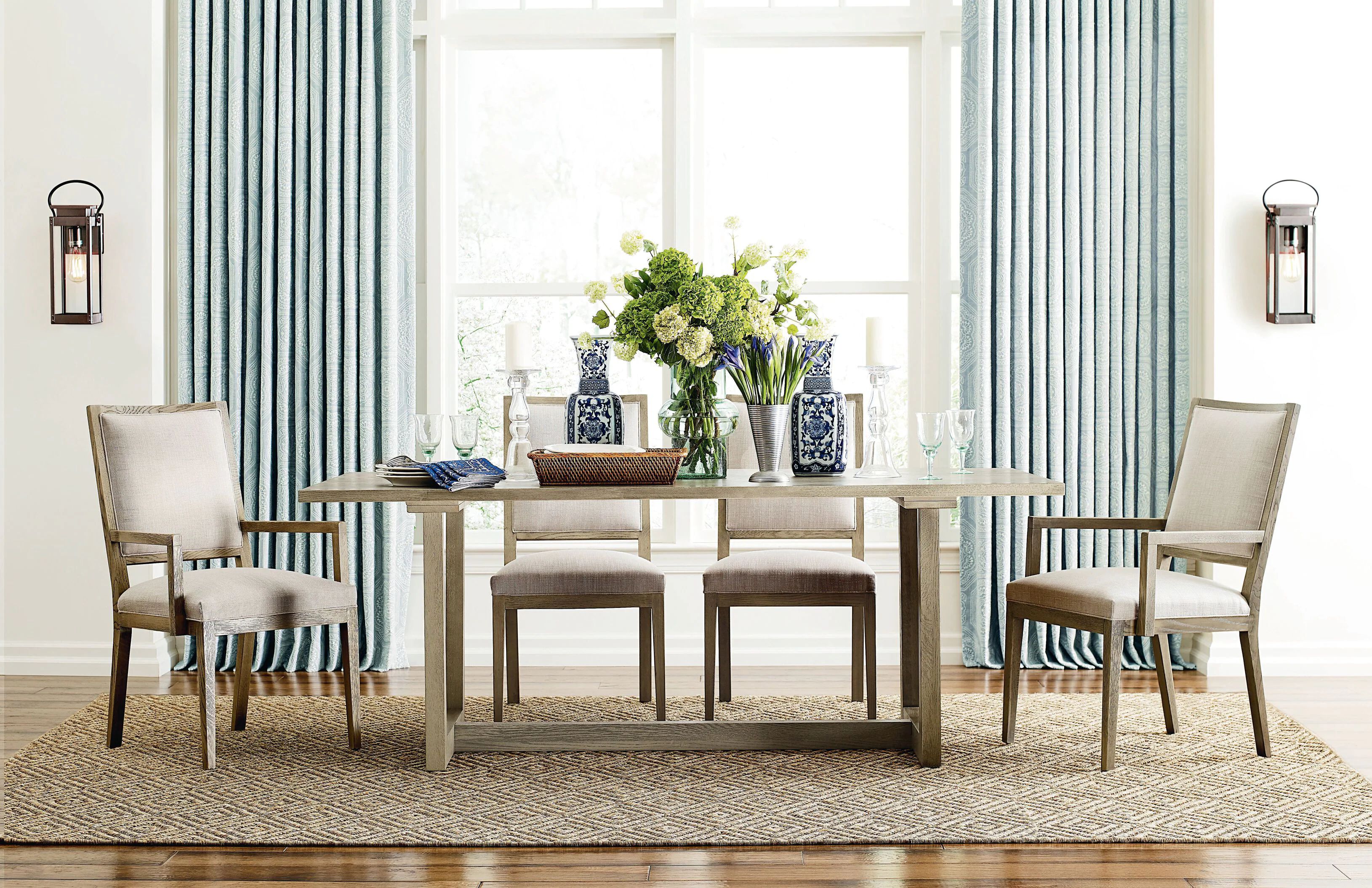 Do: Get a Head Start!
The holidays will be here before we know it! Get a head start to ensure your space is ready to go and minimize the stress of trying to pull everything together at the last minute. Explore our variety of dining furniture styles.
Not sure where to start? Partner with your Bassett Design Consultant, who can guide you through the decisions and help you prioritize and elevate your dining space to its fullest potential. Or stop by your local Bassett Furniture store to discover our collections and collaborate in person.