Rug Ideas
Updated 9/20/22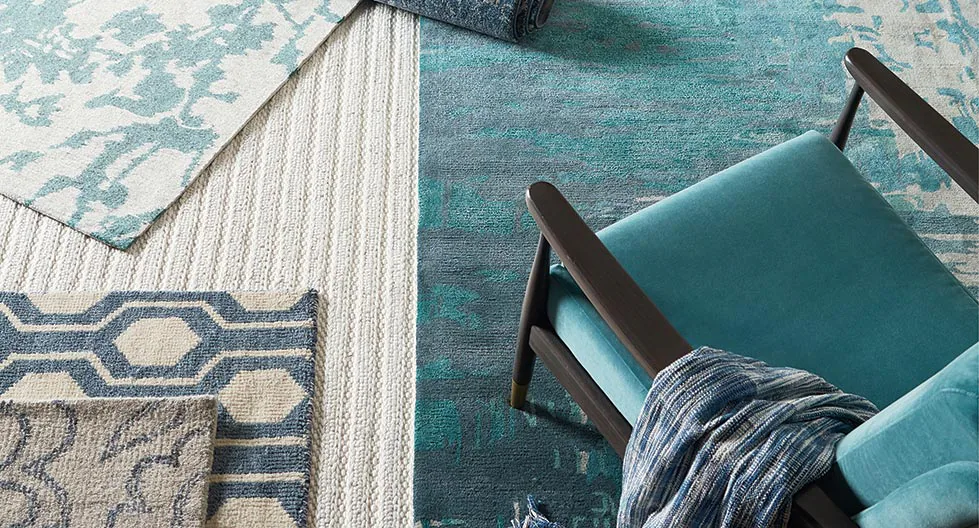 There are many types of rugs and rug construction to choose from, but there's nothing quite like finding the right rug to pull a room together and define the space. There are many types of rugs out there, but they can be classified by materials and weaves. Learn why rug construction matters and choose your perfect rug here.
Types of rugs
The main types of rug construction include various methods of creating rugs by hand and a general category for machine-made rugs.
• Hand-knotted rugs are created by wrapping yarn around each warp thread and then knotting it - a labor-intensive technique that results in the longest-lasting rug construction. A hand-knotted rug can be folded in both directions, rather than rolled, and is unlikely to shed. In general, a higher knot count corresponds to a heavier rug and higher quality.
• Hand-tufted rugs, which often have a higher pile height than hand-knotted rugs, are made by pulling individual yarns through the rug's backing material and then cutting the loops to create a smooth, cut-pile surface. A backing material (usually canvas) is glued to the back of the rug to hold the yarn in place.
• Hand-hooked rugs are created with a process similar to hand-tufted rugs, except that the loops of yarn are left uncut. The process takes slightly less time than hand tufting. Hand-hooked rugs also have a fabric applied to the back of the rug with adhesive.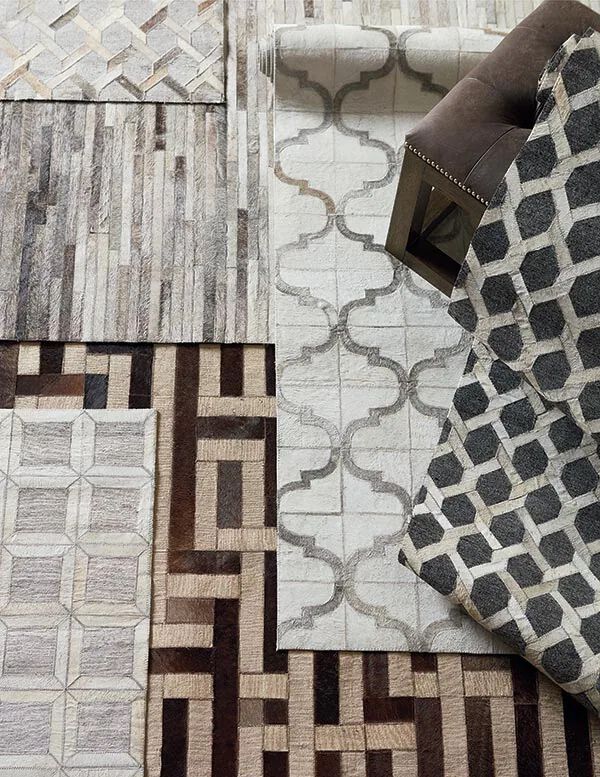 • Handwoven rugs are created from plush, twisted, and slightly felted yarns in materials like wool or polyester. A team of weavers works together to shoot the yarns across a vertical loom with a steel rod. The result is a luxuriously deep pile rug.
Other specialty rugs can also be handcrafted. Examples of these types of rugs include custom pieced cowhide rugs, which are long-lasting, authentic, and unique enough to draw attention to their construction.
Machine-made rugs have loomed on large machines that weave spindles of fiber into a thin mesh backing, which is then backed with a coarse latex coating. Machines enable rug manufacturers to create some of the most unique patterns and effects. They also are able to feature beautiful, vibrant colors that are able to be showcased due to the technology in the machines.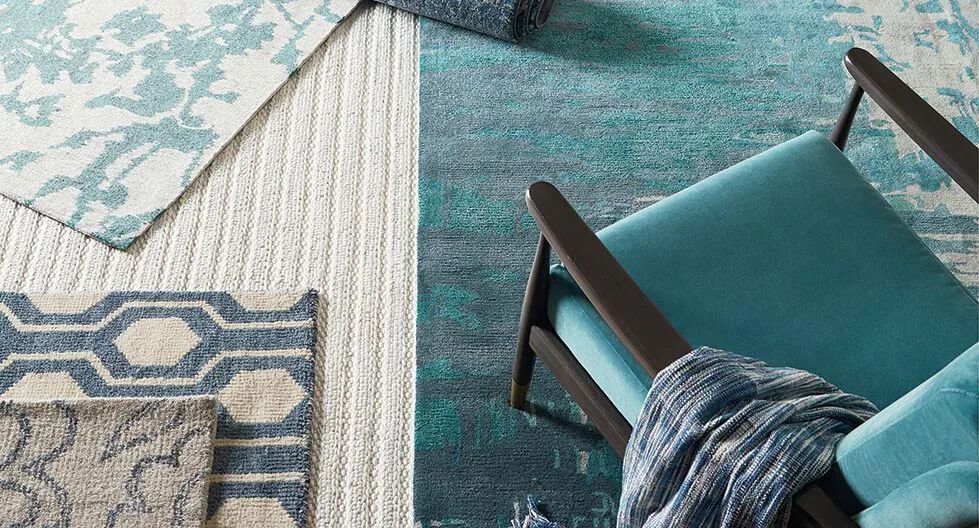 These types of rugs are manufactured from a range of materials, including wool, jute, and synthetic materials for long-lasting wear. However, the pile may be low and may crush more easily. Machine-made rugs include power-loomed rugs with intricate patterns, at a moderate price point. Occasionally, more modestly priced rugs may begin to show wear earlier or may tend to curl up at the edges due to the weaving technique.
Best rug materials
What if you like a type of rug because the colors are right, and the size works well? Or what if you're swimming in options and have to choose one? This is why rug construction matters. A rug's construction and materials affect more than longevity, although that's certainly important – it also affects how the rug looks and feels, as well as the overall quality of the rug. A rug that requires a long time to construct by hand, like a hand-knotted rug with a high knot count, will be one of the most luxurious and valuable.
Whatever the rug's construction or material, it's generally a good idea to choose a rug pad sized to accompany it to protect your rug, your feet, and your floors. Rug pads provide a boost of extra cushioning underfoot and increase safety by decreasing the chances of a rug slipping. Rug pads also enhance the lifespan of your rugs, by enhancing air circulation to keep mold and mildew at bay. And although a high-quality rug also has a protective rug backing, a rug pad further protects your floors from scratches and dyes.
Rugs in the living room
A beautiful rug will pull your room together, and an inappropriate one can be distracting and even headache-inducing! Below are some tips that are effective for placing a rug in the living room (or any room for that matter); These tips are based on three factors:
Rug Sizes
An area rug should anchor your room. Every major piece of furniture should at least touch the rug. You don't need a rug that stretches from one wall to the other — that would be a carpet! But you do want the rug to be large enough that it can pull the space together. As a rule of thumb, it should be at least six inches but no more than two feet away from the walls. For more specifics on what size rug is best, check out this article about rug sizes.
Rug Color and Pattern
What about shape? Round rugs are perfect for underneath round tables but are hard to pull off in a living room. If you have an open concept and your living room/dining room flows together, you can use two different rugs from the same color family to partition the areas.
Rug Color and Pattern
HGTV's guide to choosing an area rug recommends that you select the rug first, and then build your room around it. But that isn't always feasible when you already have living room furniture. Do you want your rug to draw the eye, or to simply blend in with the rest of your interior design style? If you're looking for "floor art," choose big, bold patterns and colors, such as this Atrium rug or Mosaic motif. A more traditional look calls for neutral colors and understated patterns; think Richmond or Riviera.
Rug Texture
The texture is one of the most important (and under-appreciated) interior design elements, and a living room rug is the perfect place to introduce a little variety. A sisal rug brings a natural element to a coastal or rustic design, and a shag rug with a longer pile (such as the Sierra) is the perfect foil to sleek modern furniture.
Bedroom rug ideas (bonus)
While many people consider using rugs in the living room or dining room, area rugs can also be used effectively in the bedroom. If placed correctly underneath a bed, rugs can truly bring out your bedroom's style. For a more detailed look at placing area rugs underneath a bed, check out this article about rug sizes for queen beds.
Best indoor/outdoor rugs
The outdoors don't always stay outdoors. As people come into your house, little bits of the great outdoors sneak in with them. Sometimes, your indoor rug needs to be as tough as your outdoor rug.
And the reverse is true as well. A patio or porch should be an extension of your home. The old, bright-green, faux-grass look of outdoor rugs won't do anymore. Patios should look comfortably elegant, and a beautiful rug is one of the best ways to anchor an area to create an outdoor living space.
Can I use an outdoor rug inside?
It's a tall order. This requires a rug that's tough enough to endure dirty shoes and paws, durable enough to clean properly, and yet add beauty to your décor.
Indoor-outdoor rugs and mats are usually made of synthetic materials. But don't cringe: Synthetic materials have advanced to the point when it can be hard to distinguish them from natural materials. One common synthetic fiber used in rugs is polypropylene, which doesn't absorb liquid or stains, resists mold and fading, yet looks as nice as an indoor rug. (See? We can have it all)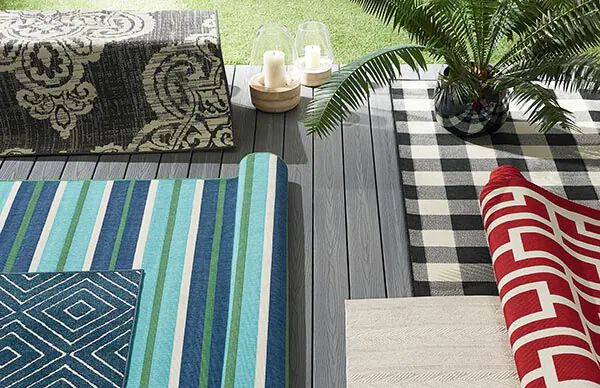 Using outdoor rugs indoors
If you need a durable indoor rug, an indoor-outdoor rug or mat may be a good choice. This is especially true for homes with children or dogs, or in areas that get a lot of foot traffic. One excellent place for an indoor-outdoor rug is a transition room where people first enter your home from an exterior door. Another spot you may not think of using an indoor-outdoor rug is in the kitchen. Because of their performance properties, they make kitchen and food spills a breeze to clean!
Rug and home decor experts
Bassett Furniture has a rug to suit every interior design style. We'll help you find a rug that goes with your room, your lifestyle, and your budget. Whether you're looking for something that will hide your German shepherd's constantly shedding fur or a rug to enhance the beauty of your grandmother's antique furniture, we've got what you need.
Bassett Furniture's rug collection includes the finest quality examples from a range of rug construction and material types. Whether your room could use a patterned rug or a solid rug, shop Bassett Furniture's rug gallery for the rug that will enhance or define your room's style.