Patio Design Ideas For Your Outdoor Space
Updated 2/3/23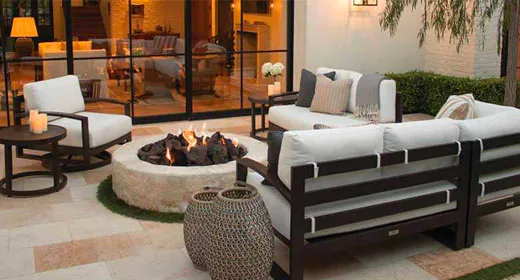 Make the Most of Your Outdoor Space
The allure of outdoor living charms us with warm sun, fresh air, and gentle breezes. By designing the perfect outdoor oasis, you'll not only make the most of your patio or deck but also extend the outdoor season beyond the summer months. Whether you're hosting gatherings under the sun, hanging out with friends around a cozy fire pit in the moonlight, or simply appreciating some solitude in the ambiance of nature, let us help you make outdoor living something you cherish.
As we're all spending more time outdoors, our appetite for comfort, style, and casual living in our outdoor spaces is growing too! Here are some simple design guidelines and creative ideas to help you make the most of your outdoor space.
Go with the Flow – Creating Multi-Purpose Spaces
Start by defining how you want to use your outdoor living space -- What activities will take place? How many people will you want to accommodate?
Designer Tip: Sam Lanigan – Daly City, CA
Treat the space as an open plan with invisible walls. Designate each area for its prime location for use. Think form and function. Be sure the spaces relate and don't compete for visual attention. Outdoor rugs can help to define the activity zones.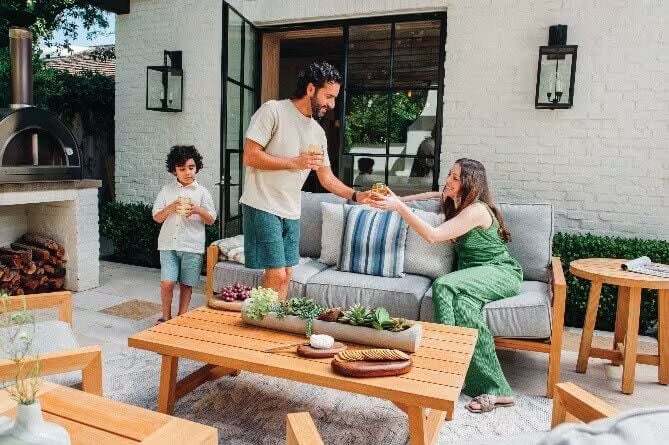 Designer Tip: Diana Wilkinson, Brick, NJ
Creating different seating groups will encourage people to mingle by giving more options to connect in different ways.
Pro-tip: Always plan for more people that you think you'll need, as outdoor gatherings tend to be larger.
Consider the focal points you'd like to emphasize – a certain view, an architectural element like a fireplace, placement of a screen for outdoor movie night, or the like. Arrange the furniture to allow for best view of that focal point.
Want to obscure a less pleasing view? Think about using screens or arranging furniture away from that view. Plan the traffic pattern between spaces, allowing for easy movement.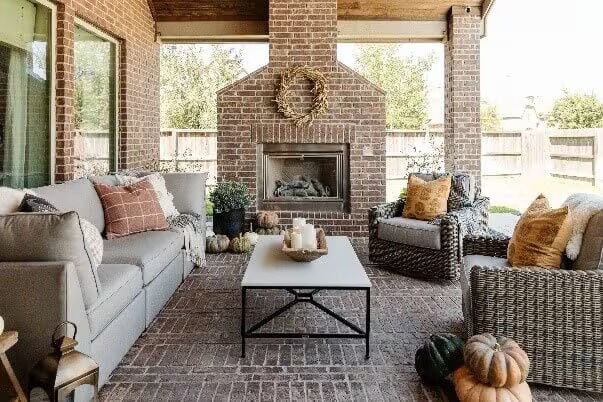 When selecting outdoor furniture, choose the best seating for the activity – go for super-comfy seating to encourage lingering longer. Swivels work well for multi-functional spaces. Benches and poufs can be a great solution for additional seating that can be easily moved – like for extra guests, movie night and more. Consider indoor/outdoor pieces that can transition easily when needed.
Envision the Vibe
Just like your indoor space, your outdoor space should reflect your personal style and bring you joy. Think about the energy you'd like to evoke in that space.
For example – do you prefer Casual or Elegant? Serene or Vibrant? Cozy or Dramatic? Find pictures of outdoor spaces you love and share these patio design ideas with your Bassett design consultant who can help you interpret that look for your own space.
Designer Tip: Aubrey Troupe, Dallas TX
For a calm and serene outdoor space, I really love using neutral color palettes. This creates a unique opportunity for the landscape to be the perfect backdrop.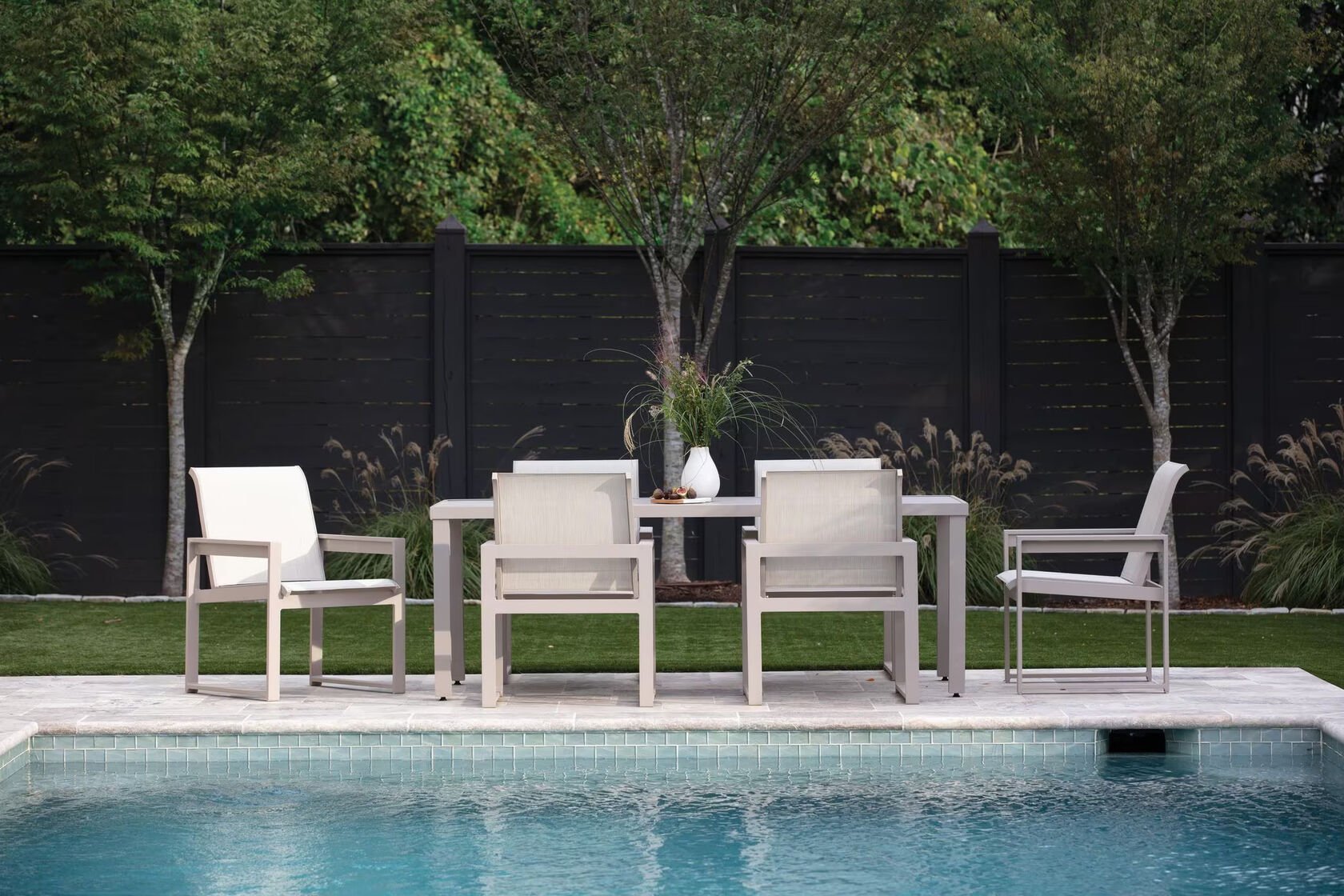 This also creates the opportunity to pop with season specific colors as the years go by.
Designer Tip: Diana Wilkinson, Brick NJ
As with designing indoor spaces the surrounding finishes, existing pieces and even the foliage impact outdoor spaces as well. Consider the color of the house, building or backdrop, as well as the materials and finishes of the flooring (deck, patio, grass etc.) and any other existing elements such as an awning, the colors of the permanent plant materials and of course the view!
For a cohesive look, it's best for the color palette to flow from indoor to outdoor, especially if the outdoor area is visible from the indoor. It's ok to kick it up a notch for the outdoor area, choosing a brighter or lighter shade or tint, yet it should still feel like it flows.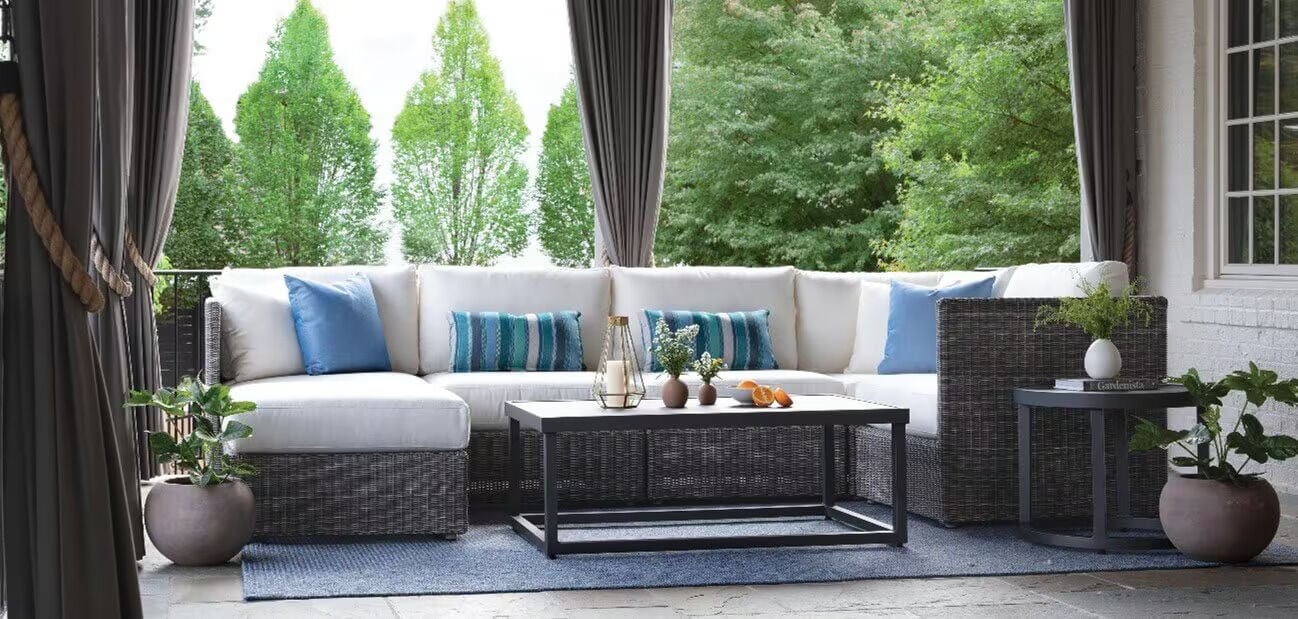 Designer Tip: Elise Vlahos, Farmingdale, NY
Use nature as a design element. What's in your backyard? Lush gardens, a poolside retreat, a verdant forest, pebbles/stonework? Choose colors, patterns, and materials that complement the natural backdrop, and create a space that will make you want to live there all Summer long!
Elevate the Experience with Designer Details
Giving your outdoor space a designer look will elevate the experience and create a seamless transition as you cross the threshold from indoor to outdoor. Here are some basics to get started:
• Mix furniture materials for a curated look vs. all matching
• Build the color story from the ground up – begin with the rug, then select fabrics to coordinate.
• Size matters. Choose a rug that unites the conversation grouping with all furniture pieces touching the rug, or for dining, all chairs are able to stay on the rug when in use.
• Define functional areas using fabrics and rugs that coordinate but do not match exactly
• Use potted plants to add height and texture, as well as color.
• Don't forget the lighting!
Designer Tip: Diana Wilkinson, Brick, NJ
Mixing different finishes, fabric patterns and colors together in an unexpected yet cohesive way will create a rich designer look. Guests will realize right away that the spaces were well thought out and planned rather than defaulting to a typical matching set look.
Designer Tip: Sam Lanigan, CA
To create a designer look, I help my clients select the right scale and not overcrowd the space. Mix manufactured furnishings with organic and textural accents for a "Well Travelled" look.
Designer Tip: Jennifer Tsolas, Chestnut Hill, MA
Contrast welting adds a custom, tailored look to your outdoor sofa or sectional. Using this highlight color in your other outdoor items - like your rug, your accent pillows and your poufs will elevate your outdoor space and create a designer look.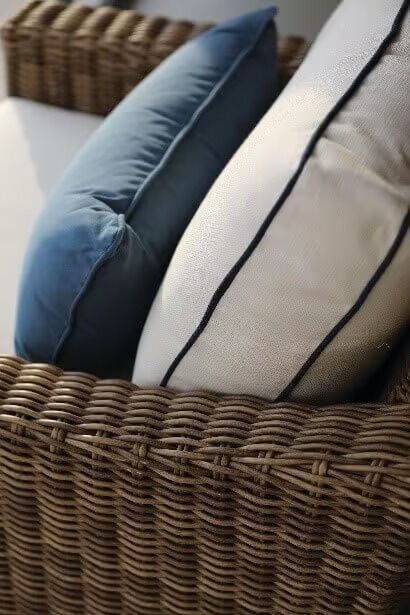 Designer Tip: Lauren Thompson, Wichita, KS
To transform your outdoor space from blah to amazing, here's what I suggest:
• Anchor It: The rug anchors the space and makes it feel more like a room vs just an outdoor area. The visual change really helps define and dress up the space.
• Cozy It Up: Use deep-set cushy seating to help cozy the space to make it more inviting. Curl up with a coffee and the morning paper or relax at night with a glass of wine and a good book. If the space is in an area that gets lots of sun, add in an oversized umbrella for shade. No one will want to enjoy the space if it's too bright to relax.
• Tie it All Together: Use colorful cushions and pillows pulling colors from the rug and your outdoor landscaping. Don't have decent landscaping? Add in potted plants with complementary colors. Complete the look with some string lights to set the mood and extend your enjoyment into the evening.

Stand Up to the Elements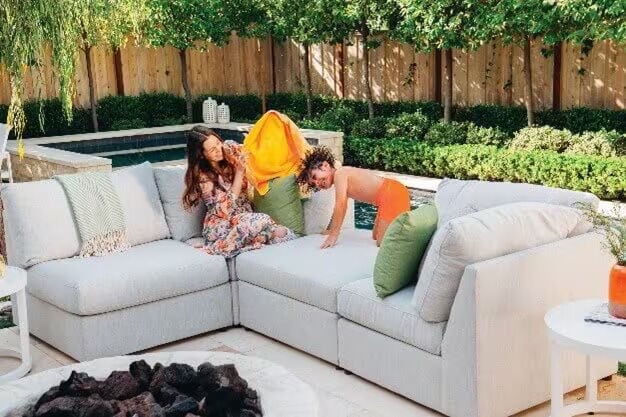 To enjoy your outdoor oasis for years to come, choose materials and colors that will stand up to the elements and provide long-lasting performance. Considering the specific conditions in your environment – solar exposure, proximity to water, and weather trends -- will help you make good decisions for your space and your lifestyle.
Here are some tips from our product experts and design consultants:
• Not all outdoor furniture is built to last and look good for years. Bassett uses only exceptional materials and quality construction, with finishes that won't fade or flake off and fabrics that retain their color, resist mildew and clean easily.
• If you're placing the furniture near saltwater - an ocean or saltwater pool – opt for resin wicker for minimal maintenance. Aluminum furniture can work well, too, as long as you're willing to clean it more often. Or go with fully upholstered collections, like Beckham, and plan for frequent cleaning with a mild cleaning solution.
Designer Tip: Diana Wilkinson, Brick, NJ
If you're in a windy area, consider heavier furniture that won't blow away. It can also help to keep the rug in place.
• If intense heat is a concern, choose lighter finishes that reflect light, and textured finishes vs. smooth.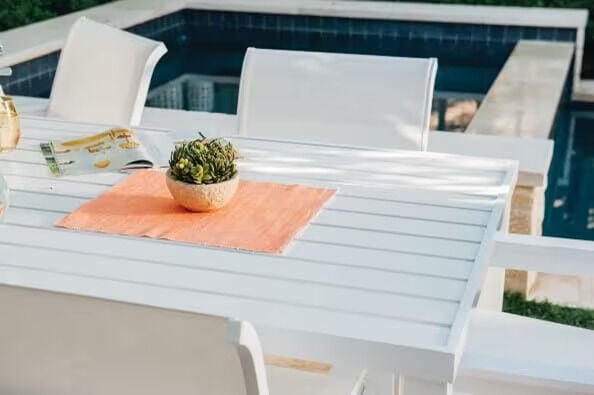 Designer Tip: William Neely, Tucson, AZ
If your space gets late afternoon sun, dark colors will be much hotter. If your space has overhanging trees, you'll want to consider the practical concerns of birds, leaves and sap and choose materials that are easy to clean.
• Comfy seat cushions that dry quickly make it easy to relax. Bassett's cushions are not only plush and resilient, but they're wrapped in a water-resistant ticking with sonically welded seams and treated to prevent mildew and mold. The rain doesn't soak in, so after a rain shower, they're ready to use as soon as the fabric dries – usually within an hour on a warm day.
• To keep cushions and fabrics looking their best, brush off dirt before it becomes embedded and wipe up spills immediately. Clean periodically using a mild cleaning solution ( ¼ cup Dawn liquid dish detergent to 1 gallon of water) and sponge or soft bristle brush.
• For guidance on materials + care, please check out our outdoor care page.
Partner with a Pro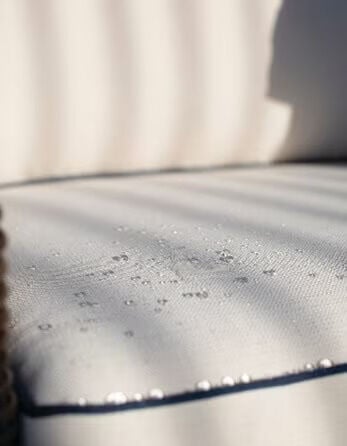 Decision, decisions, decisions … how you'll create your ideal outdoor space is totally up to you, and yet you don't have to make the decisions alone. We're here to help!
Partner with your local Bassett Design Consultant who can listen to your ideas and needs, view your space (virtually or in person) to help you plan the layout, and select products to work with what you have or start anew. Schedule a complimentary design consultation today or visit your local Bassett store.
With their knowledge of the local environment and expertise in design, our Bassett design consultants can help convert your ideas and vision into the outdoor oasis you'll never want to leave.