Dress Your Perfect Bed
Updated 3/31/23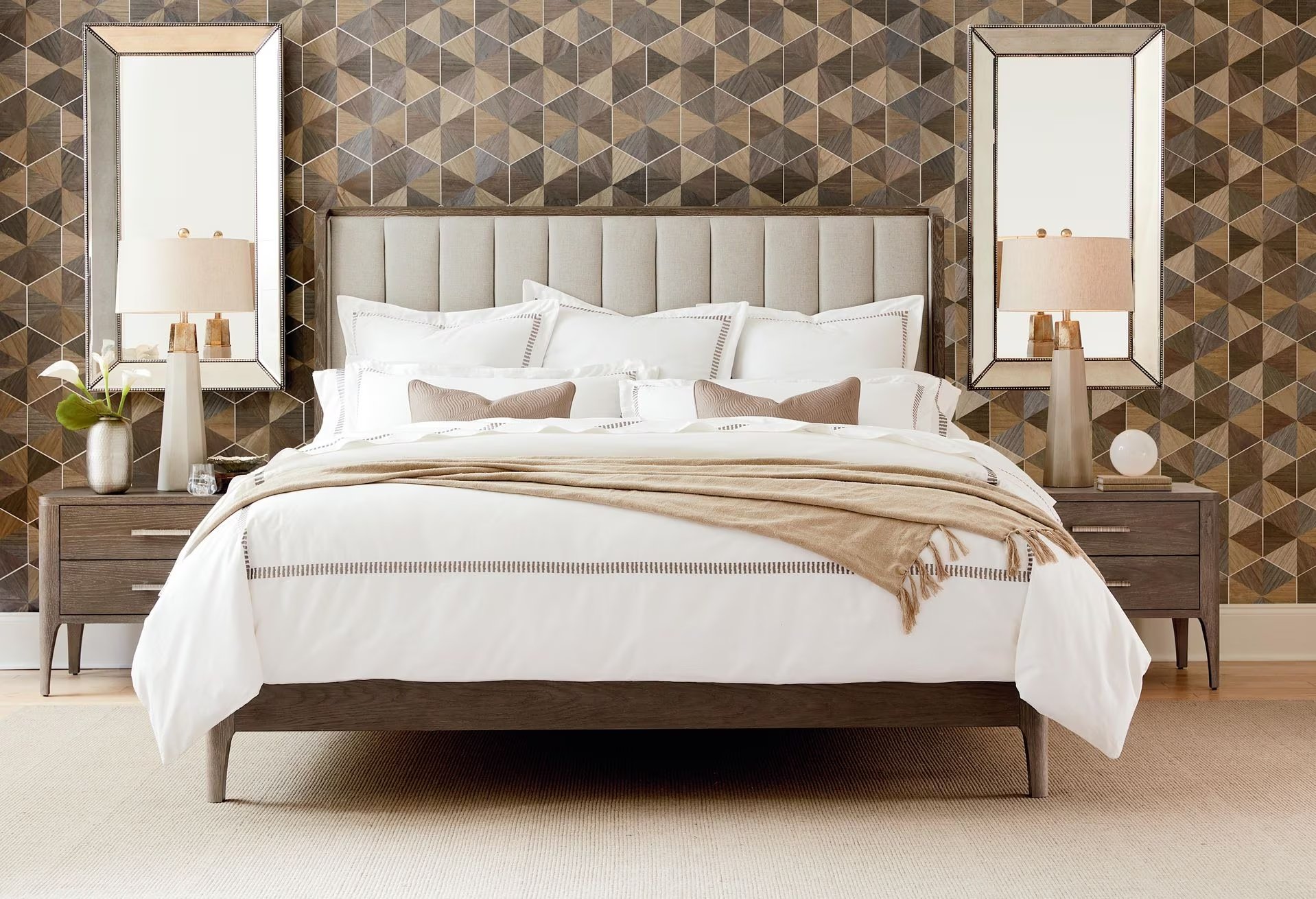 You don't need to be a lover of the latest period drama on Netflix or PBS to know that beds have long played a starring role in every household.
And the ancient cultivation of linen and cotton, first grown by the banks of the Nile and Indus rivers, tells you that dressing this revered piece of furniture is just as storied as the bed-as-throne itself. That's why we're here to help you robe your beautiful Bassett bed in the finest bedclothing, so your every day begins and ends in the luxury of a sleep sanctuary.
Up Close and Personal
Think of dressing your bed as if you were outfitting yourself for sleep. Not only do you want the finest fabrics you can afford snugged up close and personal next to you, you want to layer them into a look that is as heavy on style as it is on comfort.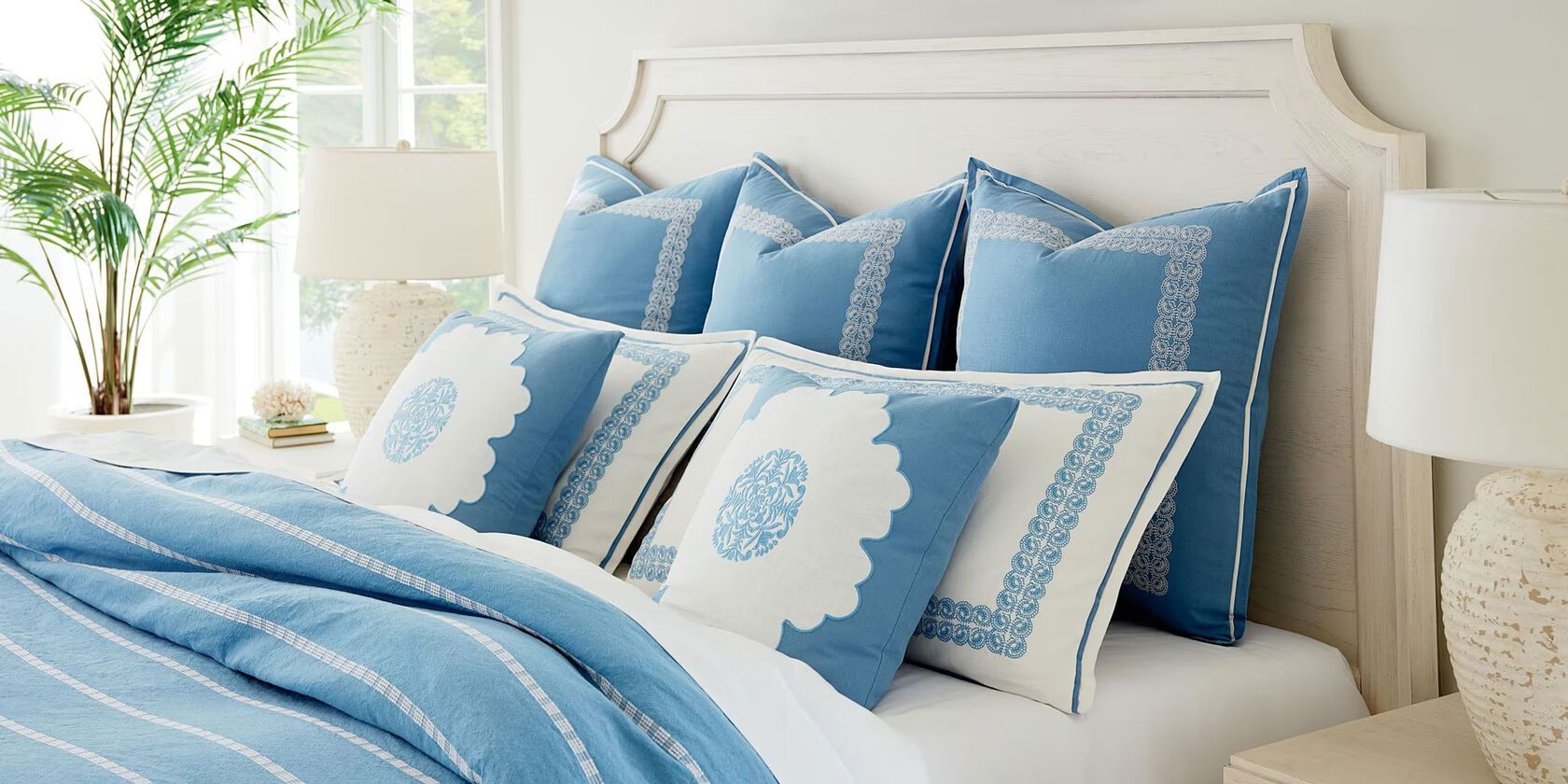 That leaves us, then, starting with the sheets. You'll spend between one-quarter and one-third of your life next to these sheets – and that's a pretty intimate relationship, even for one based in a bedroom. So it makes perfect sense that good sheets are a necessity, not an indulgence.
While linen is not only the oldest but the distinctively eponymous textile used for sheets, cotton sateen has become the "gold" standard for high quality yet highly functional sheeting. Bassett's Bellagio and Savona Sheet Sets are 400 threads per square inch of supple cotton sateen, with a drape and hand that treats you like silk lingerie while behaving with the resilience of cotton.
Always an attractive and reliable option, the sheets are fabricated in a clean, white cotton you can keep that way with your choice of machine or line drying after home laundering – OR professionally laundering and steaming. (You really should try it sometime!) Edged at the hems by simple graphic embroidery, the first layer of your bed's outfit is complete … and ready for what comes next.
A Bed Ready for Everything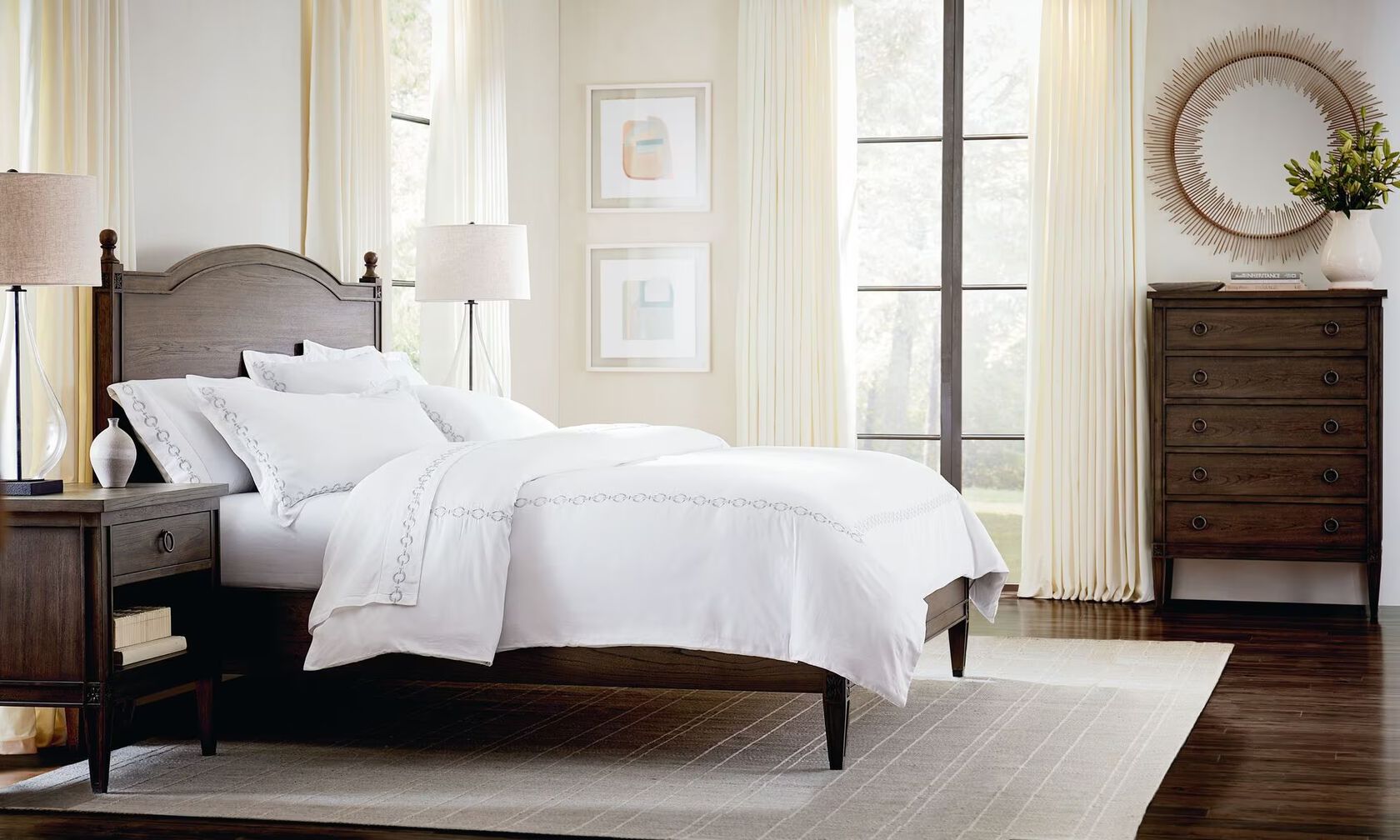 When it comes to what's next, we're firm believers in taking the same approach for the bed as we all take to dressing for weather that changes hourly. If you have enough layers, you'll be ready for anything from hot to cold to what-the-heck, right?! So, let's get your bed ready for everything – especially you!
Duvets offer the ultimate personalization of sleep style, and we're not even talking here about what they're filled with. While traditional American-style bedding layers usually include the flat sheet topped by a duvet in the matching size, many sleepers have adopted the more European approach to using duvets directly atop the fitted sheet. And lately, you can find pairs of twin duvets, in lieu of a queen or king mattress-matching-size duvet, employed in the great battle against blanket-hoarding.
Even though how you build your bed from the sheet up is as individual as your sleeping style, we have the designer bedding to help you do it well, whatever your choice. One of our preferred approaches starts with the flat sheet layered over the fitted sheet, then the duvet as the cushy next step. This is still a layer that you want to be able to launder regularly, so every option we offer is washable cotton and/or linen. Match your duvet to your sheets with the Bellagio or Savona duvet covers, or start adding color and pattern with the Dawson or Monacooptions.
Your Bed, Your Mood
Then it's quilt or coverlet time. This level in the layering process is where you can further up the ante on color, pattern or texture. For example, have you seen the glorious indigo-like hue of our block-printed Luna quilt? This color and fabric decision can also be a seasonal one, allowing you to adjust the feel of your bedroom, literally AND figuratively, to the morphing of the view outside your window.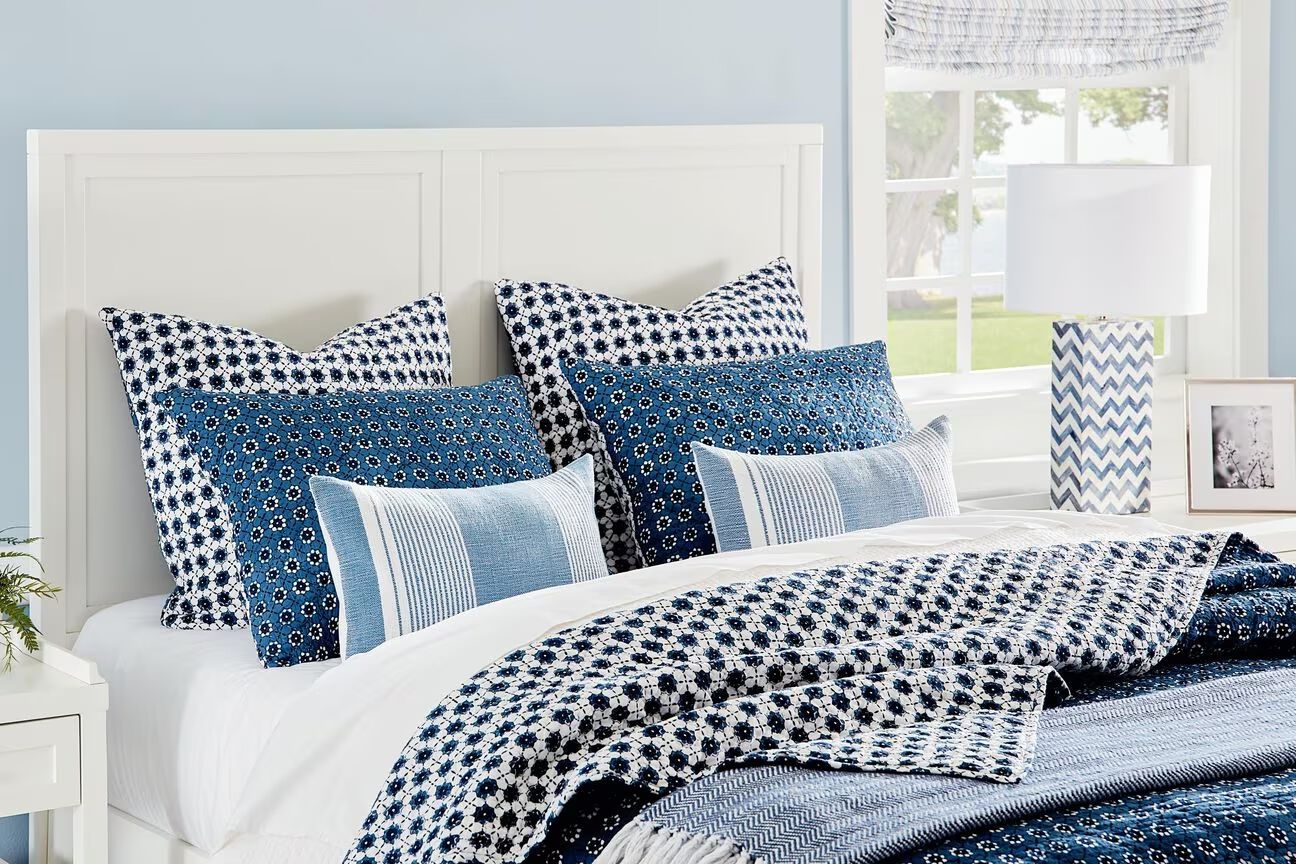 Expanding your layering options, all of our quilts and duvets have matching and complementary shams, so your love language of sleep includes the necessary pillow talk.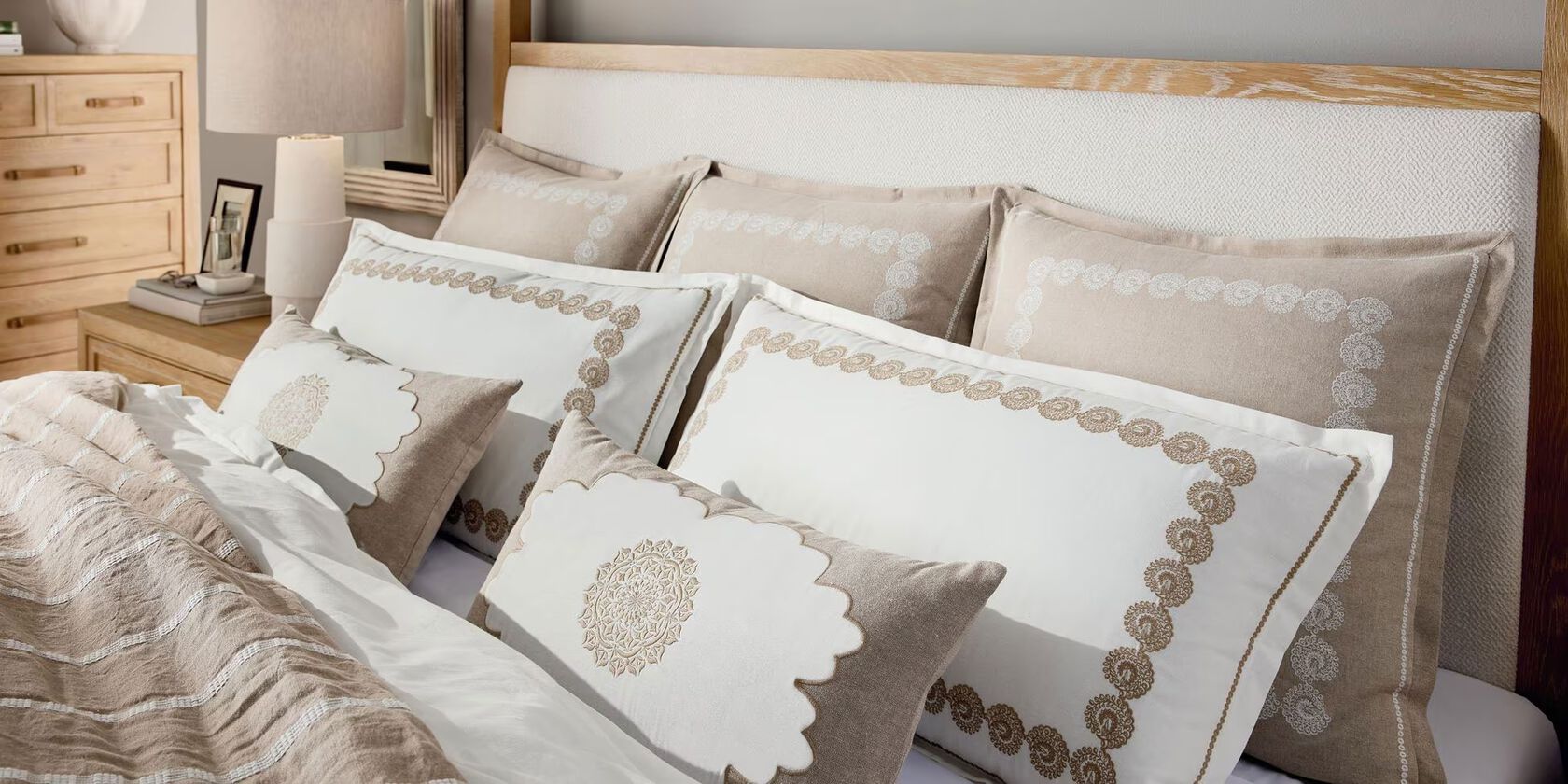 Don't be afraid to let the pillows have their say, with accent pillows that can further customize your boudoir statement and change as easily as your mood. Just be sure to keep a shelf (or three) in your linen closet designated for pillows, then treat them the same way you do your fashion accessories.
Change and arrange as that mood moves you!
You should use standard visual principles as you layer: Pillow size determines background, middle ground or foreground placement. That's as easy as understanding that if a pillow is hidden by the one placed in front of it, either move it to the front or take it off your bed. (Pillows DO like to be seen, after all.) Remember, too, that odd number combinations of anything typically offer the most visual appeal, while breaking the bonds of symmetry makes for dynamic looks that accommodate fast, easy bed-making.
Final Touches and Pleasant Dreams
Your choice of a throw is one last layer of texture, warmth, and décor artistry to bring your bed center stage. This is a bedding element that lives up to its in-action name: toss it artfully at the end of your bed, going with faux fur or fat-cabled knit to ward off winter chill. Then make a seasonal change to the cool comfort of a bright, light weave like Bassett's Balboa or Portola throws.
And yes! Expect your throw blanket to migrate to your reading chair or bedroom loveseat as often as it may be draped at the end of your bed. While we all know the bed is king (or queen!) in this realm of the house, comfort should go where we go. No one knows – or does – that better than Bassett.
Bassett's own bed-making history couldn't fit any more perfectly into a room as celebrated and central to life as the bedroom – so you are now as prepared as you'll ever be to get on your mark, layer up, and climb into the AHHHHHHs of a truly beautiful sleep. Pleasant dreams!