Living Room Ideas
Updated 8/26/22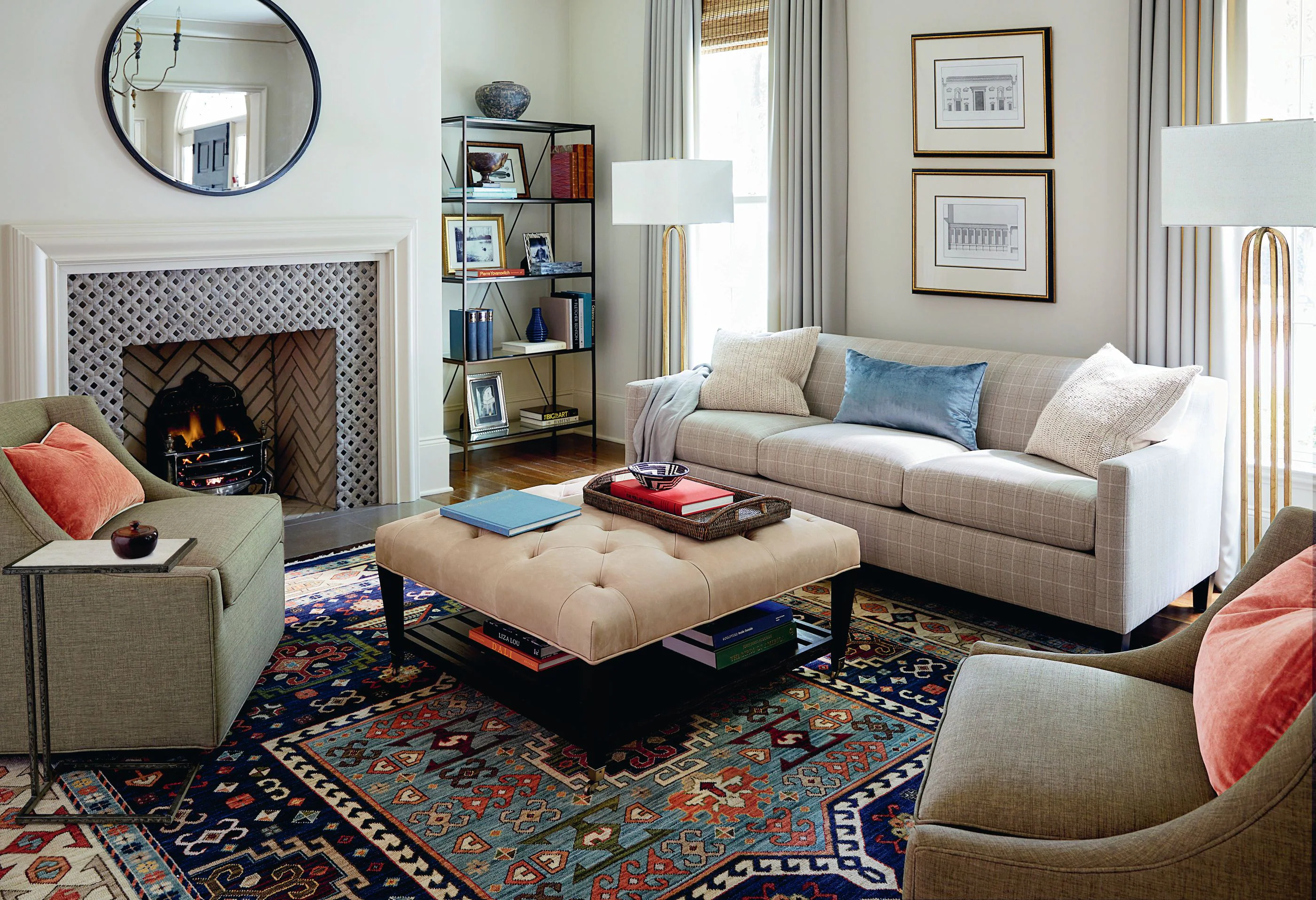 No matter how you position it, make sure your living room is a thoughtful reflection of your family and style. Whether you space it out, create a cozy sitting area, or look to Feng shui rules as your guide, let Bassett Furniture help you furnish your home with timeless and elegant pieces.
Tips for Arranging the Furniture in Your Living Room
Below are 5 basic tips for arranging furniture in your living room:
Tip #1: Keep entryways clear of obstacles. This means that people entering and exiting your living room don't have to slide, scoot or shuffle into or out of the room because of the way your furniture is arranged. Make sure there's a comfortable distance between your furniture and exits.
Tip #2: Get furniture that fits. If you have an oversized couch, table or have too many pieces of furniture in your living room, your problem may not even be the arrangement but the furniture itself. Make sure your furniture not only fits the size of your room (remember to measure!), but can also comfortably seat your family or regular guests. Nothing more, nothing less
Tip #3: Don't be afraid to mix furniture sizes. There's no rule against pairing a sectional with a loveseat and accent chair. Playing with varied sizes of furniture can bring a much-needed dynamic to your living room. But again, make sure you've got those measurements handy. It'd be a shame to realize that your new sofa blocks an entrance to the room.
Tip #4: To rug, or not to rug. Adding a rug to your living space can bring a fresh new color to your living room, making it feel like an entirely new place. Conversely, removing a rug that's been there since you moved in may be the change you've been looking for. Rugs can play a major role in altering the style of your living room; but because of that, be careful of which rug you choose and how it's placed.
Tip #5: Bring new light to an old space. Sometimes all you need to create a fresh perspective of a place is a little light. Adding lamps to corners and end tables is a great way to brighten the room while allowing you to see your living room in a whole new light — literally!
Living room design tips from Bassett Designers
Here design consultants Aleena Khan (Frisco, Texas) and Luci Most (Garden City, New York) share some of their favorite interior designer insider tips that you can use in your own living room.
Favorite tips
Q: Do you have a favorite design tip?
Luci: For furniture, I prefer a neutral palette. It's timeless and versatile. Use it as a springboard from which you can layer on elements and even change out accessories as times change. Today's "fast fashion" environment requires it.
Aleena: Always try to have a bold accent piece in the room to make the room have character.
Design rules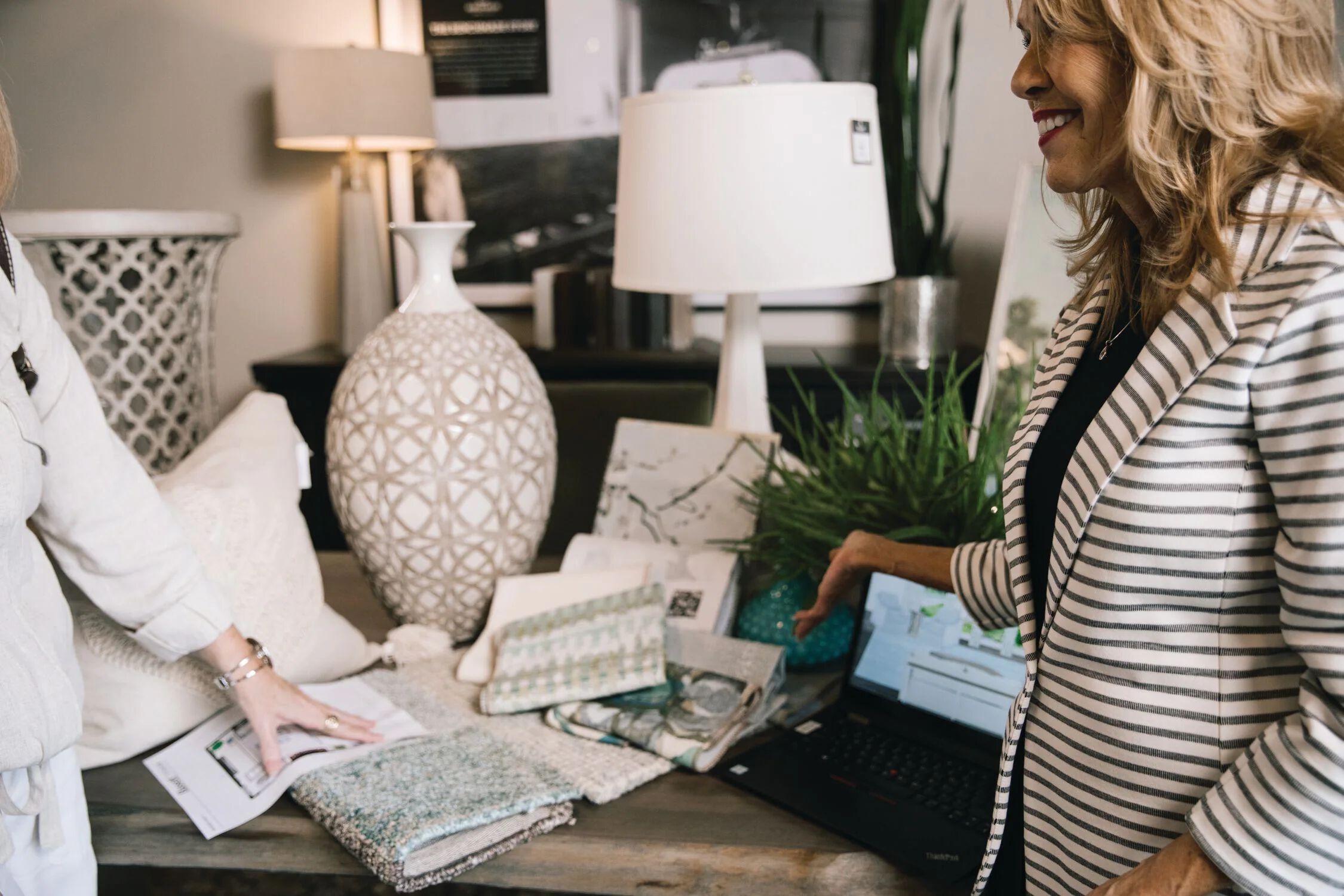 Q: Do you have any favorite design rules that people should know?
Luci: As a designer, I don't like to put myself in a box. Rules are made to be broken. Basically, anything goes if it works. My motto is there is no right or wrong. Be open and learn from your clients, colleagues, and competitors.
Aleena: Stop playing it safe and looking at trends.
What more people should do
Q: What do you think more people should do when designing a room?
Luci: Consider new things. Never limit yourself.
Aleena: Homes are a personal reflection of our lives and how they change with our experiences and growth. Your home will too. Don't discard a favorite piece of furniture or décor, just because it doesn't match what you love today.
Style longevity
Q: How do you make sure your furniture has style longevity?
Luci: Use neutral colors with classic design features, which can be tweaked into trending looks.
Aleena: Use neutral colors.
What to do when your room feels blah
Q: What do you do if a room feels "blah?"
Aleena: Add a bold color – a little color can change the look of the room completely.
Luci: Backgrounds make a difference and energize a blah room. Choosing paint colors for wall and ceiling set the tone. Paint walls light colors to make a small room feel bigger. Dark colors to make a large room feel more intimate and warm. Mirrors make a room look bigger and add light. Lighting is also a big factor when creating a space.
Always and never
Q: What's something you should always do when designing a room? Should you never do?
Luci: Always make sure that space flows and there is enough room to move around. Never clutter a room with too much furniture.
Aleena: Scale is the number one mistake that almost everyone makes when it comes to interior design. This is probably the case because it takes a talented eye to decorate a room with an impeccable scale. Some people put too many small things in a room, thereby cluttering the room and not giving the eye a place to land.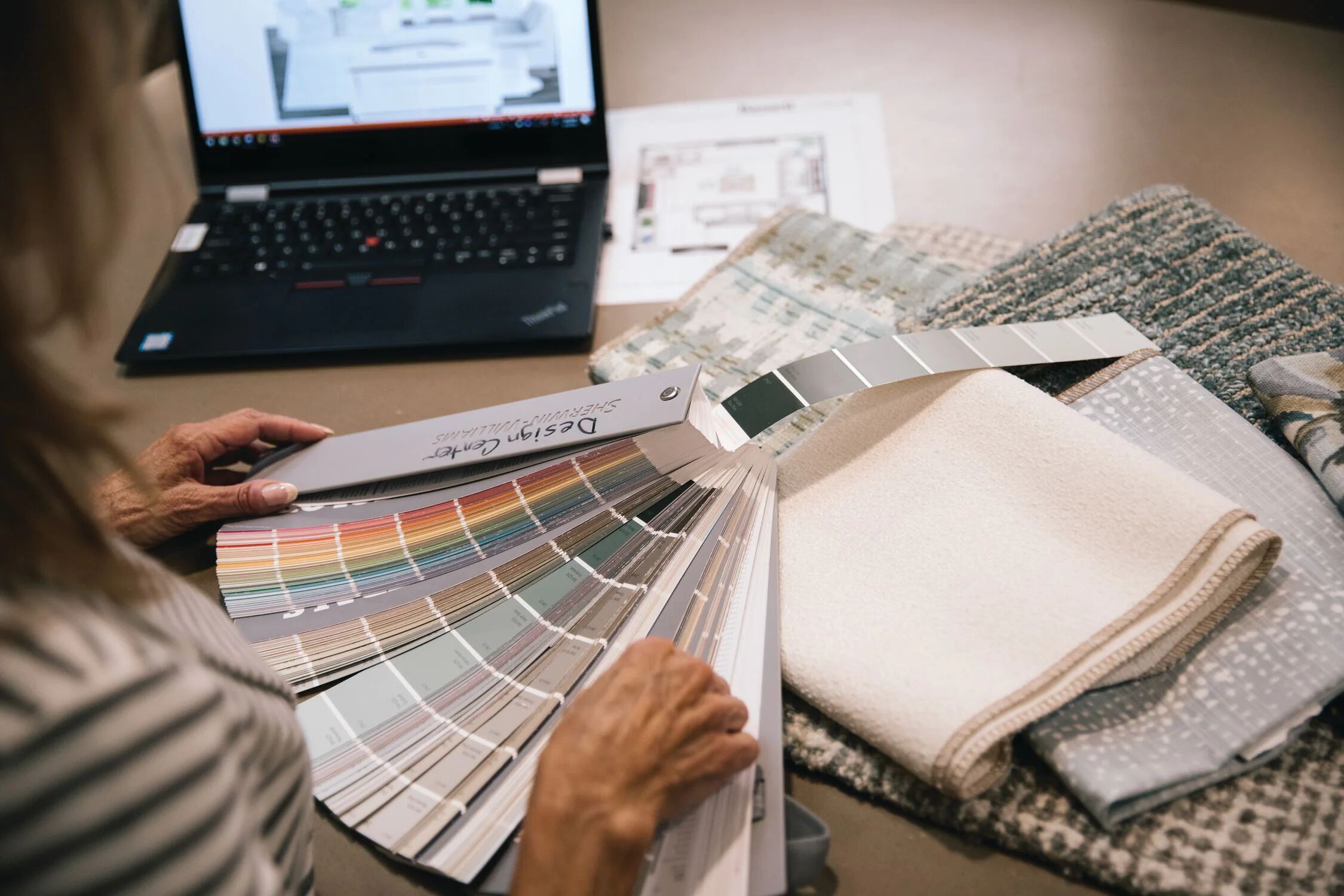 Living room fixes
Q: What do you always want to fix in a living room?
Luci: I always reconsider the existing floor plan. I like to see if I can rearrange the space for the better but also to make it feel new and exciting.
Aleena: Their living room layout. In most homes that I walk into, the layout is not properly configured to the room.
Living room arrangements with two sofas (advanced)
Having two couches in your living room is a great way to provide plenty of comfortable seating for your family and guests, but arranging a living room with two couches isn't always easy. Below are some tips for arranging a living room with two couches in small and large spaces:
Keep it simple.
If your living room is small, your best bet when arranging two couches is to keep it simple by facing the couches opposite of each other. This layout works with the couches directly in the center of the room or with one couch against a wall.
To keep the room from looking too crowded, keep the rest of the furniture simple. Try placing a small rug in between the couches for warmth and style, then add a coffee table for extra storage. When incorporating two couches into your living room decor, also helps to keep the colors light, so you don't overwhelm the room.
Increase your seating.
If you're blessed with plenty of space, you can maximize your seating by adding two couches and a few chairs to your living room decor. Start by placing a rug in the center of your room and arranging the two couches next to each other (pictured above). Then add two chairs and a side table to one of the open sides, leaving one side open to face a TV, fireplace, or window with a view.
Create a gathering space.
Your living room is a place for your family and friends to gather, so why not make the seating as communal as possible?
In this layout, two couches are placed opposite of each other with a rug and coffee table in between. Then, two accent chairs are added on each side to close in the seating space. Just remember to leave enough room so you can walk in between the couches and chairs without bumping into anything.
*Bonus: Choosing throw pillows for your furniture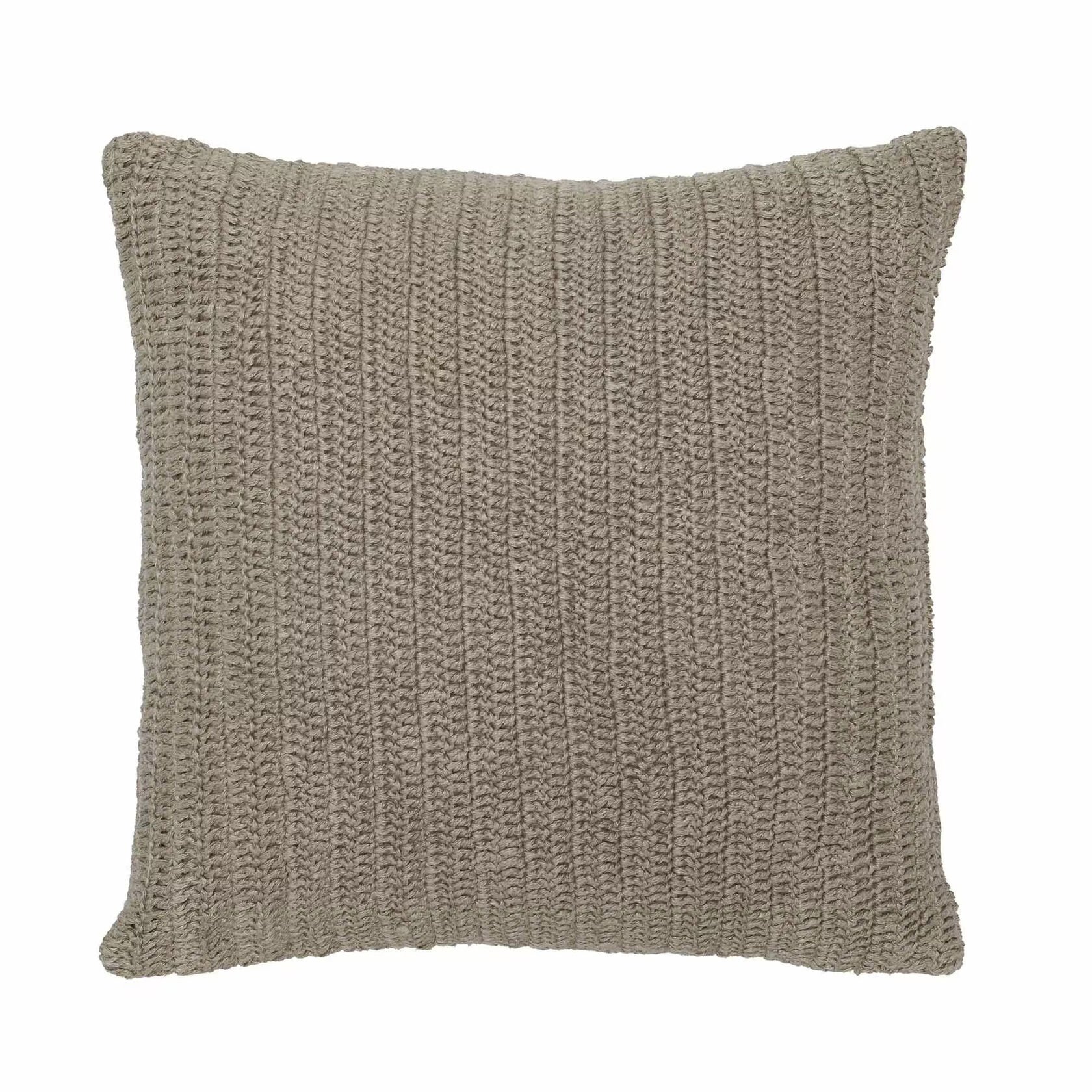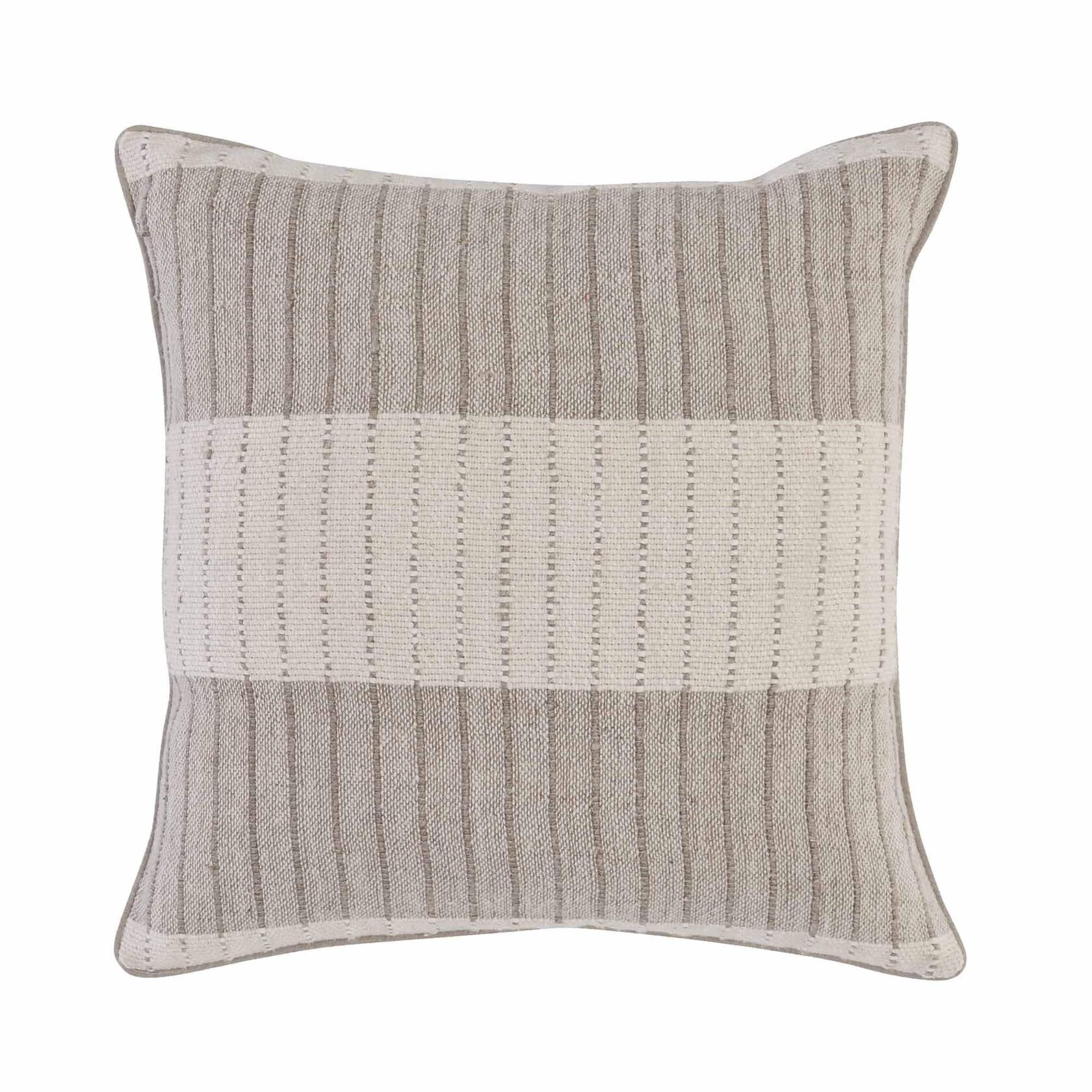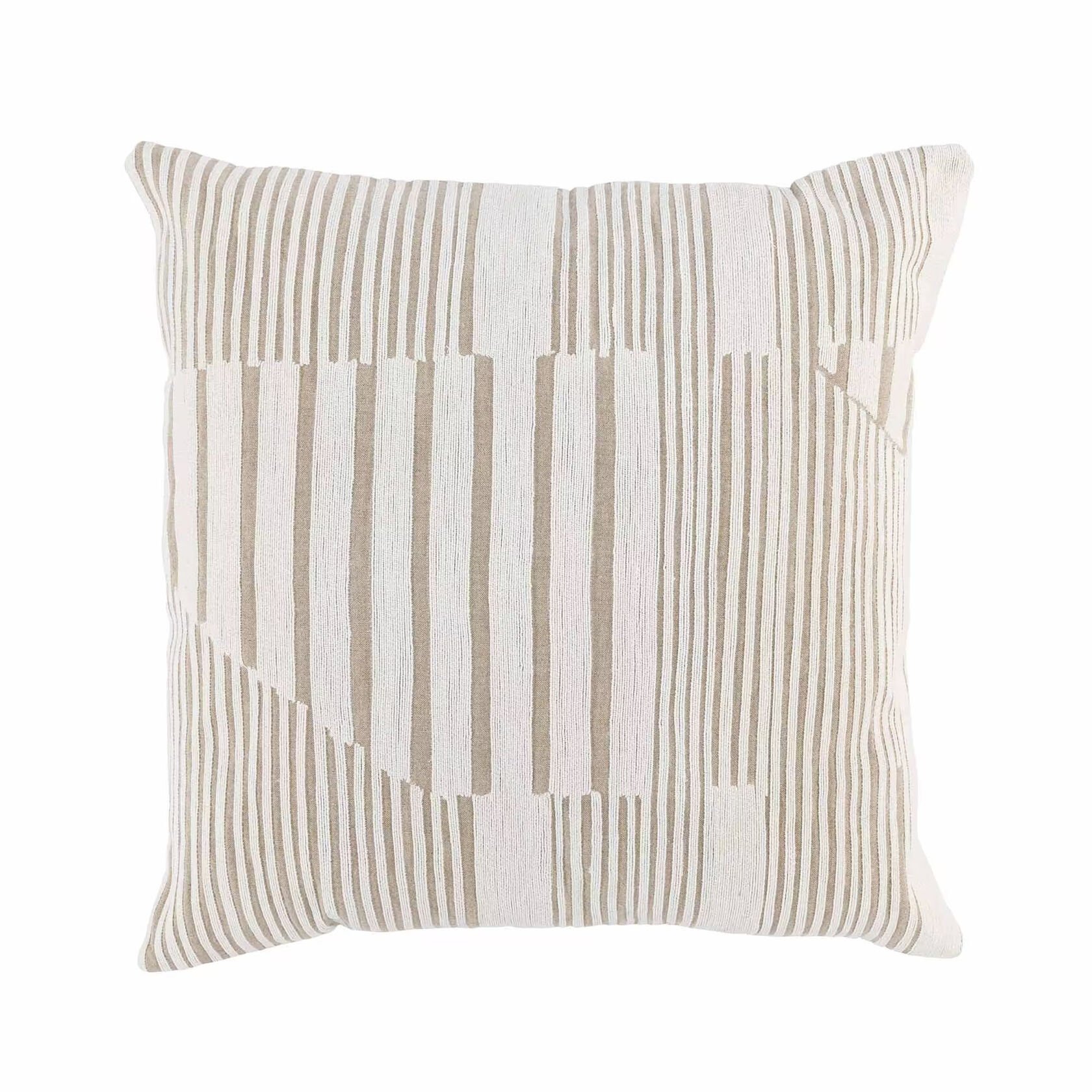 Learning how to choose the right throw pillows for your sofa requires a thorough understanding of how textures, patterns, and colors mesh together. Make sure you're capturing the vibe of your room and your unique style in every throw pillow you choose.
You may be surprised by how little pops of color and texture can bring the whole room together!
Choosing the right decorative throw pillows
No two pillows are created equally, and choosing the wrong color, pattern, or texture can ruin the whole vibe of your living room. You'll need to think carefully and plan which pillow you'll add to your sofa oat a time. Here are some tips to consider when choosing a throw pillow:
• Patterns are your friend. Don't shy away from them, but don't overdo them, either. We like pairing pillows with large and small patterns together.
• Experiment with neutral colors. Throw pillows don't always have to be brilliant shades of blue and pink. Neutral tones can introduce an earthy element to any living room.
• There is such a thing as too many pillows. You never want to overwhelm the look of your couch by adding too many pillows into the mix. Depending on the length of your couch, you may need to limit the number of throw pillows you have at a time.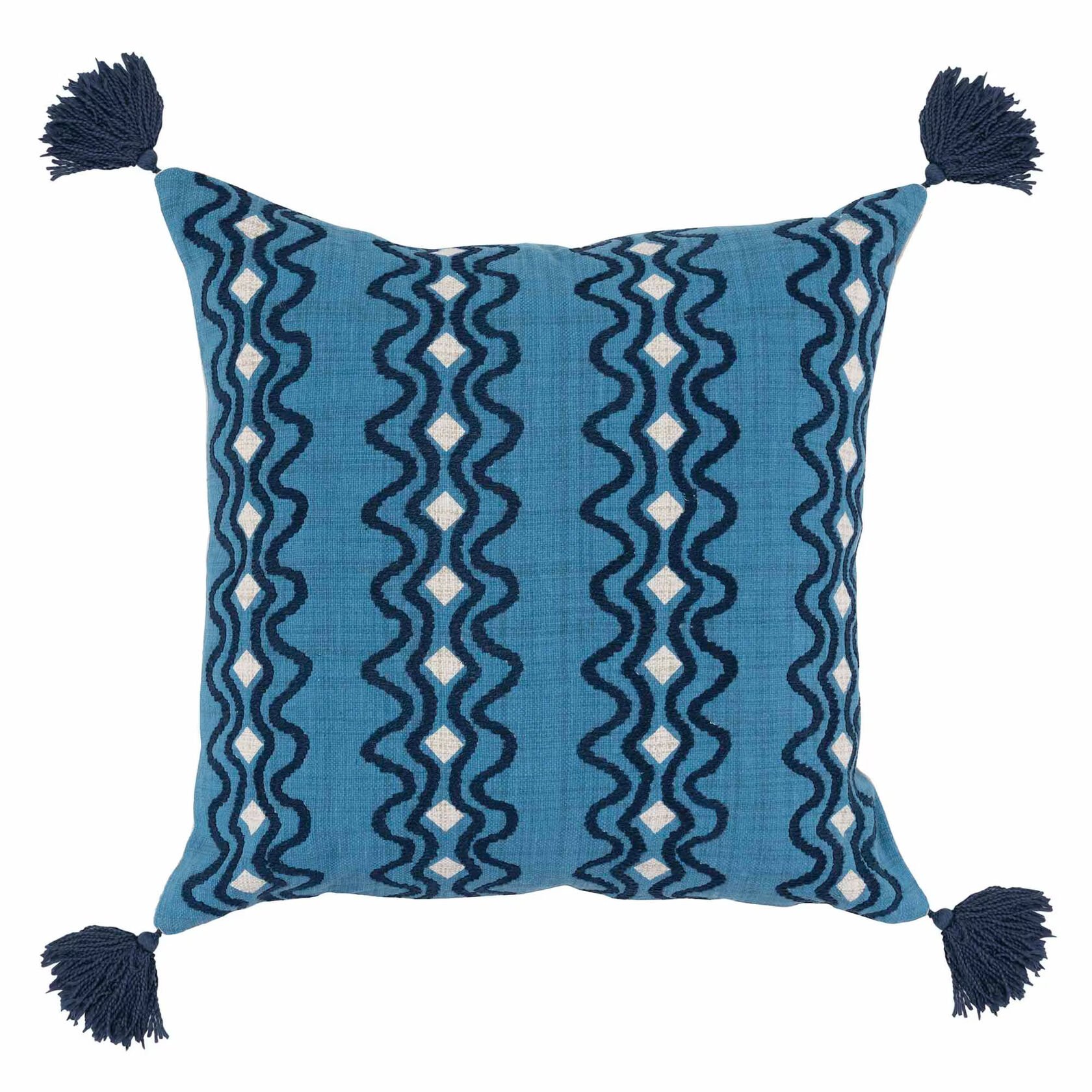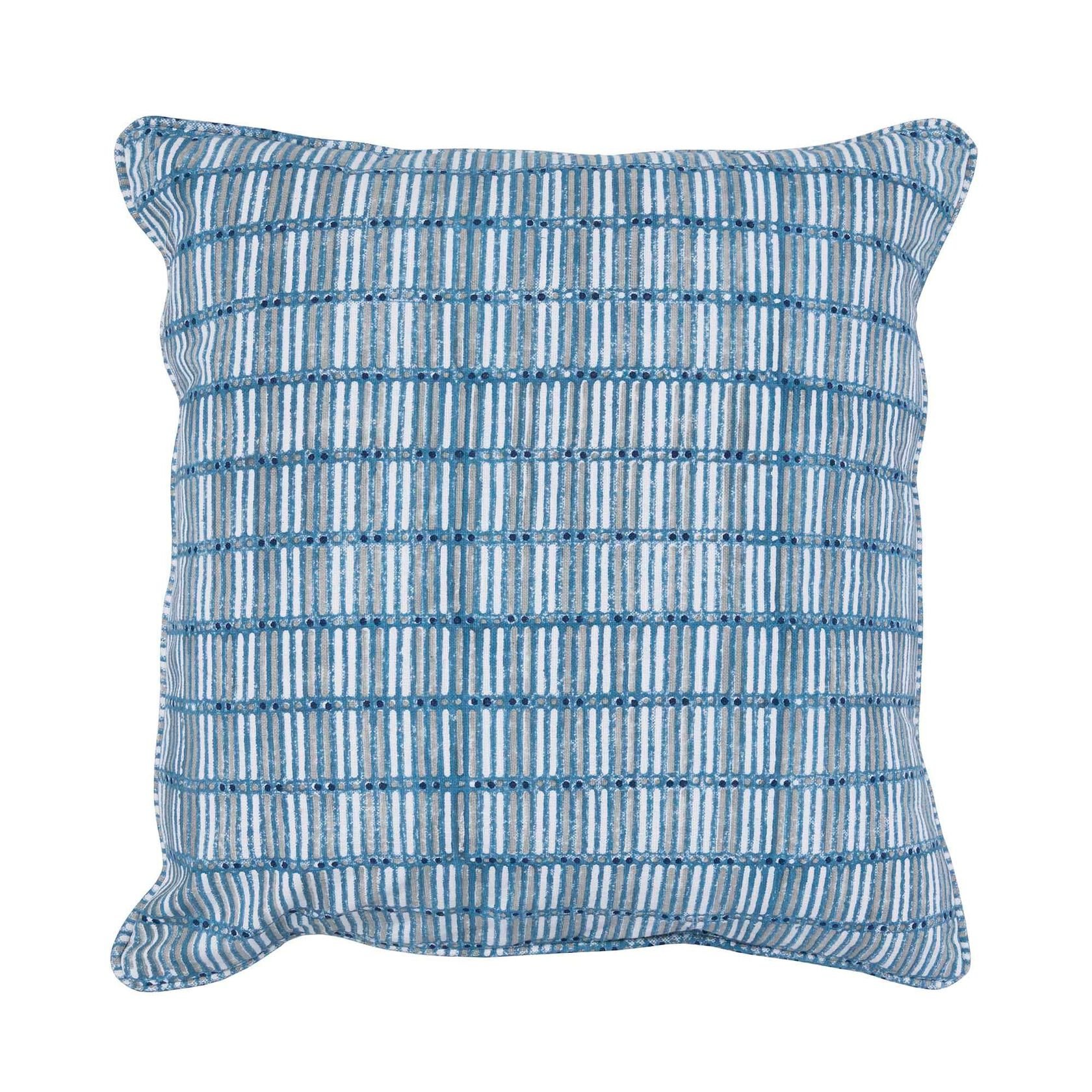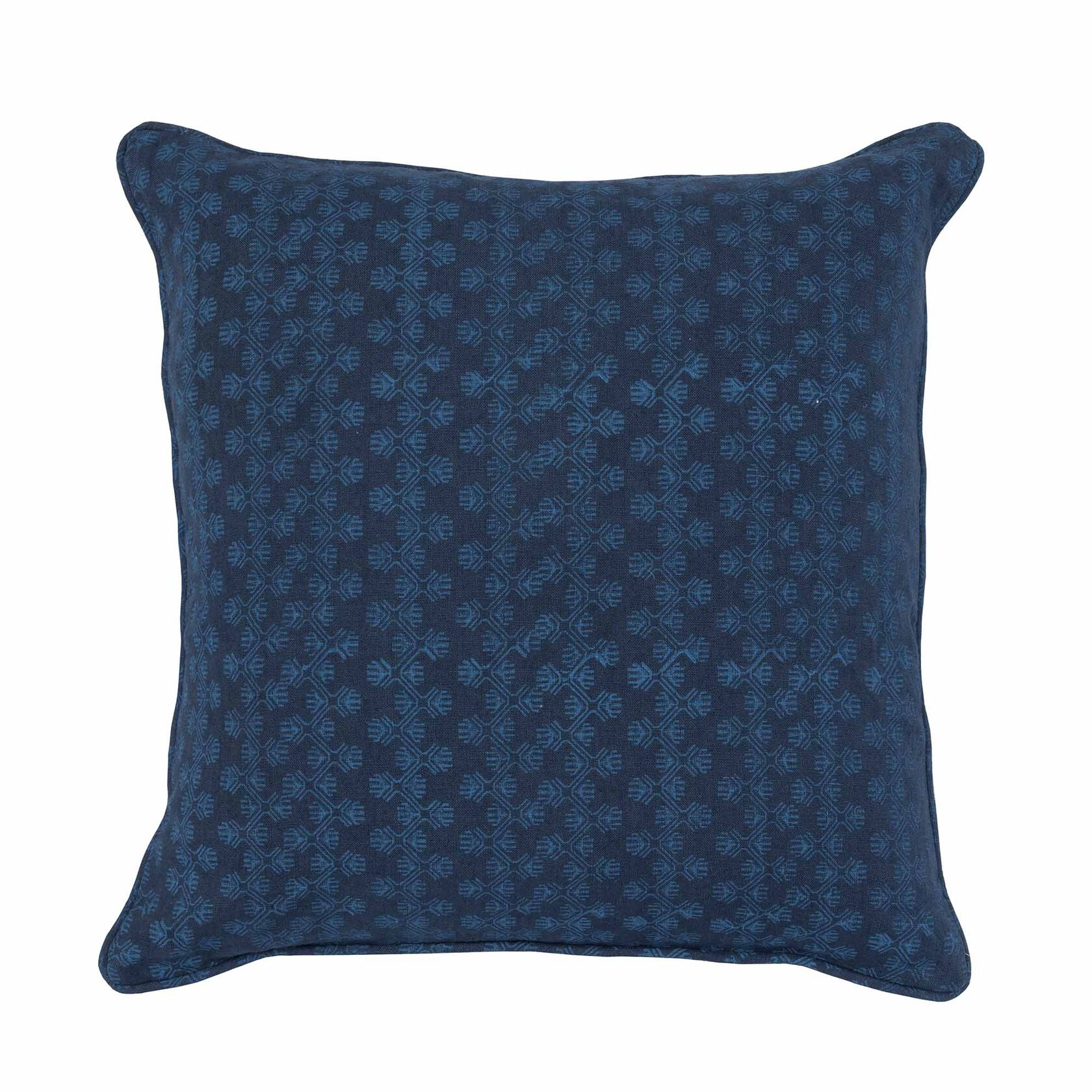 But don't let this stop you from buying new pillows. Cycle through different styles anytime you're looking to spruce things up.
Ways to make accent pillows pop
This is where the art of design comes into the formula for decorating with throw pillows. If you want your pillows to make a statement in your living room, you need to see the larger picture. Draw inspiration from your existing style and design.
• Try adding a pillow in an accent color that will turn your room from a boring scene into a vibrant stage.
• Large, geometric prints are seen as a modern scheme. Try adding large pillows of these designs to create a contemporary look.
• If eclectic is more of your taste, get a pillow in different colors, patterns, and textures with a common denominator.
How many throw pillows should you have on your sofa, chair, or bed? These guidelines will serve you well: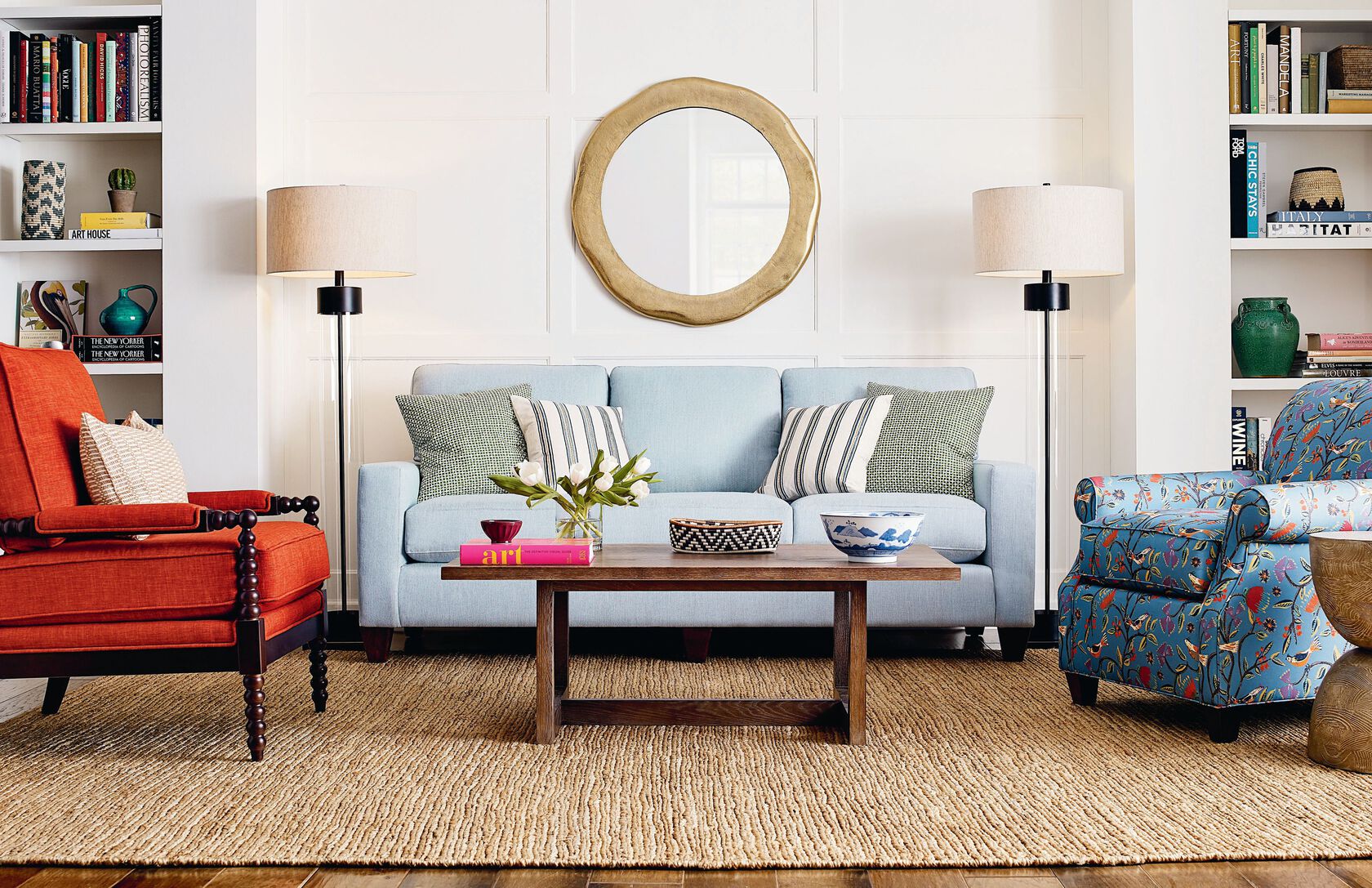 • For a sofa or bed, try the 2:2:1 ratio. This requires two larger pillows (one on each side), two smaller pillows, and then one rectangular or bolster pillow in the center.
• While five is the perfect number for most sofas, beds can have fewer. Four pillows (two large and two small) work well for a queen-size bed, and you may just want two or three pillows on twin beds.
• One accent pillow is fine for most chairs. People generally tend to move this pillow when they sit, so it's mostly for decoration.
Pillow Patterns and Colors
There are several different techniques you can use to mix and match your pillows. These fail-safe guidelines ensure your pillows add visual interest rather than a distraction.
• If you're using the 2:2:1 ratio, consider using two fabrics—a patterned fabric for the outer two pillows and the rectangular or bolster pillow in the center, and then a solid fabric for the two smaller, inner pillows. In general, symmetry always looks best.
• If you like more variety in your pillows, choose a pattern type (for example, floral) or a color scheme (e.g., shades of blue, primary colors, or a rainbow). This will give you a more eclectic, casual look that still keeps the room cohesive.
• Use your pillows to incorporate accent colors. Find a decoration you love, and choose patterns and shades that weave those colors into your design. If you have colorful artwork or an area rug, your pillows can pick up on some of those shades.
When designing a room, a picture says a thousand words. In the picture above, the combination of blue and gold create a look athat can only be described as the epitome of elegance. With two-patterned pillows and two solid colored pillows, the fabric isn't overwhelming but still picks up on the accent colors. The tan of the patterned pillows matches the fabric on the couch, and the silver rope detail trimming the blue pillows gives them panache.
Adding pillows to a sectional can be difficult because the placement isn't always obvious.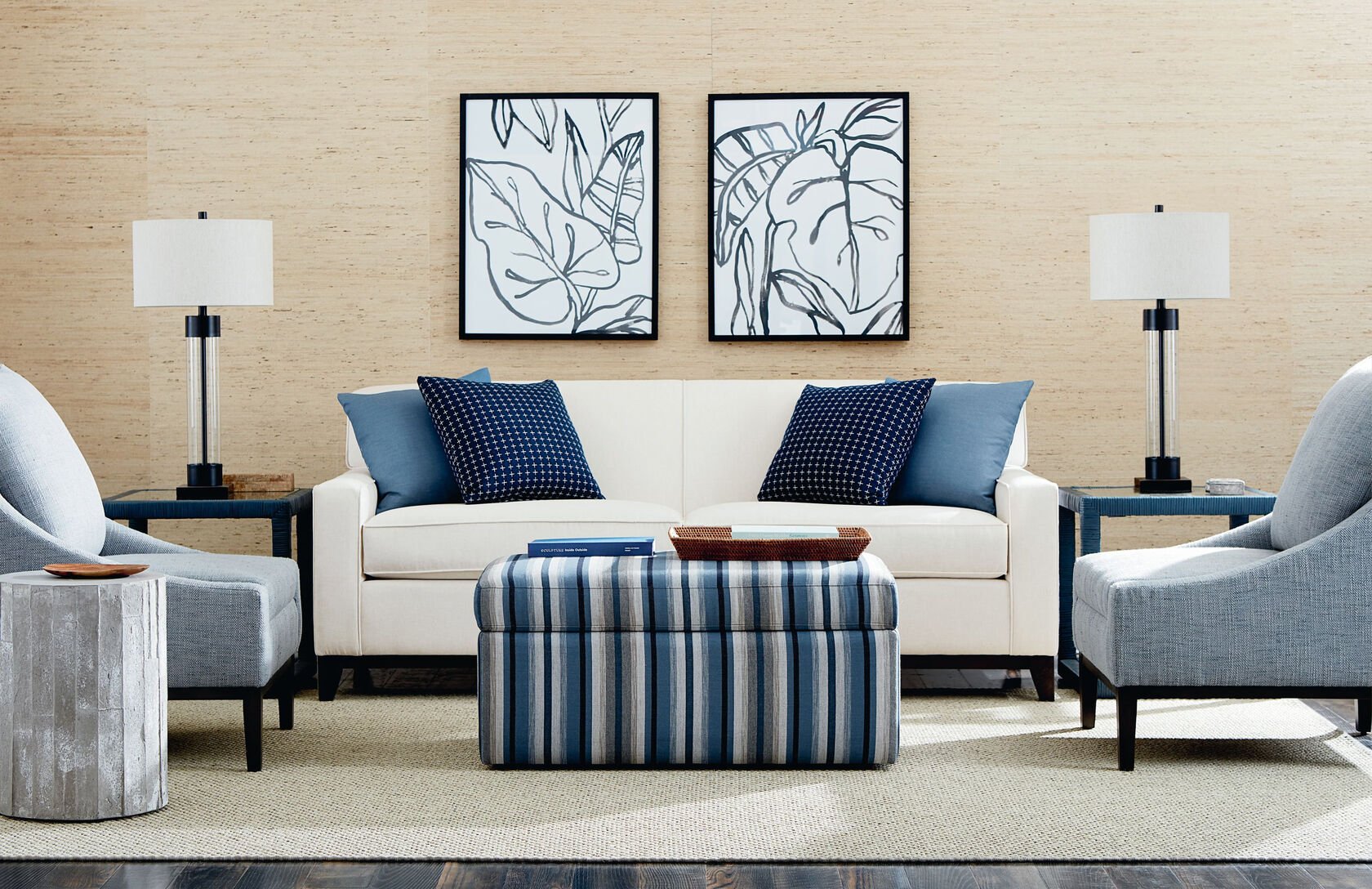 The two bolster pillows on either end of this sectional provide support, and the combination of a larger pattern, a small print, a textured cream pillow, and solid-colored cushions is perfect. Each fabric echoes an element of the living room, so nothing looks out of place.
This gorgeous sofa proves that you can experiment with several different fabrics, as long as you stay within the same color family. The fringed pillow uses the same fabric as the accent chair, and all of the cushions use varying shades of white, light green, and blue. The vine fabric on the rectangular pillow has a jungle flair that imitates the leafy pattern on the area rug.
Blue and white are classic colors for a traditional home, and this living room is a wonderful example of why that look is so beloved. The traditional 2:2:1 pillow arrangement looks inviting but not overwhelming, and the symmetry is pleasing to the eye. While there are several patterns in this room (on the rug, accent chair, and pillows), they each incorporate the same shades of blue and white.
If you want multiple patterns on your pillows, take your cue from this design rule of thumb: use one small pattern and one larger print. Add in a matching solid with accent trimming, and you've got the perfect pillow arrangement!
Browse Bassett For More Design Ideas
Are you inspired? Our home interior design ideas are intended to make every room in your home reflect your unique style. Find a Bassett Furniture store near you today and learn how to amplify your style.