Get Your Dining Room Ready For Thanksgiving
Updated 3/10/23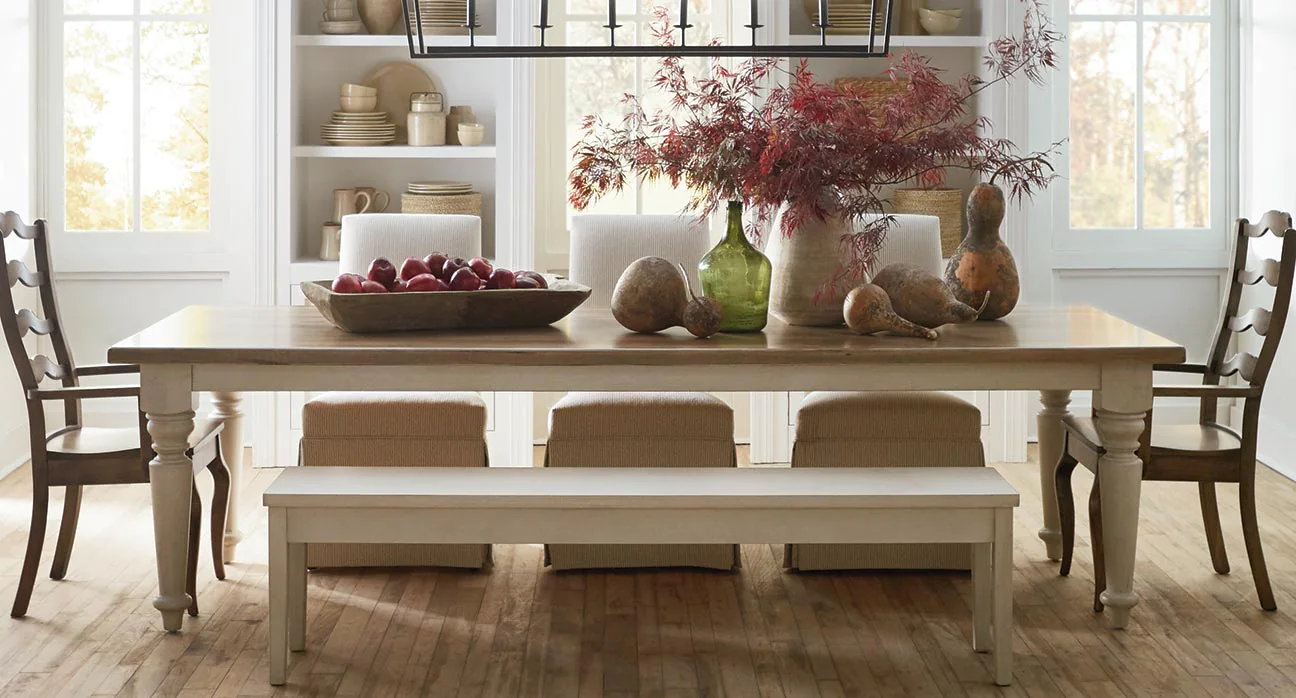 It's amazing how fast each year passes. Thanksgiving is almost here, and it will be time to gather around the table. The family dining room table has been a gathering space for hundreds of years, and it is where the celebration of food, laughter, and family happens every holiday season.
Read on to explore Bassett Furniture's best tips on preparing your dining room and home to host a perfect Thanksgiving.
Setting the Table for Thanksgiving Dinner
Before the food shopping, meal prep, and putting the bird in the oven, you may want to devote time to planning your Thanksgiving feast. How many people will you be serving? Will there be children in attendance? Will guests be floating in and out at different times?
When setting the table for Thanksgiving, the first consideration is to plan for enough seating. Determine how many seats can comfortably fit around your table. Whether your table is round, square, or rectangular, you may be able to push tables together to provide more seating for your guests. In addition, pull out those table leaves and drop them in.
Generally, table leaves will add one seat to each of the longer sides of your table. Most traditional and modern dining tables come with one leaf, but some may come with two or three table leaves. Adding table leaves can be done with one person, but it's much easier with two. If you have teens (or adults!) in the family who won't be helping in the kitchen, tasking them with getting the table ready is a great way to get everyone involved.
Make Your Dining Room the Focus of Your Holiday
Where food is served, people will surely gather, and that's why kitchens and their varied seating areas are often at the top of the list for entertaining spaces. For Thanksgiving, you probably want to make your dining room the focus of your holiday. With these guidelines, you can create the perfect Thanksgiving presentation by using functional furniture and providing a warm, inviting environment to gather and celebrate.
Create a Comfortable Dining Space
Comfort is crucial during Thanksgiving festivities. You may be seated at the table for long periods and likely will be consuming a lot of delicious food. Your table should be comfortable, and encourage your guests to linger and not escape as soon as they finish their meal.
• Provide each person with appropriate space. We recommend at least 24" of seating/elbow room per person.
• Seat left-handed folks on the left side of right-handers. Otherwise, they'll spend the meal knocking their hands together.
• Add cushions to your dining chairs for softer seating.
• Underline your Thanksgiving meal with a soft, autumn-colored tablecloth.
Set the Table for Convenient Serving
Now that your table is set, you don't want to overcrowd it with loads of serving bowls and platters. Your guests will appreciate an organized method of serving and presenting the food.
• Leave enough room for your guests to sit and eat comfortably and engage in conversation.
• Use a buffet table or server to set out your holiday food; they'll be just steps away for second servings.
• Use an etagere as a plate station: dinner plates, dessert plates, coffee cups, and saucers live here until needed. That way, your table is filled only with what is required at the time—nothing extra.
Prepare for Post-Holiday Cleaning Early
When it comes to a successful Thanksgiving holiday dinner, no one likes to stare at a stack of dirty dishes. Get ahead of your cleaning by having a dishwashing plan.
• Start with an empty dishwasher and a sink filled with warm, soapy water. As you are prepping, cooking, and serving, clean as you go.
• Wash as many dishes as possible before your guests arrive.
• Quickly rinse dishes and place them in the dishwasher. If anything needs to be soaked, slip it into your warm, soapy water and let it do the work for you. In a matter of minutes, they'll only need a quick rinse before you put them in the dishwasher.
• When possible, hand wash other dishes as you go. But don't forget to focus on your guests. If you have to leave a few dishes to clean after your guests leave, that's fine!
Thanksgiving Dinner Family Traditions
Finally, add some unique holiday dinner traditions to your planning. Everyone enjoys a family tradition, and often, it's what most folks will remember about a holiday gathering.
Here is a list of traditions you can choose from or use as an idea to spark your own unique customs.
• Cook a special family recipe.
• Take turns expressing what you are thankful for this year.
• Remember loved ones who have passed away.
• Arrange for a special toast.
• Create a crazy, fun dessert for kids.
• Connect with family not able to attend.
• Take a long walk after dinner.
• Put up the Christmas tree, lights, or a few decorations.
We wish you a Happy Thanksgiving holiday as you gather around your Thanksgiving table with heirloom furniture from Bassett.