Luxury Outdoor Furniture
Updated 10/06/22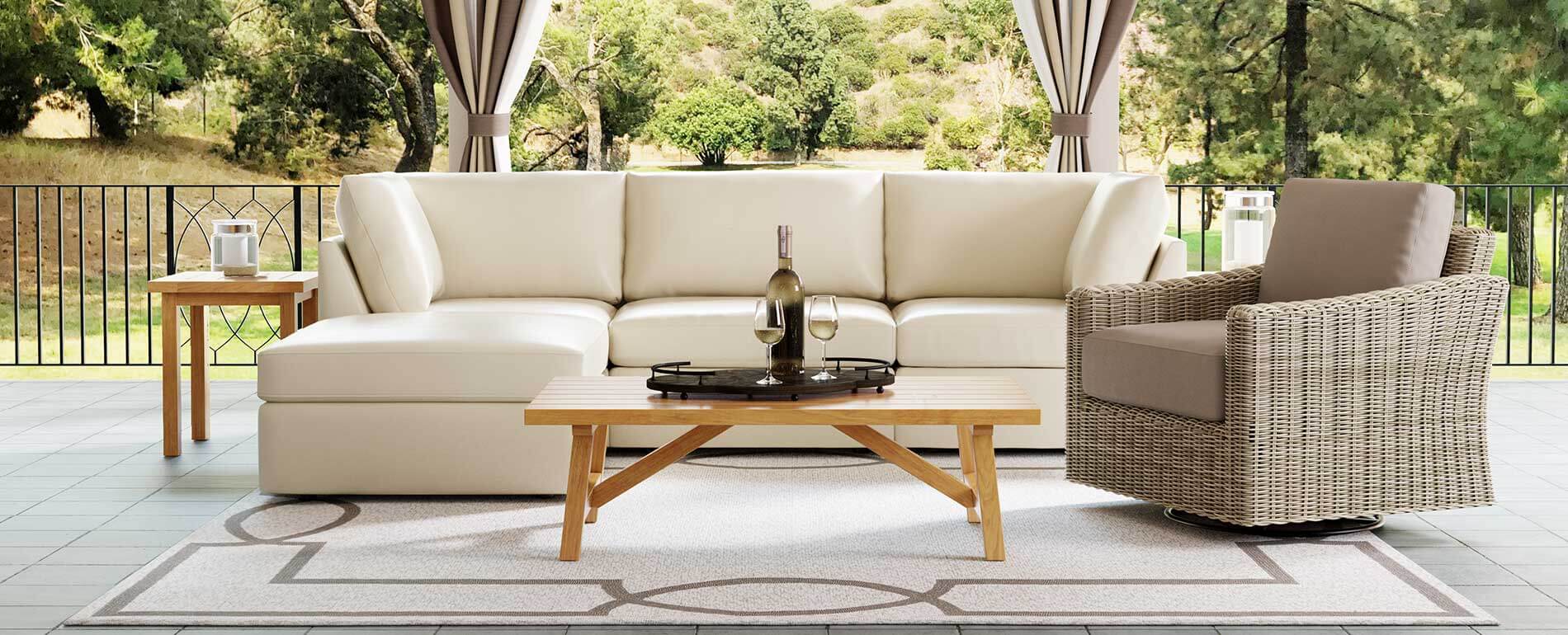 Comfort: Inside and Out
Have you ever wondered what it would be like to have the comfort of indoor upholstery outside on your patio in the warm sun and gentle breezes? Well, so did we.
So, we set out to engineer the comfort and style of our popular indoor Beckham modular sectional, so it has the durability to live outside. It's outdoor furniture like you've never felt before. Comfy seat and back cushions that cradle you in a comfort level once only found in family and living rooms. A rich palette of soft performance fabrics in a variety of outdoor inspired colors and patterns. Each with sonically welded seams to prevent moisture from reaching the cushion foam and fiber.
Bassett offers a variety of outdoor furniture styles and materials to choose from as you transform your patio, deck, or backyard into your outdoor oasis.
While all Bassett Outdoor collections offer unparalleled comfort and long-lasting performance, the most luxurious and inviting is our fully upholstered Beckham Outdoor collection.
It's made in North Carolina, along with its popular indoor cousin, with a unique construction that allows this superstar collection to take its talent to the great outdoors.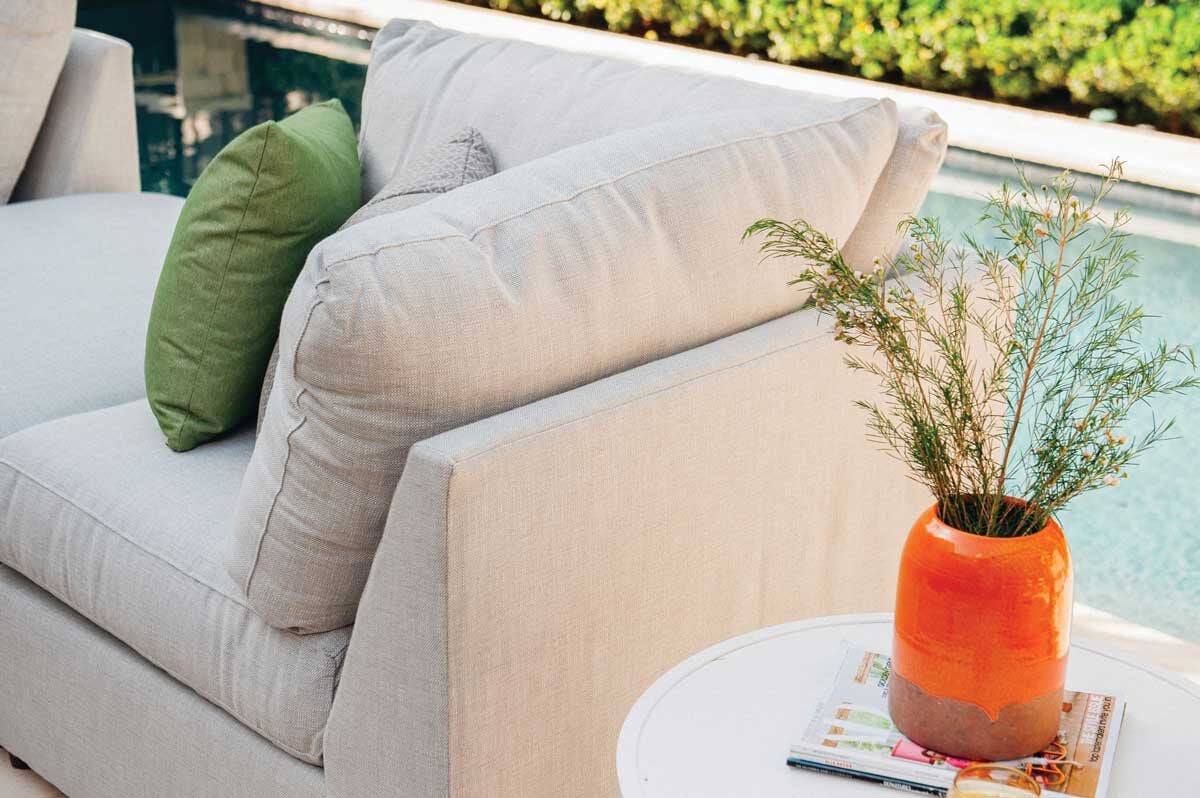 Using Beckham Outdoor's three easy pieces - corner chairs, armless chairs, and ottomans- you can create endless combinations to fit your space and needs.
These modular pieces can be rearranged as your needs change. The ottoman is the same height as the seats, so it can be used to create a chaise effect or integrate with the other seating pieces to extend the lounging space. Or pull it out to use as a coffee table. Your Bassett Design Consultant can help you plan the size and shape that will work best for your space.
Love the versatility of modular pieces, yet looking for something with a mix of materials? Check out our modular Camden collection, with finely woven resin wicker frames and plush cushions.
Not sure where to begin? Check out our patio design ideas for outdoor spaces for inspiration.
Dress For Success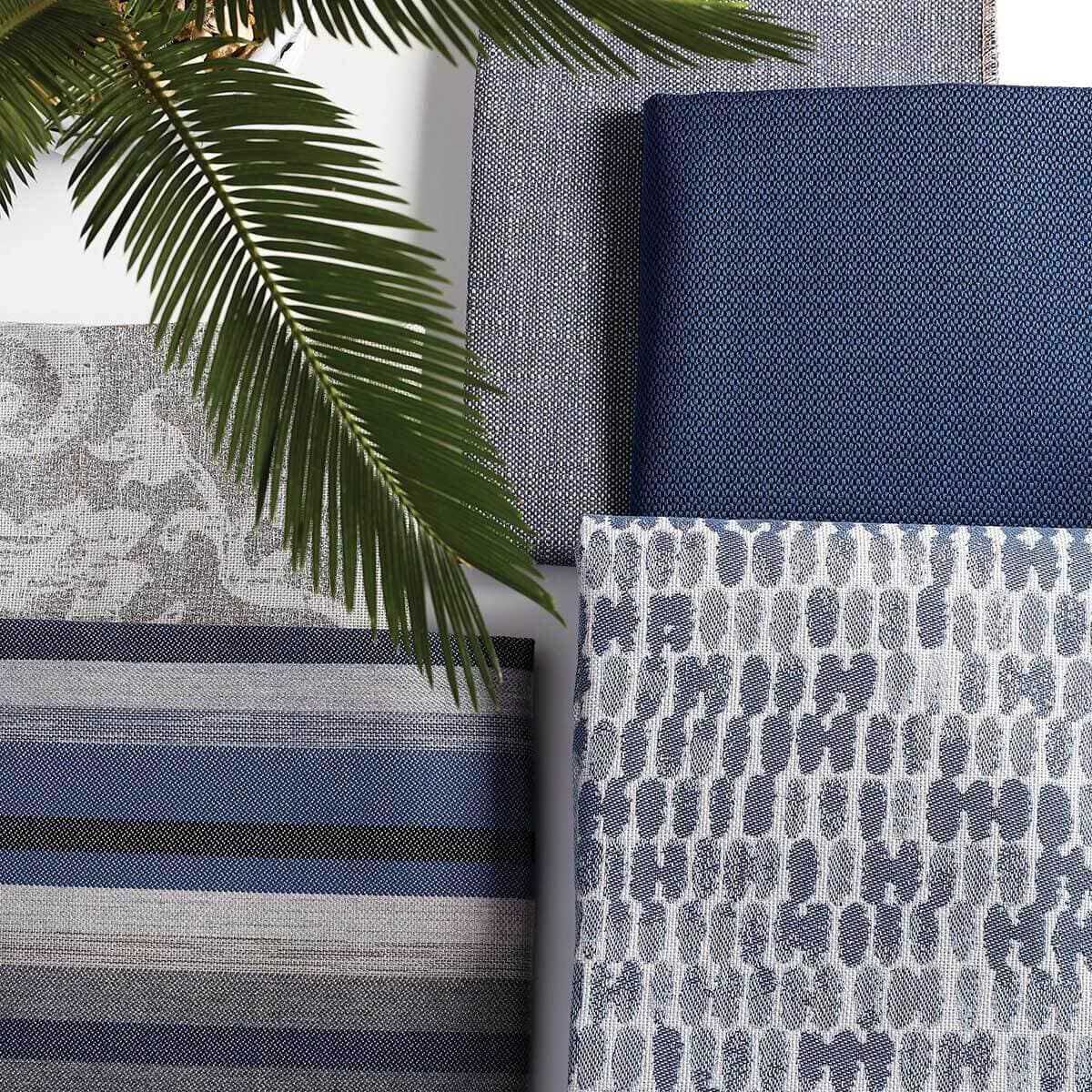 Beckham Outdoor boasts not only versatility, but also fashion and style. Beckham's wardrobe potential is impressive, with a curated selection of premium outdoor performance fabrics from which to choose, in a range of colors, textures and patterns. And these fabrics are soft and cozy, not stiff and scratchy like typical outdoor fabrics you may recall from the past.
Choose a soft and inviting neutral as the main body fabric and build your color palette with decorative pillows, using your favorite patterns and textures. Switch out the pillows for a fresh look as the seasons change or as your style interests shift. If it works for your style, choose a contrast welt to define the silhouette and tie into the colors of the rug and the surrounding space for a designer touch. Or go for the non-welted version for clean lines and simple elegance.
Free swatches of select outdoor fabrics are available to order in our Fabric Workroom, or by contacting your local Bassett store. Better yet, visit a store to experience the full assortment! Partner with a Bassett Design Consultant who can guide you in creating the color story that works best for your space.
When selecting, you can have the confidence of quality with any of our Bassett Outdoor fabrics. They're all solid performers, made with solution-dyed acrylic – the premier choice for longevity and color retention.
Our outdoor performance fabrics resist fading, repel stains and prevent mildew and mold from moving in. And they're super easy to clean, so keeping them looking good for years to come is hassle-free.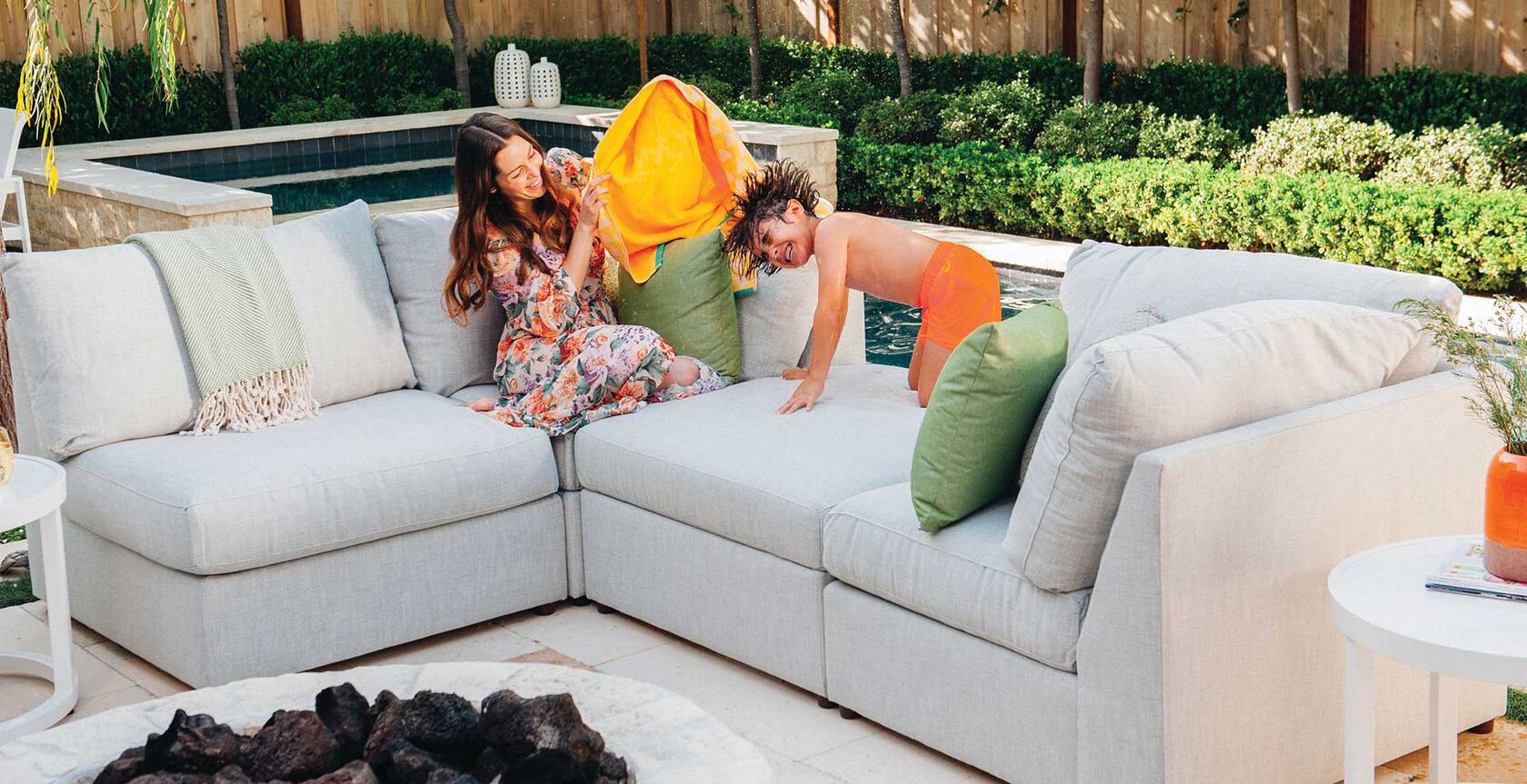 Use Your Outside Voice
How is it possible to recreate this indoor favorite for the great outdoors? Here's how we use our outside voice so you can use yours: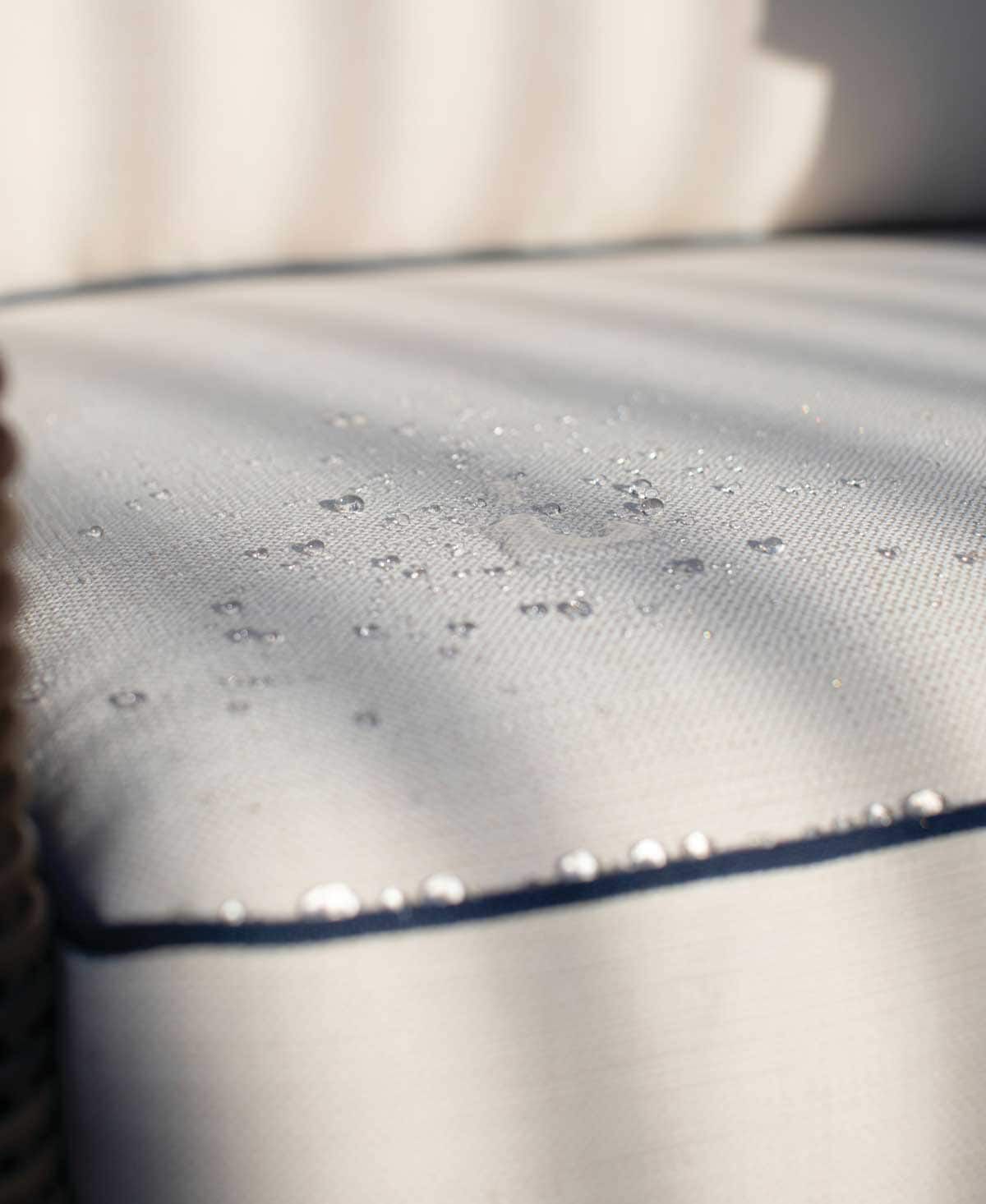 • Build a solid foundation with marine-grade birch hardwood, layered for strength, interlocked for stability, and coated with waterproofing.
• Craft the seating support with resilient PVC coated mesh -- like a trampoline – for a great ride that also withstands the elements.
• Pad the entire frame with drainable polyester fiber batting that dries quickly and retains its plush look and feel.
• Fill the seat cushions and back pillows with premium materials designed for comfort and resiliency, encase the cores in sonically welded ticking to keep the rain out.
• Use anti-microbial treatments on inner components to resist mold and mildew.
• Add weather-resistant high-density plastic feet to lift the frame just enough for comfort and to allow water to pass under.
• Connect the sectional pieces with high-density plastic brackets that will stay strong in the storms and remain easy to maneuver if you want to detach to rearrange the pieces.
Want to learn more about our Outdoor Quality? Click here.
Go for a Spin
Complement your Beckham Outdoor setting with a stylish and practical swivel chair, designed to give you the option to take in all the views with a 360- degree swivel mechanism.
To meet the demands of the outdoor environment, our fully upholstered Beckham and Trent outdoor swivels are built with the same materials as our Beckham Outdoor stationary pieces, yet with a heavy-duty swivel mechanism made of powder-coated aluminum with stainless steel bearings, mounted on a marine-grade laminated hardwood disc, and supported with high-density plastic feet. Long-lasting performance never goes out of style.
Find Your Perfect Comfort
Whether you're looking to lounge around, dreaming of dining under the stars or simply relishing the chance to relax outdoors, we're ready to help you create the outdoor space you'll love for years to come. Book a personal design appointment today.
Please explore our Outdoor Collections online and visit your local Bassett store to experience the comfort and style for yourself! Find a local Bassett store.