Bedroom Makeover with Bassett Furniture + Well Nested Home
Updated 1/25/23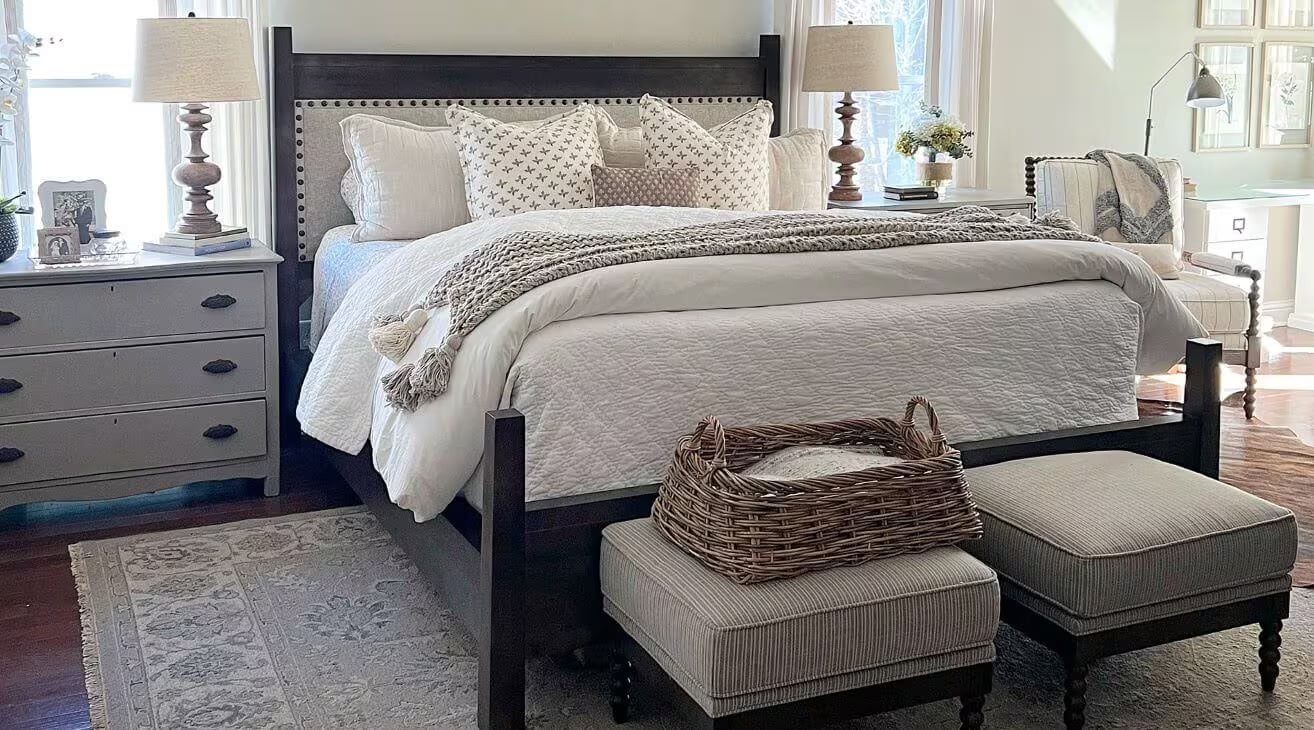 For our family of four, home is our safe place and our soft spot. I love creating an environment for my husband, me, and our two girls can be together, grow with God and feel the safety and comfort of home. My goal is that it feels cozy and comfortable– like being wrapped up, warm and dry on a cold, rainy day. When Bassett Furniture reached out to me about partnering together as part of their Power of the American Home Campaign, I was thrilled to create a restful, comfy space in the one room of our house that had received very little attention during our first ten years of marriage.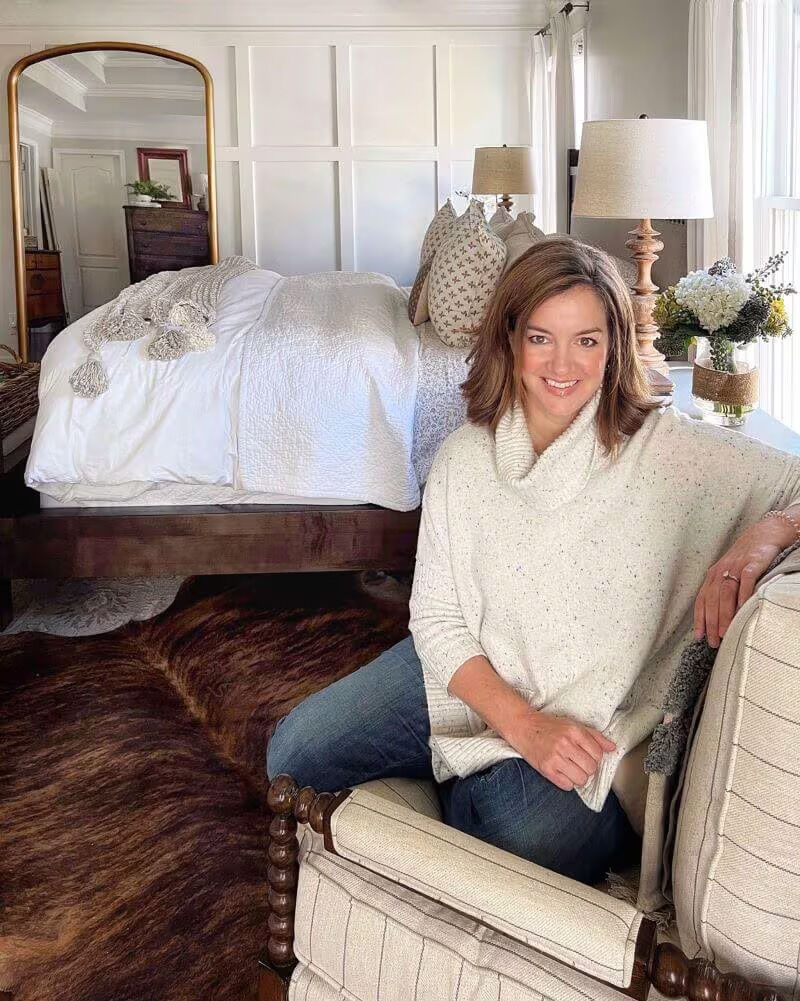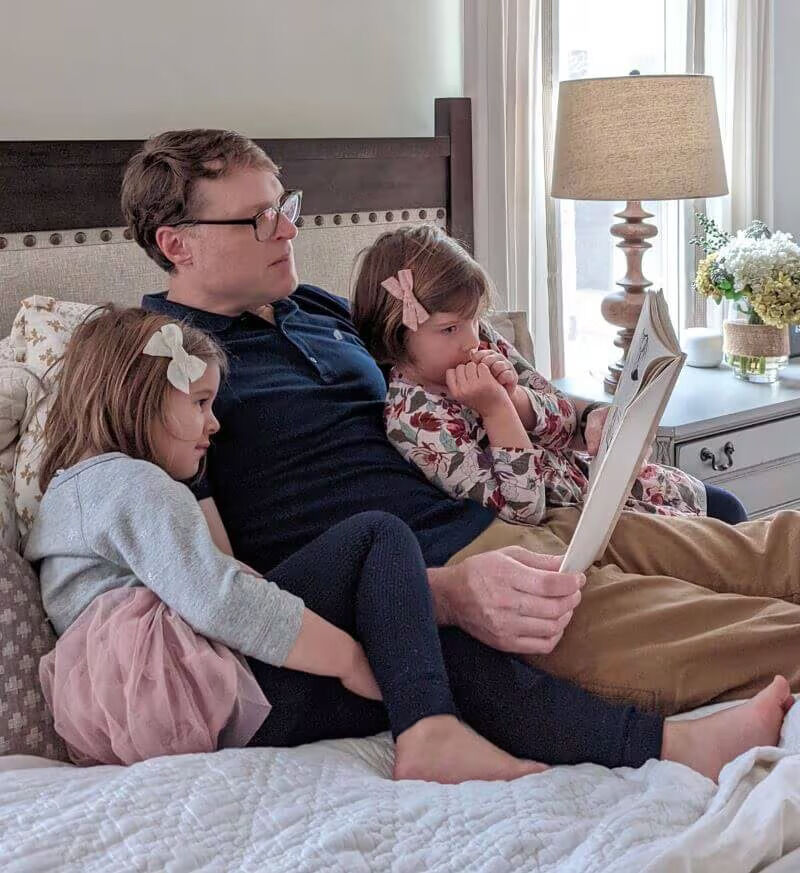 I've always wanted our bedroom to feel like a space where we could retreat and relax. It's where we connect and talk about the day, it's our 'date night movie spot.' Before our girls go to bed, it's often where we'll read stories, allow them to jump, and where they love to be thrown on top of all the pillows. And let's be honest– there are quite a few Saturday mornings when we wake up with all four of us snuggled in side by side (elbows and all.)
Before this makeover, we were in need of a new bed. Our old one was falling apart so that was the primary motivation for this refresh. But deciding what kind of bed was the difficult part. I've always loved a beautiful, soft upholstered bed and my husband has always wanted a stately, wood version. Since I get to make most of the home decor and design decisions in our home, his wish for a wood bed was important to me.
When I got to our local Bassett store and saw the artisan, handcrafted wood beds, it sealed the deal. I no longer had a hard time choosing wood because of the impressive craftsmanship.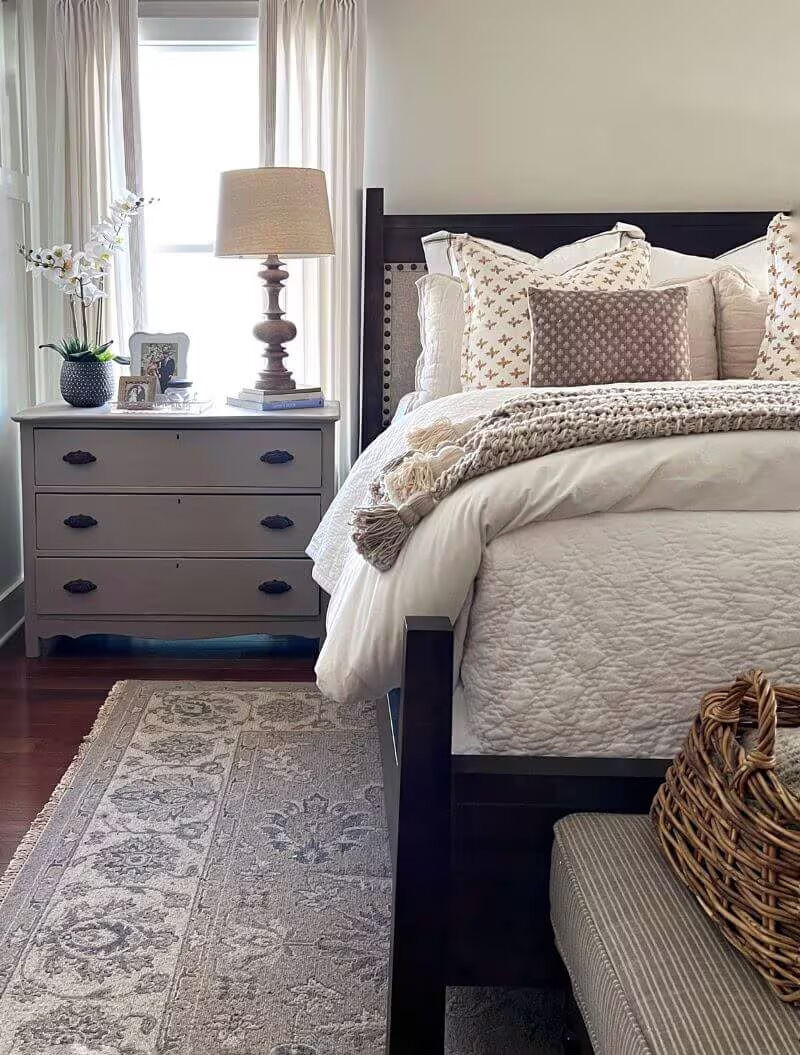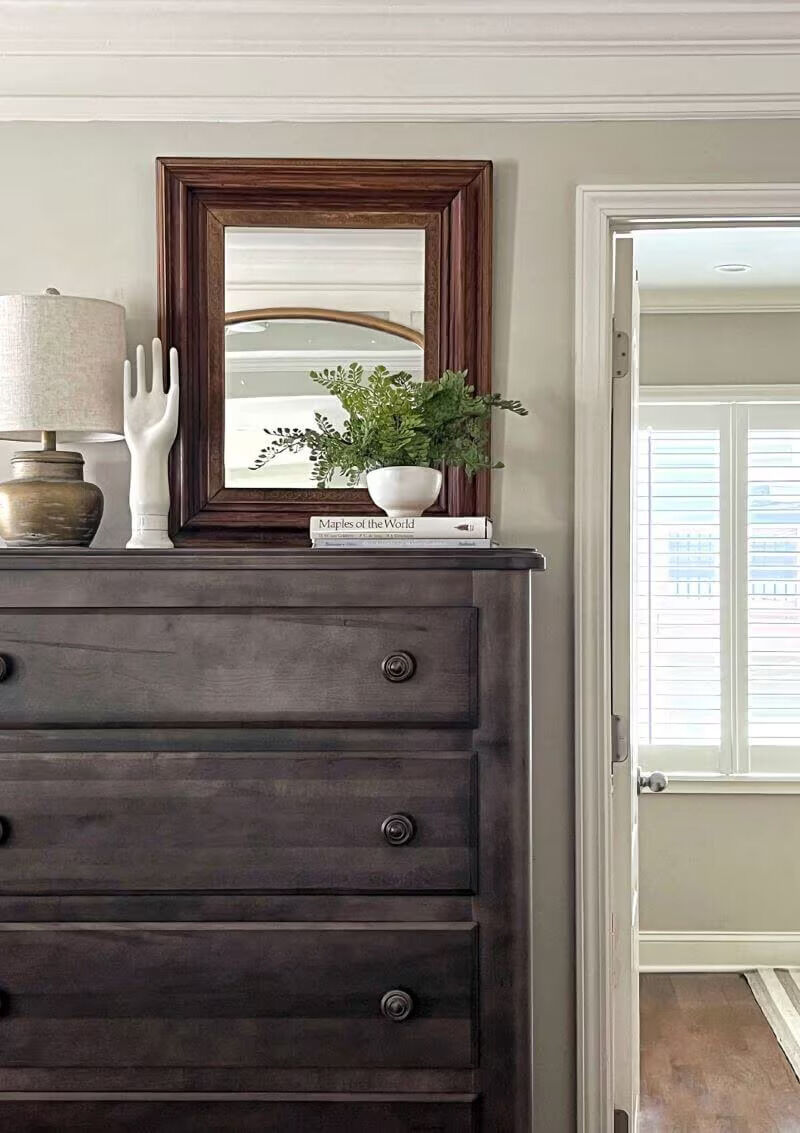 Plus, I loved the idea that a skilled craftsman would make it custom for us, by hand. They do their work in the foothills of the Virginia Blue Ridge Mountains, where my husband went to college. I love antiques because they tell a story– and so I loved that our new furniture would have its own story too.
In the end, the quality made this an easy decision, and we chose the solid wood BenchMade Heritage Maple Upholstered bed. The finish is Park Avenue and the fabric is Oatmeal Performance Heathered Texture. We chose an equally beautiful Heritage Maple Tall Chest, in the same finish, for my husband's clothes.
A look into the Design Process
I had so much fun bringing this room to life and creating the cozy environment we love. I spent hours looking through all the fabrics and rugs in the Bassett showroom. Ultimately, my inspiration for the room (after the bed) was the hand knotted Trajani Neutral Rug. I love a beautiful high-quality rug, especially over hardwood floors.
To add to the coziness factor, I layered the Duke Rug on my husband's side and added the super-comfortable Pippa chair. It's one of my favorite chair styles and I chose the Reaxion foam cushion, a rustic brown finish and a cream fabric with a silver stripe. I finished this side of the room with the Welburn Floor Lamp and the all-season linen Acadia Charcoal throw so we could have a reading spot, too.
My favorite part of the furniture selection process was the customizable options. I loved mixing the fabrics, textures and finishes.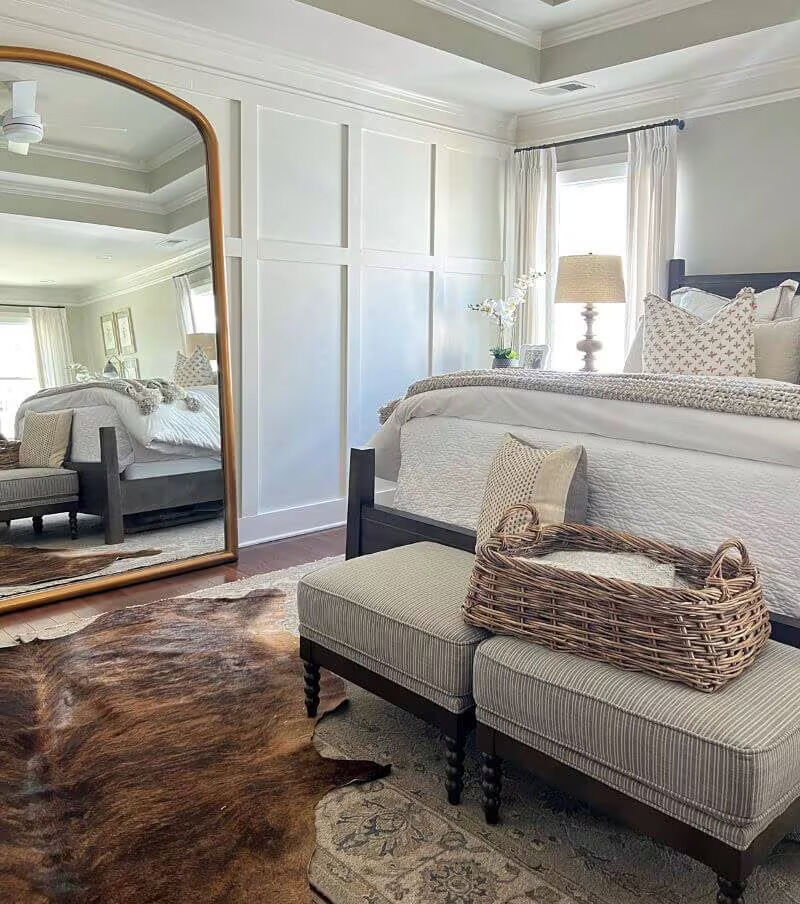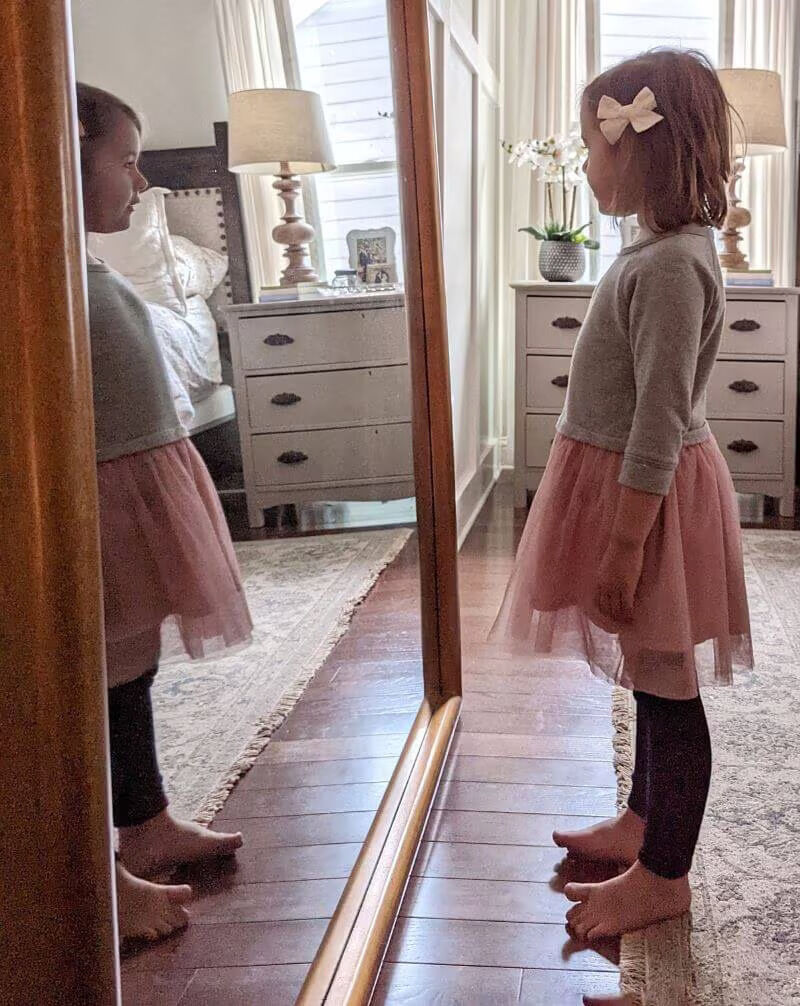 The Lawrence Grey throw at the end of the bed added the woven character I wanted. And the white Sutton quilt provides the perfect softness and warmth to our bedding. The drapes are a favorite luxury: custom lined, expertly-tailored with taupe fabric tape. They add an inviting warmth to each side of our bed and help finish the room.
I decided to add a bit of drama to the room with the Kentridge Leaner Mirror. It is large and luxe and may be one of my favorite parts of this makeover. I love how it reflects all the light and makes the bedroom feel bigger. Plus, our girls have made it their new favorite space to dance, sing, and make lots of silly faces.
I decided to layer browns and grays and used both colors for the Pippa ottomans at the end of our bed. (These have a Brindle finish with Fog-striped fabric) I enjoy layering neutrals and like to make sure there's plenty of texture.
I loved the furniture choices at Bassett and enjoyed how I could customize each piece we ordered. I'm so happy that our room feels like a destination. And I appreciate that while the furniture matches our traditional, classic style, other options in the Bassett showroom would work just as well in a transitional or modern space.
As for our room, this Bassett makeover was just what we needed to create the cozy, comforting and soothing space I hoped for.
Julia Reynolds (Well Nested Home) designed her dream bedroom with Basset Furniture to celebrate The Power of the American Home.
See her story and learn more about this beautiful bedroom makeover and the inspiration behind the project.
For more design ideas, shop Bassett online or in-store. Book an appointment with your very own Bassett Design Consultant (it's free). Sign up for emails below to be in the know about sales and promotions.