How to Decorate a Nightstand
Updated 1/23/23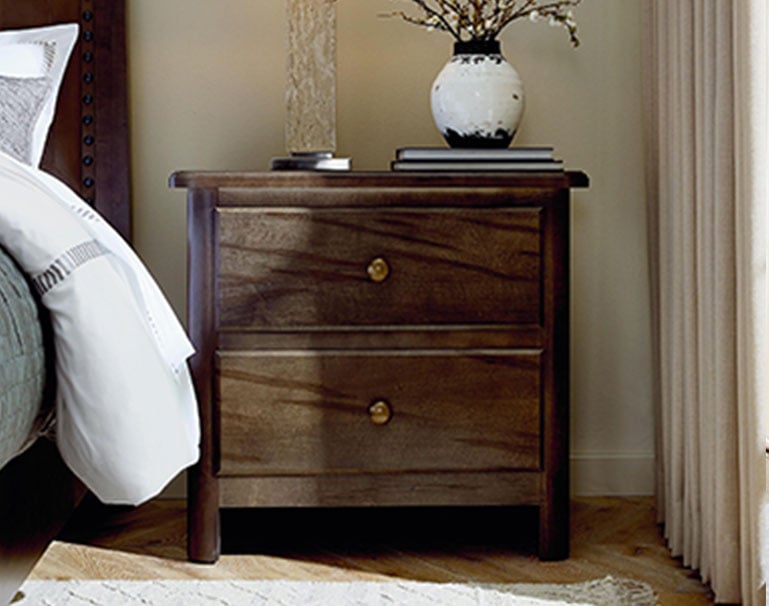 It's one of the first things we wake up to see each morning: our nightstand. But too often, a nightstand becomes the cluttered afterthought of our bedroom décor.
For most of us, our nightstands become messy heaps of books, magazines, jewelry, phones, and more. It's easy for so much stuff to accumulate on top that we can barely see the nightstand underneath it all.
Don't sacrifice style for functionality – enjoy the practicality of a nightstand while making it a focal design piece in your room. With a little planning, your nightstand, and even the stuff you keep on your nightstand, can create the perfect, pretty finishing touch for your bedroom. Wake up to a stylish nightstand, while keeping everything you need within reach.
Nightstand decorating ideas
Our suggestion: Think about height. The key to decorating a nightstand is to create three tiers of heights on top of the nightstand. It avoids the messy-heap scenario while creating a neatly designed table.
The Tall Item.
Think of one primary item that will add height to your table. For most of us, this will be a lamp. Be careful with the size of the table base, however; you don't want it to take over the table. Other tall items you may wish to use are a potted plant or a large framed print, propped against the wall behind the bedside table.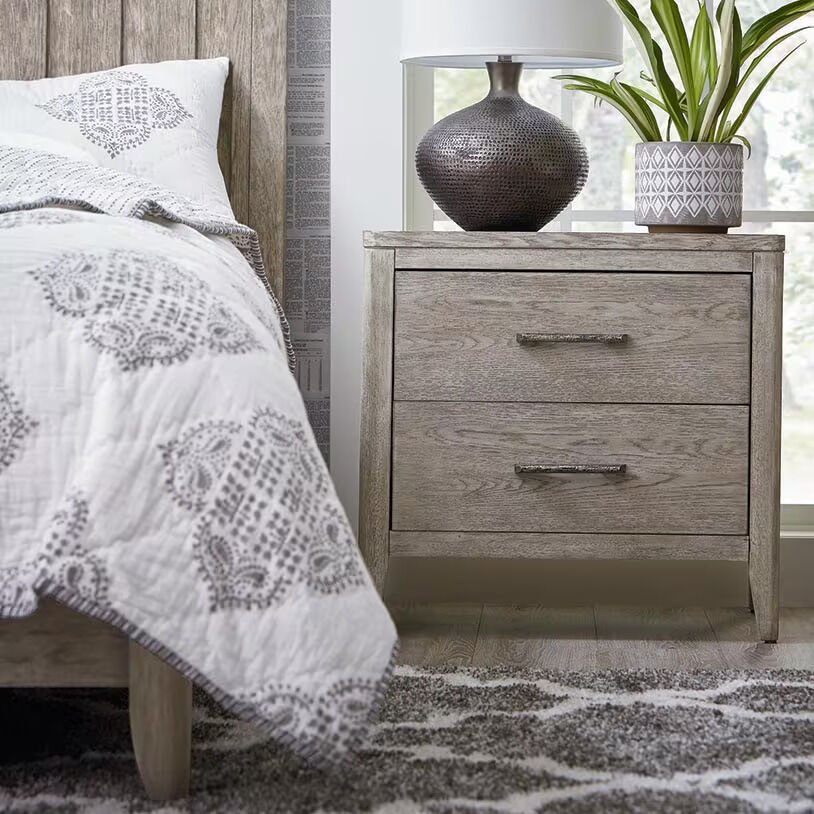 The Middle Items.
This is a good place to exercise your creativity. For your middle item, choose an object or two that reflects your personality. Are you a book lover? During the day, stack your books to create a small shelf for a decorative item. Nature lover? Find a flower vase to add a touch of the outdoors to your table. And, of course, setting a framed photograph of a loved one is a sweet addition to any bedside table.
Mismatched Nightstands
Check out these tips to create the perfect mismatched aesthetic in your bedroom.
Style tip: Stack books under one lamp on the nightstand to help lamps appear to be the same height even though the nightstands are different heights.
Have your nightstands be similarly proportioned. Just because they don't match doesn't mean they shouldn't be roughly the same size. Even if they're different in style or color, make sure that they at least look symmetrical in your bedroom.
Choose nightstands that have a common vibe. It can be anything: rounded feet, ornate decor, square top, whatever! Even with mismatched furniture, it's important to create a sense of harmony throughout a room.
Share a common accessory on your nightstands. Whether it's a lamp, a pile of magazines, or a picture frame, adding matching decor to mismatched nightstands can help unify your room as a whole.
Nightstand Organizing Tips
Below are some tips for organizing a nightstand:
Keep things items you need close: To avoid clutter, find ways to organize the small items you keep nearby. Place earrings and rings in a pretty trinket tray before bedtime, or set your glasses in a holder.
Hide Your Tech: If you keep your phone or tablet by your bed, choose a nightstand that can hide your cords and keep things tidy. Our Bella Stone Top Nightstand looks vintage, but it offers several ways to conceal your devices: A power strip with USB ports is tucked into a drawer, and wire-management holes organize (and hide) your cords.
Anticipate Your Storage Needs: If you like to keep several books and magazines within arm's reach of the bed, find a nightstand with a shelf that offers a place to store the publications without taking over the tabletop. Consider the MODERN Astor Nightstand, which offers a shelf in addition to two large drawers.
Skip the Lamp, Save on Space: If you have tight quarters, never fear. Avoid taking up space on your bedside table with a lamp by hanging a sconce above the table instead. This way you can choose a small nightstand that fits your space (such as the Ventura Nightstand) without compromising your space.
Dresser Ideas
Dresser Decoration Ideas
Perhaps you are looking for a combo dresser design that combines the standard squat dresser with a tall cabinet, allowing for more storage choices. Or maybe you're looking for a "bachelor's chest," which is a more minimalist piece of furniture that features a single column of drawers in a narrower frame.
Dresser Dimensions
The focal point of most master bedrooms is the bed itself. But the second most important feature in a bedroom is the dresser, if only because it is usually the second largest piece of furniture in a bedroom.
Dresser Height
The standard height of a dresser is approximately waist high on an adult or roughly 32 - 36 inches high.
Many dressers, however, offer a more substantial look and more storage space, reaching as high as 44 inches. These dressers often include drawers beyond the traditional six drawers of a standard dresser.
Whatever your needs or preferences, make sure the surrounding furniture pieces work with the height of your dresser. You can also purchase a mirror that matches with the dresser, such as the mirror included with our Brentwood Dresser at Bassett Furniture, which is 38 inches high.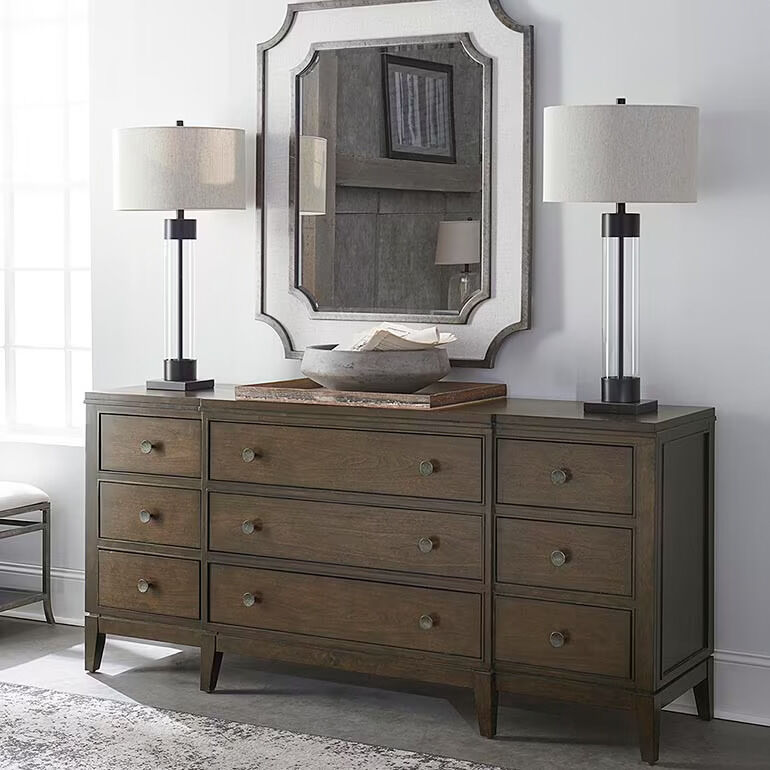 What is a Chifferobe?
You're likely to come across the word chifferobe while searching for new furniture. But what is a chifferobe, exactly? If you're thinking that it sounds like the word "wardrobe," then you're onto something. Like a wardrobe, a chifferobe is a piece of furniture that has multiple drawers and a place for hanging clothes.
Chifferobes Provide Storage and Style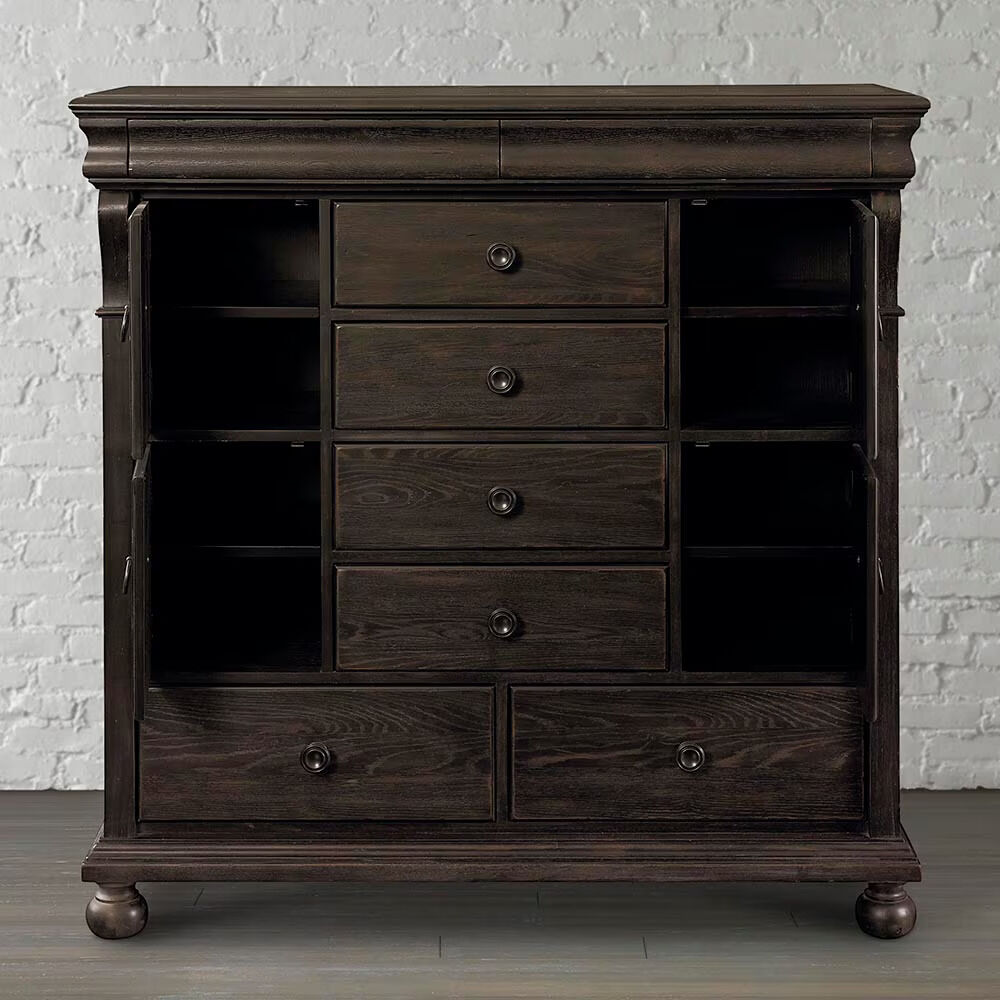 A chifferobe, sometimes spelled chifforobe, is a piece of furniture with both doors and drawers. Traditionally, one side has drawers while the other has a door that opens to reveal a space for hanging clothes. The combination of compartments makes them an excellent piece for a variety of spaces, especially a small apartment or baby's nursery.
They can serve as an alternative to a closet, or as additional storage in a room.
While most antique chifferobes include an area for hanging clothes, modern styles vary and can have multiple uses.
How is a Chifferobe Different From an Armoire or Wardrobe?
Chifferobes, armoires, wardrobes, and chests of drawers are all words that can be used to define a wooden piece of furniture that stores clothing and other items. Here's how they are different:
• Wardrobes are tall, sizeable pieces of furniture with two doors used to store clothes. Behind the doors are two or three vertical compartments, one of which has hooks or a bar for hanging clothes. They first became popular because of a lack of closet space, but remain popular because of their versatility and style.
• Armoires are similar in form to wardrobes, but their function has evolved over time. Armoires have two doors that open to reveal a space for storage, similar to a chifferobe or a wardrobe. Today, armoires are often used as entertainment centers because their closing doors easily conceal televisions, DVD players, and wires.
• Chests of drawers, while they are often lumped into a category with these other pieces, do not have doors. Instead, they are comprised of only drawers. Sometimes the drawers are stacked vertically, and other times the drawers may be side-by-side. If a chest of drawers is topped with a mirror, it is called a chiffonier.
Call the Pros
For more inspiration, contact our design experts. They're happy to talk with you to help you choose the nightstand that's right for your room and your living style. Request a free design consultation, whether in person, online or over the phone.