Modern Bedroom Decorating Ideas
Updated 1/23/23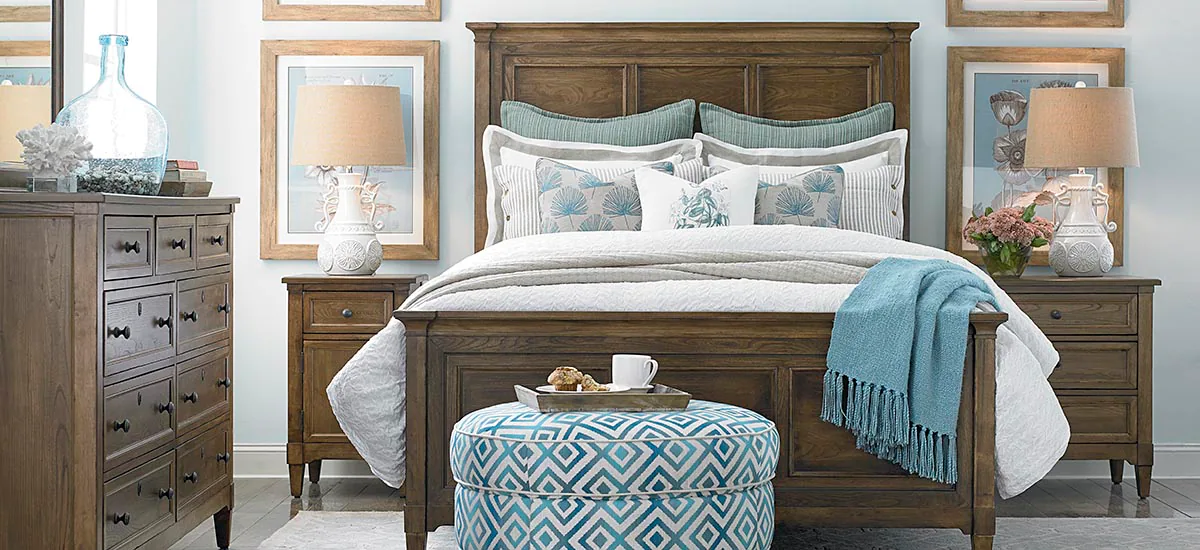 As far as well-being goes, bedroom design is one of the most important aspects of interior design. While this may be a universal truth, everyone is also different in terms of their style and preferences.
Some may prefer a modern style, with a sleek, minimalist look. Others may like bedroom designs that are bright and eclectic. In this article, we'll provide some bedroom design basics, followed by bedroom ideas for those with modern preferences, as well as eclectic bedroom designs.
Bedroom Interior Design
Coming up with interesting primary bedroom design ideas can be a breeze if you remember one simple rule. Design your bedroom with an eye toward the room's function. As this relates to decor, the color choices, fabrics, and furniture placement should all coordinate to create a soothing retreat from the waking world.
How to Decorate a Bedroom
Below are the basics of bedroom design:
Make sure to measure.
Before you know if your bedroom ideas are feasible, you'll need to take precise measurements of both the bedroom and the furniture you plan to buy. Before bringing the furniture home, use your measurements to map out with tape where you plan to place each piece. Don't forget to allow room for drawers and doors to open fully and allow access to windows and window treatments.
Use blue for calm on walls.
 Even though the walls literally provide a background for everything else in your bedroom, the color and decor of your walls set the tone for the entire room. Soft shades of blue make excellent bedroom colors. Studies show and color experts agree that the color blue has a generally calming effect.
Before selecting a wall color, you might want to decide on a theme for the room that will create a unified look. Bedding colors should complement the wall color, but steer away from bright, vibrant colors. They can disturb the tranquility of the room.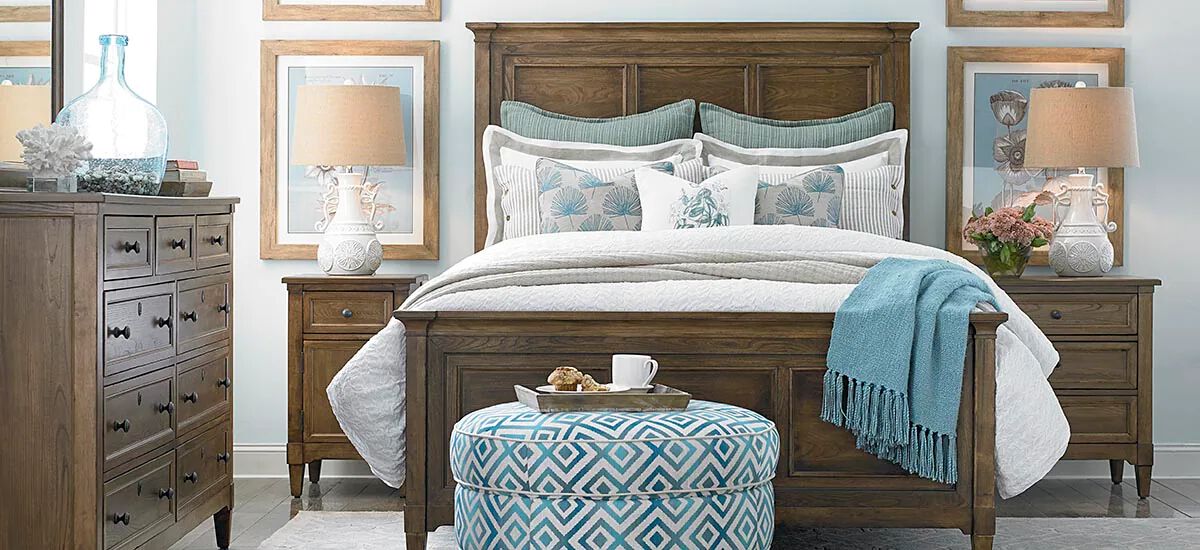 Use natural light.
Consider the amount of light that filters into the room from the windows. If you don't want to wake with the sun, or street lights illuminating your windows, you may want to install blackout blinds.
Show your artistic side.
Choose peaceful wall art and soothing accessories to create an inviting, restful haven for your family or guests. Designers recommend avoiding family photos that may pack too much of an emotional punch as you try to drift off to sleep. And while it is wise to include a collection of your favorite things in your bedroom, be aware that too many accessories can be overstimulating.
Keep space in your bedroom furniture arrangement.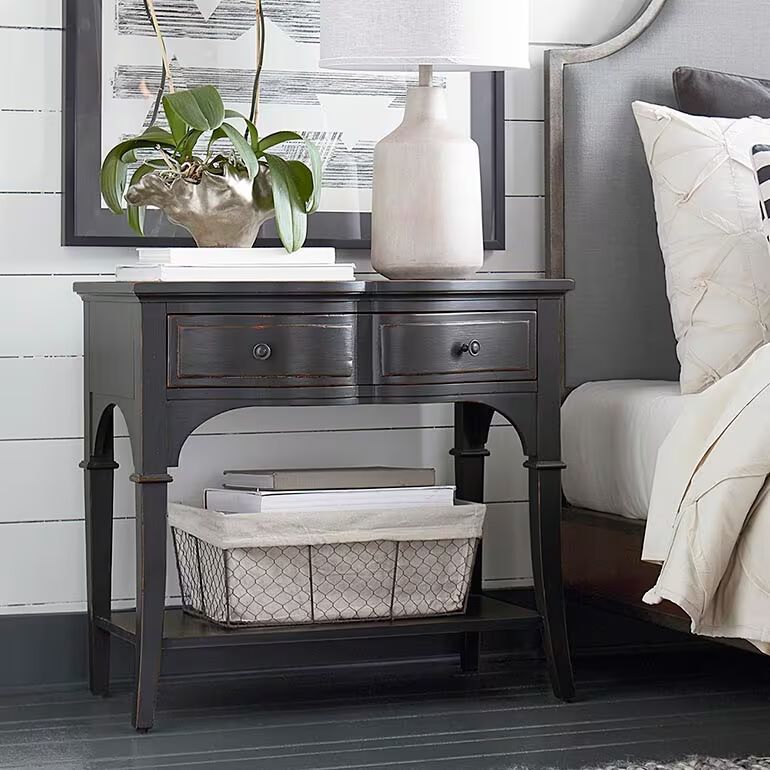 In a bedroom, we advise 3' in front of a dresser or chest and around 2.5' to get into and out of the bed. When you consider filling your bedroom with furniture, make sure you allow enough clear space for moving around.
If you have ample space, you may want to add a sitting area to allow for decompression time — reading, sipping tea, petting the dog — before climbing into bed.
Decorating Modern Bedrooms
Modern bedroom designs focus on minimalism and a 'less is more' philosophy. So, skip the extra flourishes or frills, modern bedroom design tips call for sleek, smooth lines that blend sophistication, luxe, and even a touch of elegance.
Form over function.
Designing a modern bedroom, specifically a small bedroom, begins with focusing on function rather than form (although you can definitely have both). If there's something you don't need, then it doesn't belong there. Consolidating circulation to one side of the room is an expert design tip that will help to maximize the space you do have in the most efficient way.
Use dark woods and shimmery finishes.
Embrace modern bedroom designs that emphasize black and white. Darker wood finishes are a must. Shy away from shiny, polished hardware finishes and opt for brushed silver, champagne brass, oil rubbed nickel, chrome, or pewter hardware that's more in keeping with modern aesthetic ideals.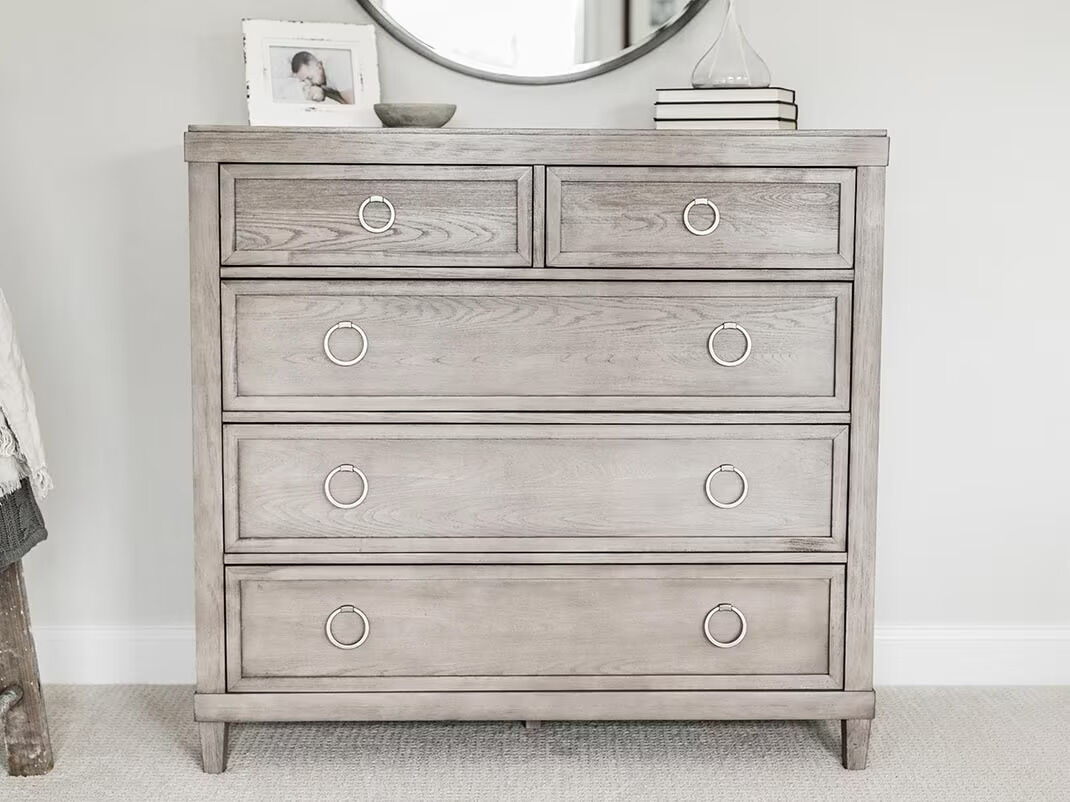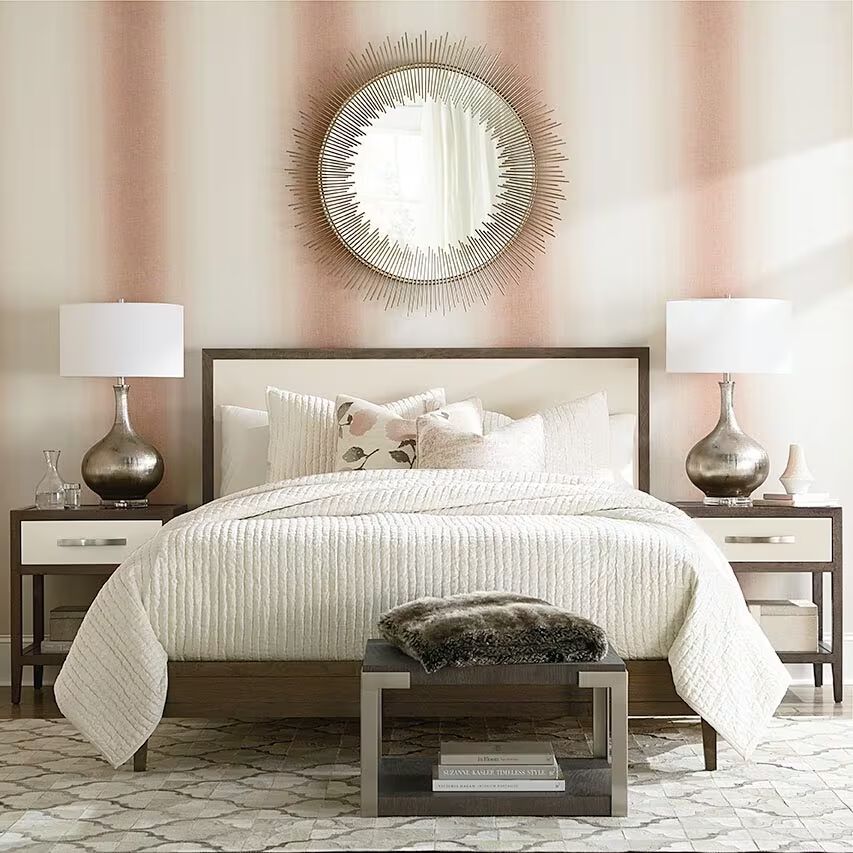 Sleek lines are in.
In keeping with the minimalist attitude, modern bedroom designs will focus on straight lines and geometric shapes.
A rectangular nightstand has a more modern feel than a night table with, say, Queen Anne legs. For that matter, avoid anything ornate.
Clean, straight lines reign throughout a modern bedroom, from the drawer, pulls to the headboard to the mirror.
Decorating Eclectic Bedrooms
Don't rush to throw something away just because it doesn't match your current furniture exactly. There are plenty of incredibly beautiful bedrooms that combine a mishmash of styles into something that works, often referred to as eclectic style. Below are some tips from this point of view:
Embrace the mismatched furniture in your bedroom:
Designer Bunny Williams says that the only real rule to decorating is that "if you love something, it will work." At Bassett Furniture, we couldn't agree more! Don't be afraid to break with convention if you're creating a room that makes you smile every morning and evening.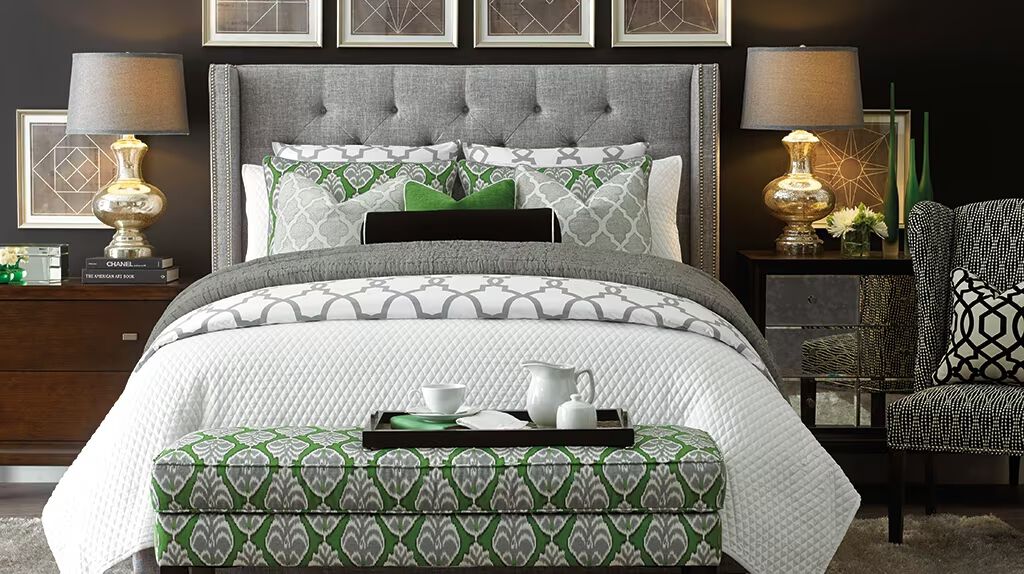 Add cohesive accessories.
A metal night table and a wooden dresser don't have to clash. You can use accessories to hide certain details while accentuating what makes each item of furniture so beautiful. Make easy changes, such as swapping out your hardware. If you pick a unique drawer pull, the eye will be drawn to those similarities rather than the different finishes.
Color can bring it together.
Color is a great way to create a sense of continuity in a bedroom full of mismatched furniture. Look for patterns with varying shades of the same hue. You don't have to reupholster your chairs; just add a pillow or throw blanket that echoes the colors in your bedspread or curtains.
Match key pieces.
Everything in your bedroom doesn't have to match, but if you don't like the eclectic look, you can retain some of your mismatched furniture and simply purchase a few matching essentials. The most important items are your bed, nightstand(s), and dresser.
Use upholstered headboards.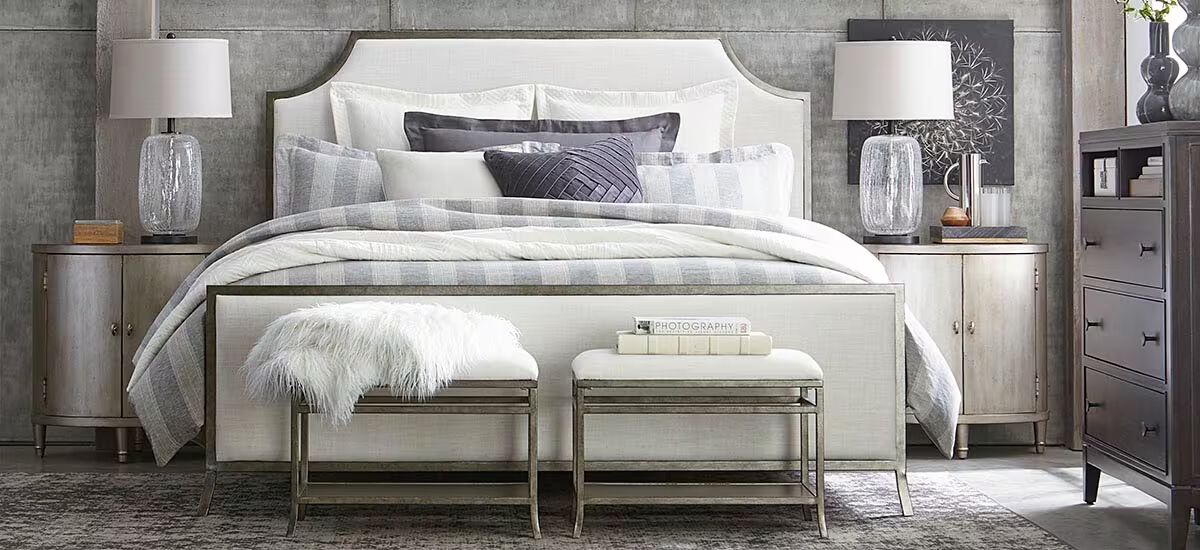 Because your night tables are so close to your bed, the eye is naturally drawn from one to the other. While wooden beds are beautiful , upholstered beds tend to work better with mismatched pieces since you aren't trying to match stains.
Creating a Neutral Bedroom
Decorating the most important room in your home with white furniture can add a bold, modern, and even classic touch to any home. No matter what look you're going for, white furniture can play a dominant role in achieving your dream home.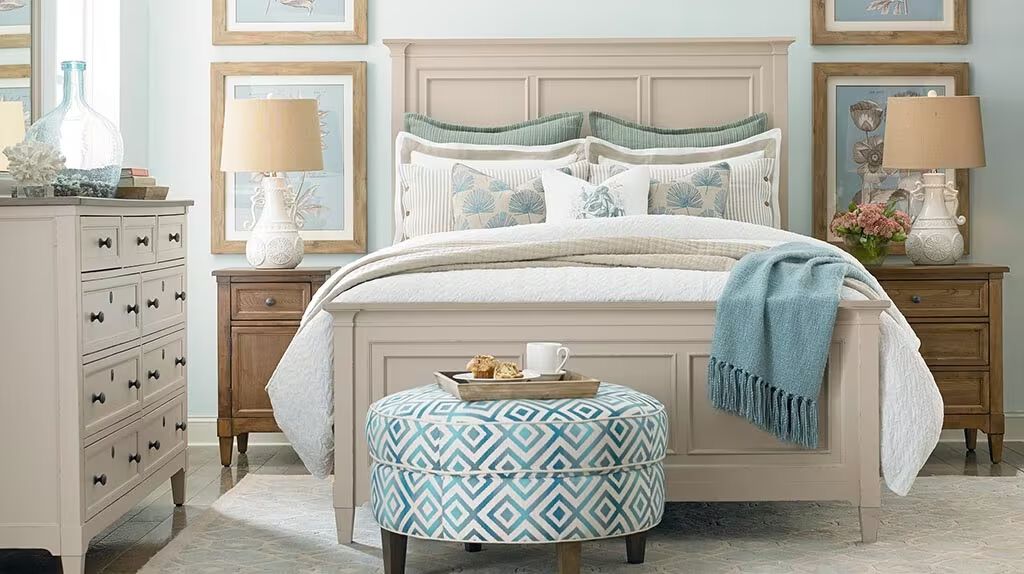 Ideas for a White Bedroom
Nothing inspires that cozy cottage feels like a room filled with warm and inviting colors. The white furniture and soft colors paired with the accents of warm brown tones inspire a quaint feeling of life on the farm — even when living in a big city. So add pastel blue pillows, soft green drapes, or even light yellow wall art to surround yourself in blissful serenity.
Make a modern statement by pairing contrasting black on white.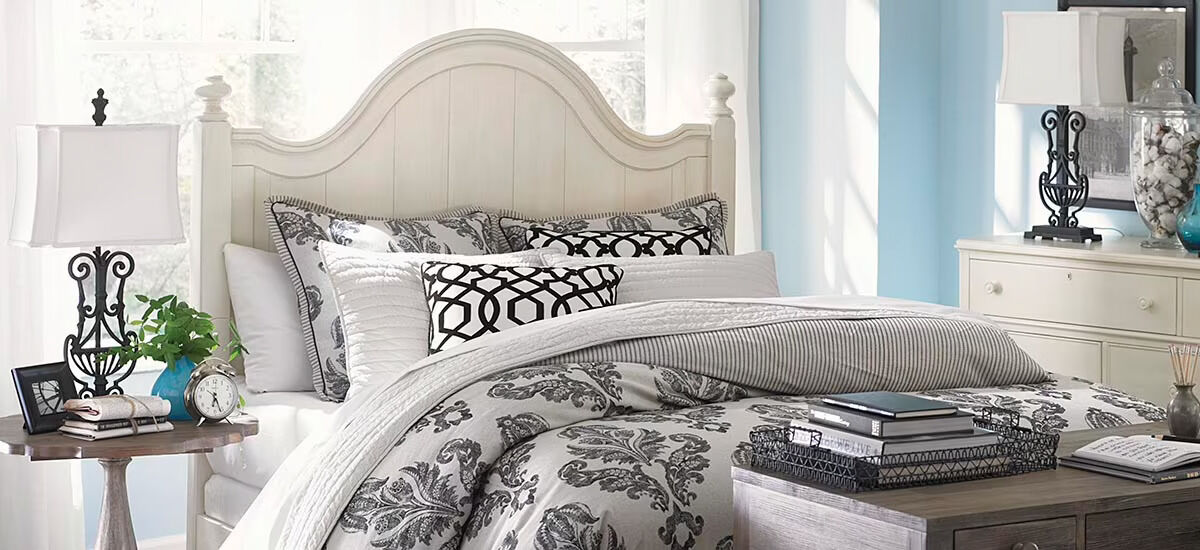 Designing with black and white can make a white bedroom idea look like something out of a modern art magazine. Epitomizing the essence of yin and yang, it's a great way to create feng shui in the bedroom. Designing with these contrasting tones can produce an elegant, contemporary look that will turn your white bedroom into a hotel room all to yourself (and your partner, of course).
Bold patterns make white bedrooms really shine.
When you've set the scene with muted white furniture, don't be afraid to play with bold, colorful patterns to match. Mix floral designs with elegant stripes, funky polka dots, and even larger-than-life works of art or large patterned accent chairs. The possibilities are endless, and the patterns you choose can transform your white furniture into a whole new level of decor.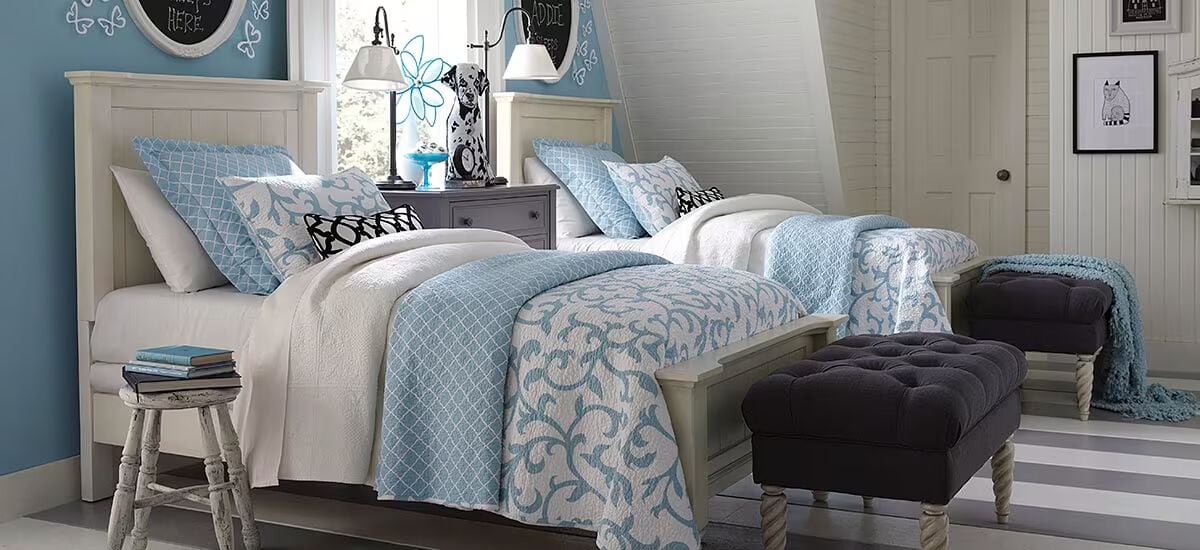 Partner with Bassett Furniture For Your Bedroom Design
Remember, less is more with modern bedroom designs. Everything should have a purpose. A simple color scheme and straight lines will make almost any bedroom look more modern. Need a little help? Bassett Design Consultants' services are available in-store, and always complimentary. Book an appointment today.