Leather Furniture
Updated 9/3/22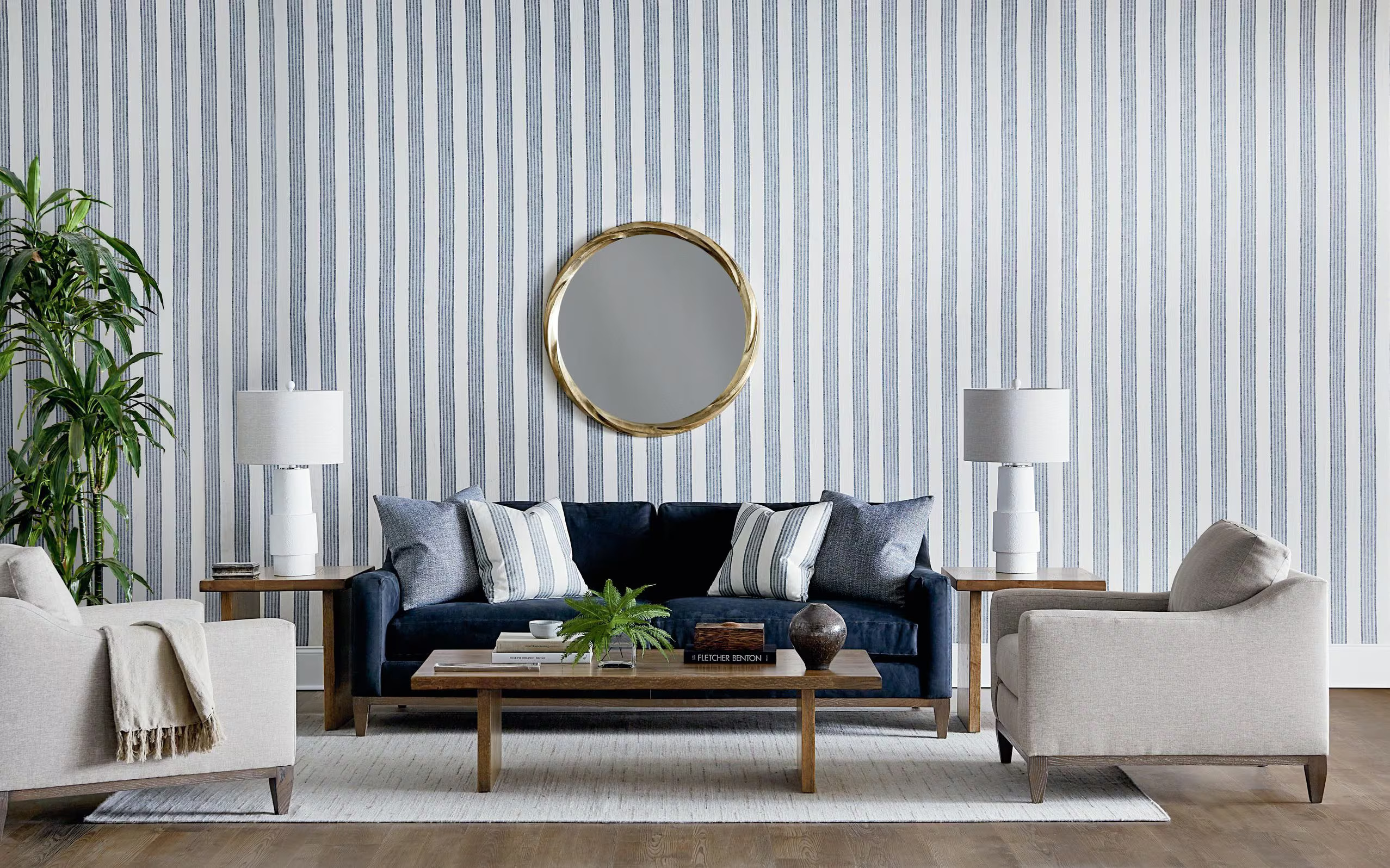 The truth is that shopping for leather doesn't have to be confusing. There are many leather options available for different applications and uses. Great quality and stylish furniture are hallmarks of leather, and a timeless choice for your home.
Here's why…
Since 1902, Bassett Furniture has been synonymous with quality. Every product that travels from our door to yours goes through a rigorous quality control process to assure smooth finishes, neatly tailored upholstery, and strong joinery. We apply the same product care and attention to detail with our leather furniture lines.
When you pair our commitment today with early company principles, you get furniture with a timeless look you'll love for years. Bassett Furniture, for every room in your home, is meant to be handed down from one generation to the next.
So, once you know that your furniture by Bassett is built to last a lifetime and doesn't need to be replaced every five to 10 years, you definitely can afford heirloom furniture for your home.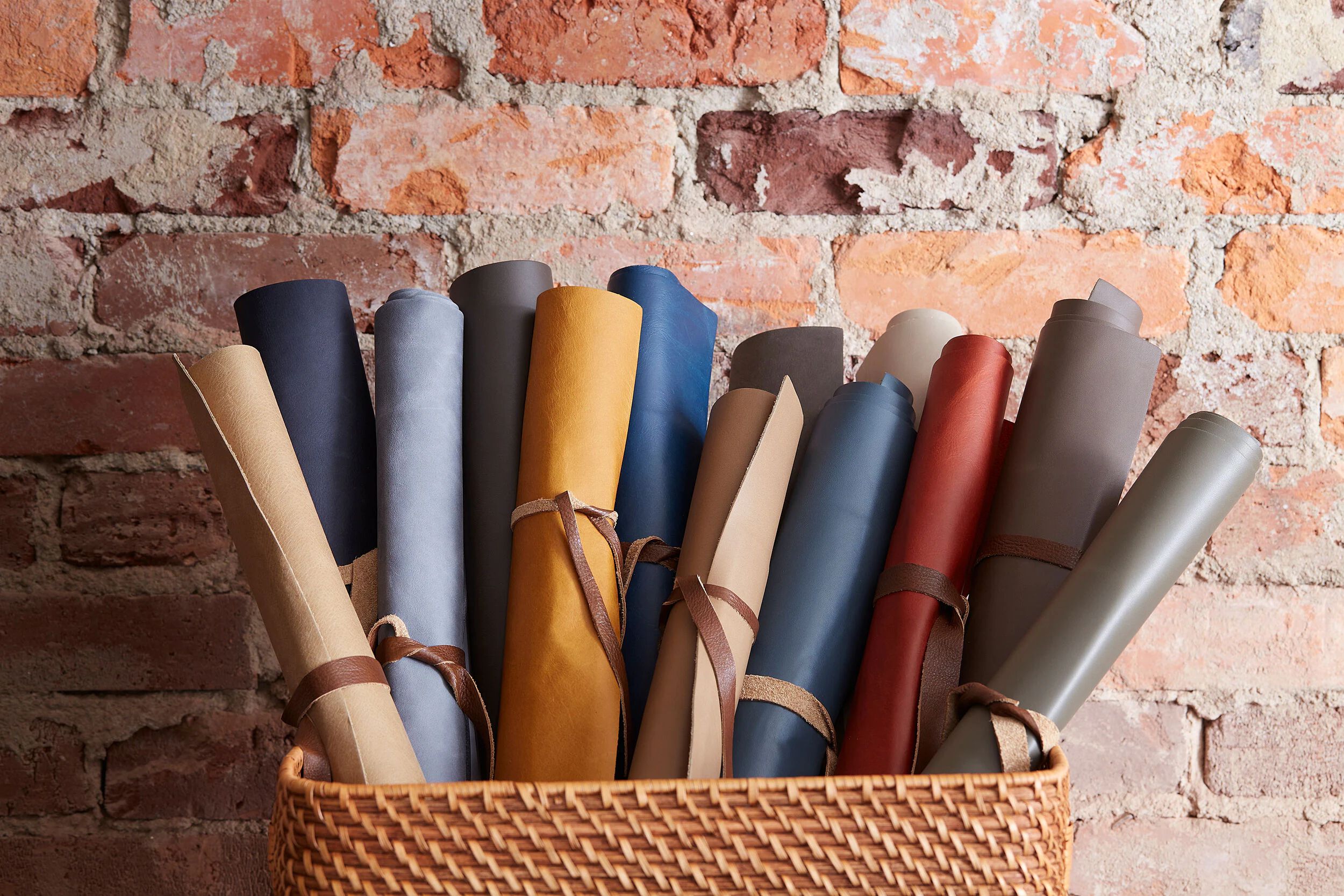 What to look for in leather furniture
It's easy to get lost in leather terminology when researching and shopping for leather furniture. With this Leather Guide, you'll discover everything you need to know about how leather furniture is made, what to shop for, how to decorate, and how to make the best selection for your home or office.
At Bassett Furniture, we offer a wide variety of leather styles to fit both residential and office settings. For starters, here's a quick guide to terms you'll hear when shopping for leathers:
Top Grain Leather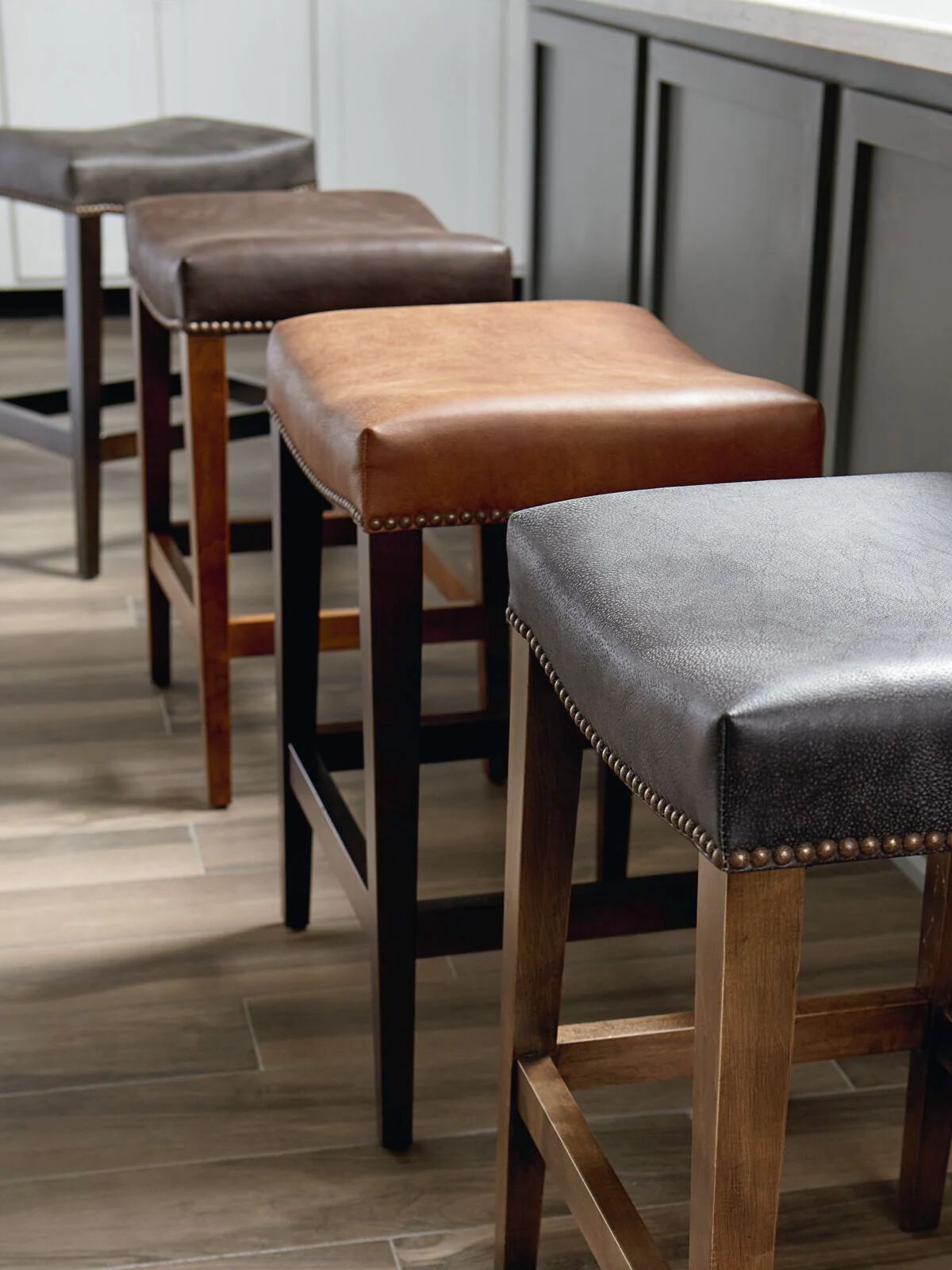 When leather is prepared, it must be split into layers to make it fit for upholstery and other uses. Top-grain leather is the topmost layer of this process – and by far the highest quality. There are many different ways to treat top grain leathers, from correction for uniformity, to leaving the natural look and feel of the leather to age-in over time. All of Bassett's custom leathers are top grain, to provide the best look and longest life for your new treasure.
Top-grain leather is one the most elegant, timeless kinds of leather you can buy for your home or office. Top-grain leather, comprised of the hide that's just below the animal's hair, contains the strongest, most durable part of the cow hide.
All of Bassett's custom leathers are top-grain, as we pride ourselves on making your furniture with only the finest materials.
Full grain leather
Full-grain leather is a specific type of top-grain leather. It is one of the most sought-after leather types as it is the most natural-looking leather type used in furniture sets. Other than hair removal and an aniline dye soak, there is usually no additional treatment for full-grain leather. Full-grain leather is also uncorrected, so it's natural beauty shines through. Full-grain leather furniture pieces tend to develop a beautiful patina over time.
Full-grain leather is not sanded or buffed to "correct" the grain. Thus, the surface is left intact before applying the surface or finishing coat.
Characteristics of authentic, full-grain leather
• Uncorrected
• Natural markings / hallmarks
• Color and texture variation
• Light, natural finish / topcoat
• Durable
• Develops a natural patina over time
Nubuck Leather
Nubuck leather is a special example of top-grain leather. Nubuck leather is known for its almost velvety, suede-like texture. (However, it is not a suede - it's finer, more durable leather as it is made from the top-grain of the hide.)
This extra-soft, rich, and buttery texture is created by sanding down the raw hide. Nubuck leathers exhibit a matte coloration - subtle, soft and elegant, and reflect light more like a velvet, with different tones depending on the direction of the nap.
Nubuck leathers can be a bit more fragile due to the soft nature of the hide. Nubucks may also be dyed and stained to create a more uniform color.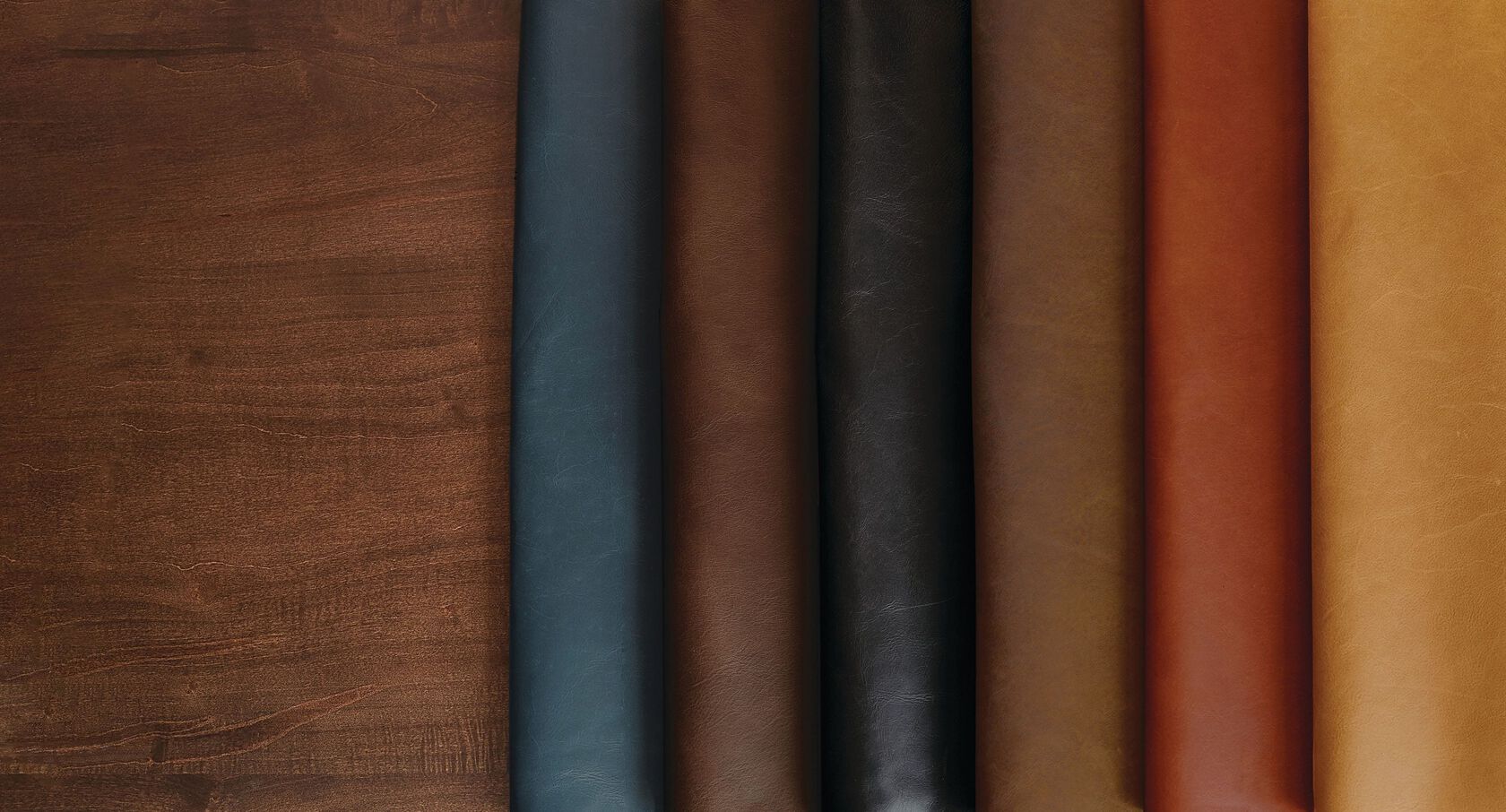 Nubuck leather may also show some small imperfections, which give it a unique and authentic character.
Characteristics of nubuck leatherCharacteristics of nubuck leather
• Soft, supple, velvety hand
• Dyed or stained
• May have some natural markings
• Very little color and texture variation
Explore Bassett's BenchMade Nubuck leathers here.
Aniline Dyed Leather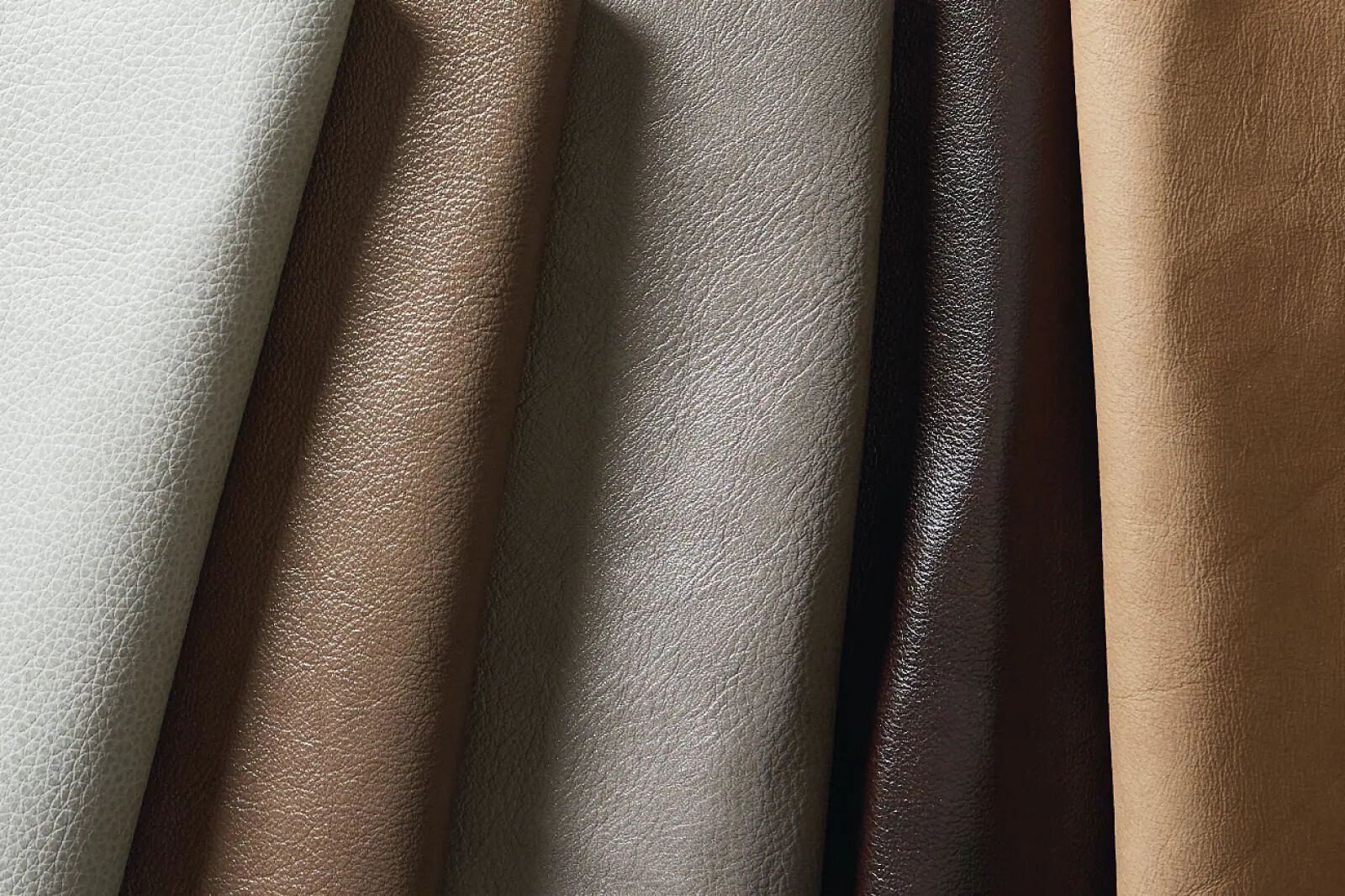 Aniline-dyed leathers are dyed through and through, with no surface pigmentation applied. This dying technique preserves the natural tonal features of the hide, be they subtle or varied. Aniline dyed leathers are frequently full grain or uncorrected leathers but can also be nubucks or leathers with other textures applied.
Aniline dyes are comparable to a stain for your wood furniture. Just as stain highlights the natural beauty of the wood, an aniline finish allows the natural grain of the hide to show through, while providing a light, subtle finish to the leather, allowing it to breathe.
Characteristics of aniline-dyed leathers
• Color runs through the depth of the hide
• Usually a more natural look
• Texture amount varies
• Develop a patina
All of Bassett's BenchMade leathers are aniline dyed – explore here.
Even-Coloration Leather – Semi-Aniline Leathers
If you have a busy household or have children or pets, even-coloration, semi-aniline leather may be a great option for you. Even-coloration leather is corrected with pigmentation (dyes), which evens the leather's tone and creates a uniform look. This type of leather gives the consumer a refined look that's also highly durable.
Characteristics of even-coloration leather
• Surface dyed
• Smooth hand
• Uniform color and texture
Wax-protected leather
Wax-protected leather adds another layer of protection to a top-grain leather for the hide to make it slightly more resistant to staining (though spills should always be blotted up immediately).
Once the surface of the leather is prepared, it is treated with a waxy or oily finish. This finish is also called an oil pull-up, meaning if you pull the leather up or crease it at any point, you can easily rub the spot out to blend back in. However, wax-protected leather is softer and can be slightly sensitive to scratches and abrasions. So, visible marks may form, which give the leather a vintage or antique aesthetic.
Wax-protected leather is slightly corrected with a fine topcoat. While wax-protected leather retains its natural beauty and develops a patina, it looks and feels sleeker than an uncorrected leather.
Characteristics of waxed or oil pull-up leather
• Slightly corrected
• Layer of protection
• Softer, sleeker hand
• Less color and texture variation
• Wax or oil topcoat
• Very durable
• Develops a natural patina over time
Leathers with Enhanced-Effects
Semi-aniline leathers with enhanced effects refer to treatment of leather that involves correction with artisan techniques. Special tools and treatments create the desired tones, patterns, and textures used in custom leather furniture applications as well as other use applications, such as shoes, belts, and handbags. You may see enhanced-effects leather sold as alligator or other animal prints and/or textures.
Characteristics of enhanced-effects leather
• Crafted surface texture, color, and pattern
• Firmer hand
Leather Origins
Leather hides come from many different places on the globe. Many leathers that you find on the market today originates from South America. The cows are smaller, so larger sofas and other furniture are pieced together in smaller sections of leather. In addition, South America experiences a generally hotter climate. This means more heat and more scars from insect bites. These hides can have more natural markings, which can be desired for a rugged, genuine look.
Across the Atlantic are European English oxen. They tend to be bigger than their South American counterparts. (hides range from 50‒60 square feet each!), which provide a much higher yield per hide. These oxen also tend to be exposed to fewer scratches and insects – and live in a more temperate environment. The result is a hide with far fewer blemishes or scars. This gives each piece of furniture as cleaner look and feel – elegant and refined. Bassett's premium BenchMade leathers all originate in Italy.
Browse different leather furniture here: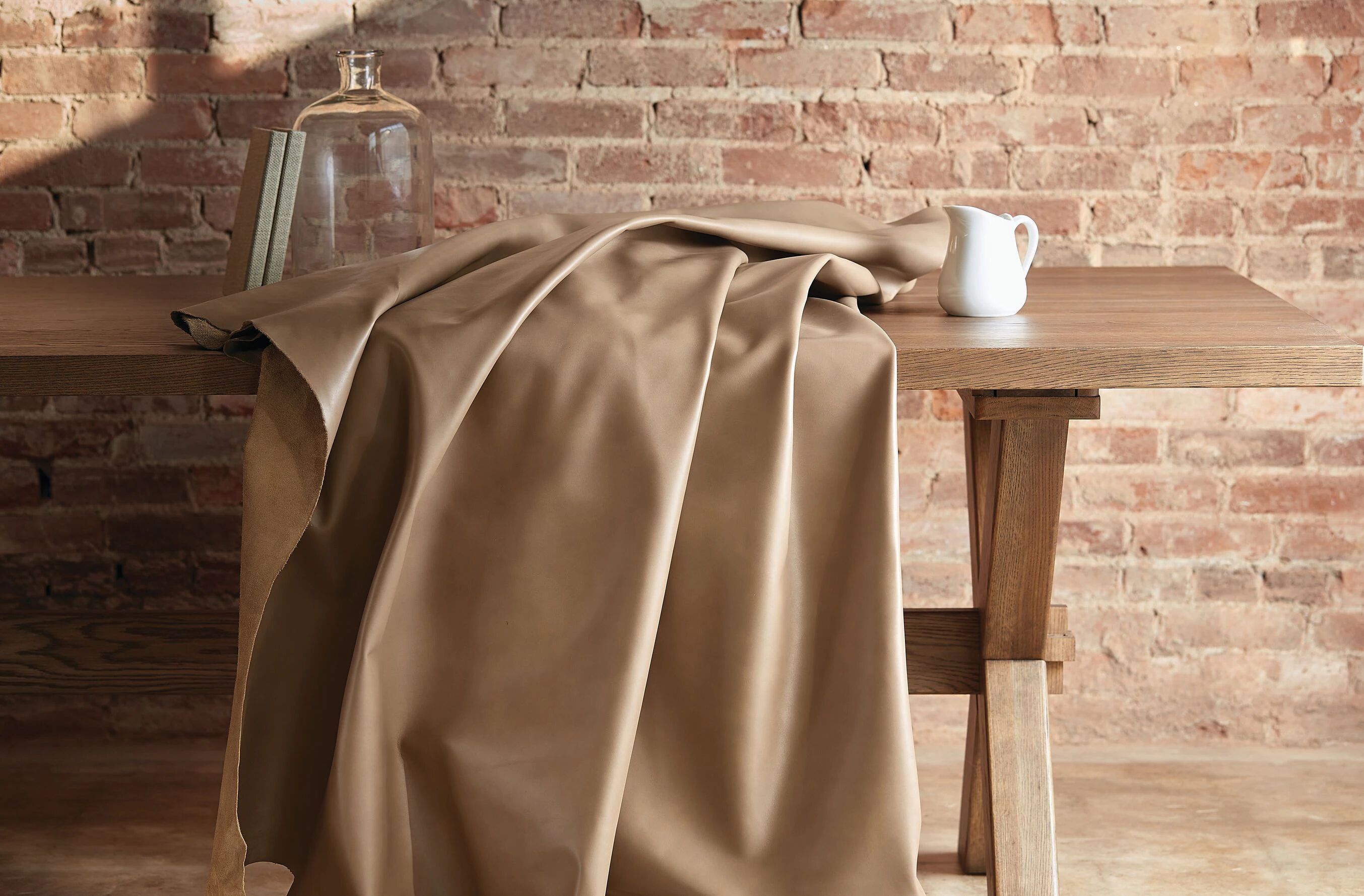 Other Leather Terms
There are many other types of leather variations and products that can be found while learning about and shopping leathers. Learn more about terms you may see in your research below.
Split grain leather
A cow hide is thick enough to create several usable layers. Split-grain leather is created by removing the top section of the hide, using only the remaining portion underneath (below the top-grain). Since the hide's surface is removed, all natural scars, folds, and blemishes are also removed. The remaining leather receives a topcoat treatment and can even be embossed with a created texture. Compared to top-grain leathers, split-grain leathers have a firmer texture. They will be uniform in color and texture. They can be used on the outer back and sides of furniture, which don't get touched as often.
Characteristics of waxed or oil split-grain leather
• Fully corrected
• Embossed texture
• Color topcoat
• Firmer hand
• Uniform color and texture
Bonded Leather
Bonded leather is made from leftover pieces of the hide, including dust and shavings, as well as PVC (plastic), nylon, or other materials. Bonded leather is created by rolling up various pieces of leather with a polyurethane or latex adhesive. It may be spray painted to look like full-grain or top-grain leather.
Bonded can be used for bookbinding, fashion accessories, and some furniture sets, but is not a 100% leather product.
Characteristics of bonded leather:
• Artificially embossed
• Uniform color and texture
• Hotter or colder to the touch
• Not breathable
• Can split, crack, or peel easily
Bi-cast leather
Bi-cast leather is a type of laminated, or reconstituted, leather that is made by splitting the rawhide into different layers. The bottom layer, which lacks the natural beauty and strength of the top-grain leather, is used to make bi-cast leather. This bottom layer of rawhide is coated with a polyurethane or vinyl layer, which is then embossed with a leather-like texture.
Bi-cast leather can peel and crack without the right treatment. Bi-cast leather was originally made for the apparel industry for glossy shoes and was later adopted for use in handbags and belts as well as some furniture.
Characteristics of bi-cast leather
• Artificially embossed
• Uniform color and texture
• Not breathable
• Can split, crack, or peel easily
• Less durable
Faux Leather
Faux leather is an artificial or synthetic material (sometimes called leatherette) that provides a leather look without using an animal's hide. Faux leather is made from either polyurethane or polyvinyl chloride (PVC), also called vinyl. Some furniture may be made with both leather and vinyl. Typically, leather is used on all surfaces your body would normally touch (e.g., seat cushions, seat backs, and arms), while vinyl is used on other non-touch surfaces (e.g., furniture sides and backs). While not nearly as prized as real leather, technology has led to the improvement of faux leather in recent years.
Characteristics of faux leather
• Artificially embossed
• Uniform color and texture
• Not breathable
• More economical
• Highly durable
Determine the quality of leather furniture
There is nothing more classic than high-quality, genuine leather furniture to grace your home or office space. Both durable and comfortable, leather furniture can become even more comfortable and stylish over time. After it breaks in, each piece gains a unique character as it ages.
"Leather furniture is also naturally resilient and luxurious," says Stephanie Holdren, a Bassett Certified Design Consultant in Atlanta. She loves the high-quality leather that Bassett always uses, which has a rich, buttery texture that fabric can't beat.
When you buy a piece of Bassett Furniture, you know that you are receiving an heirloom piece that's been crafted and assembled by experienced hands, using only the best of materials. With the right care, your authentic Bassett leather furniture is sure to last many decades. We encourage you to research, explore, and fall in love today on a special set of leather furniture that will be both treasured and meaningful to you—and will be handed down through generations in your family.
Check out the video below for even more information on different leather furniture types to determine what will work best for you
Buying Leather Furniture for Your Home or Office
No matter your use or purpose, Bassett Furniture has a leather line to suit your needs. You can choose anything from the supple texture and natural beauty of artisan-quality leather to a traditional, classic, unique, or bold color—or the practical appeal of protected leathers.
Because of the flexibility and different types of leather furniture, it is important to choose a piece that fits your lifestyle, stylistic preferences, use and purpose intents, and texture preferences. The main thing to look for in your new leather furniture is to make sure you are getting the product you purchase. Before making a leather furniture purchase, be sure to ask about how the leather was finished, how it was dyed, etc. An educated and experienced salesperson will be able to tell you all of the details for any specific leather you'd like to purchase.
Decorate with Leather
Why are you looking for leather today? Are you looking for a formal home or office entertaining area? Or do you want something casual and comfortable for lounging and relaxing? No matter what you're looking for, there are many styles, dimensions, profiles, and sizes available to fit your room.
When it comes to choosing leather pieces, a little leather can go a long way. "I like mixing leather with fabric upholstery," says Stephanie. "If a customer wants a leather sectional, I often suggest incorporating the chairs and ottomans in fabric. And if they're purchasing an upholstered sectional, then we'll add on oversized leather ottoman instead of a cocktail table. The variations are endless and allow you to be creative and have a beautiful space too."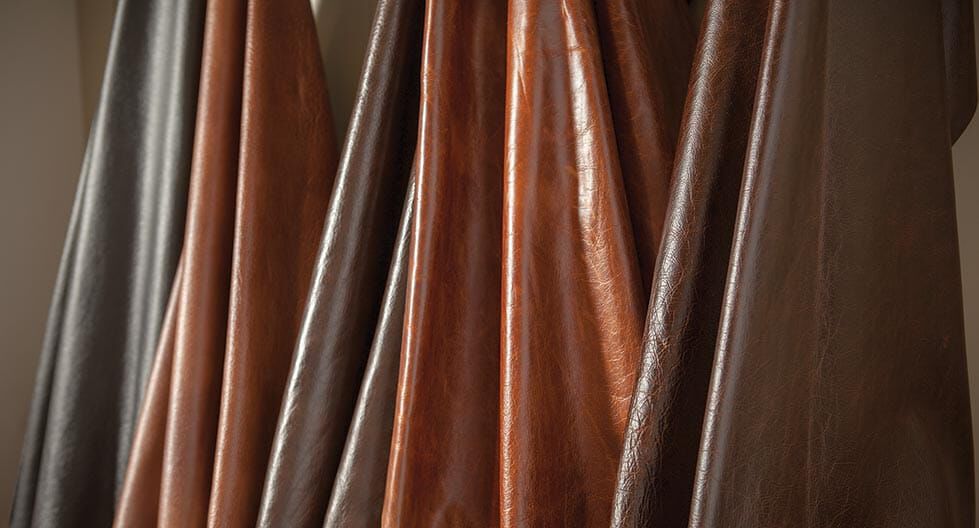 For color selections, Stephanie recommends checking your local boutique hotel bars to see what's fits in where you live. For example, bright whites and pastels can be popular in Miami Beach, while rugged browns abound in the Midwest, and sleek blacks and grays are predominant in New York. Of course, you don't have to be bound by what's traditional in your area. No matter where you live, you can create your own individual look in your home or office.
Once you've determined the leather color you want, you can incorporate other details to enhance your rustic or modern look: nail head trim; furniture legs; arm, back, and cushion styles; pillows; piping; and more. These details can easily move the needle from contemporary to classic or rustic.
Maintaining leather furniture
When you choose a top-grade leather for your next furniture purchase, you can easily maintain its natural beauty with a few simple steps.
• Never place your leather furniture set in direct sunlight or close to heat sources. Heat and sunshine can both fade, dry, and damage your natural leather.
• Blot spills right away on leather surfaces. Some types of leather are more absorbent than others. Some leathers may display a darkened spot after a spill that will eventually dry up and disappear, while other leathers can become stained or discolored.
• Dust your leather furniture regularly. Just like you vacuum weekly, be sure to quickly and gently wipe your leather furniture weekly to remove dust, pet hair, and other particles.
• Clean your leather furniture monthly with a soft, damp, white cloth. A monthly damp wipe will pick up other particles your dust cloth may have missed. And as some fabric colors can bleed, you wouldn't want to accidentally transfer a dye from damp fabric onto your leather furniture.
Leather furniture FAQ
Are leather sofas durable?
The short answer is YES, depending on the quality of leather selected. Compared to many traditional fabrics (with some exceptions for more modern, high-performance variations), leather is known to be more durable and resilient over time—and, with the right care, can even last for many generations.
What are the best leather furniture sets available?
The best type of leather furniture sets depends on your lifestyle, use or purpose, stylistic comfort, and personal preferences. While full-grain leather is the most sought-after leather furniture, other types of leather, such as nubuck, may best suit your style.
What brand of leather sofa is the best?
With more than a century of designing, crafting, and assembling the best leather furniture, like this gorgeous top-grain sofa, Bassett Furniture is a US-made classic, with a storied brand built on an uncompromising commitment to quality.
Where can I buy full-grain leather furniture?
Whether you are looking for sofas, loveseats, chairs, ottomans, recliners and motion furniture, or sectionals, Bassett Furniture showrooms have many options for full-grain leather furniture, which can be custom-built to your preferences. Feel free to browse through our nearest showroom for inspiration.
Bassett Is Your Premier Leather Furniture Store
You'll never grow tired of kicking back in a classic leather club chair with a stiff drink or nestling into a leather sofa to watch a movie or binge the TV series you've been waiting for. It's that good!
If you'd like more tips for buying leather furniture from an interior designer like Stephanie, just schedule an appointmentwith us today!
How Bassett Cares for the Environment
At Bassett Furniture, we scrutinize every production procedure to look for ways that we can be more environmentally friendly. For example, hide scraps not used are either recycled or ground up and sold for other purposes.
We can't wait to help you design the perfect look for your home or office.
Like to learn more or explore? Visit our leather furniture workroom today!