Home Decorating Ideas With Mirrors
Updated 3/10/23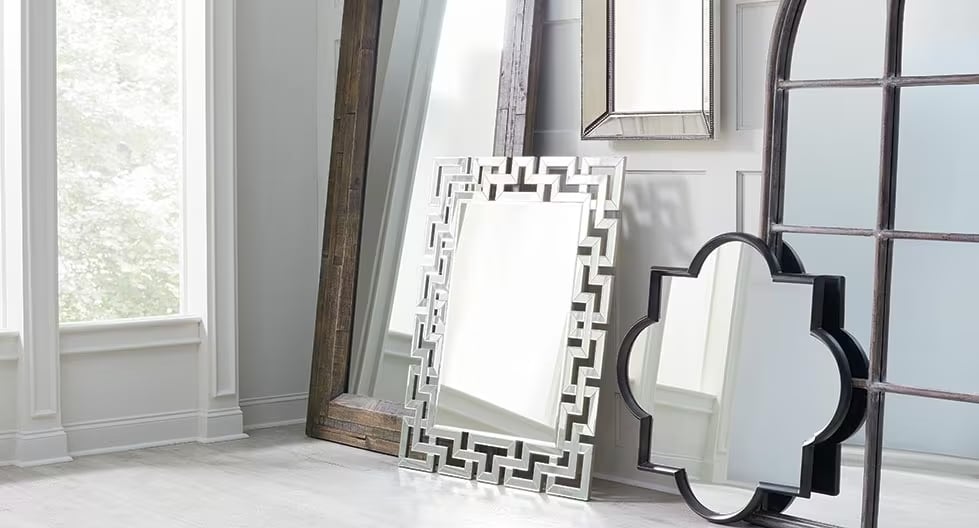 Decorate Your Home With Mirrors
For nearly any space in the home, you can find dozens of creative mirror ideas. Why are there so many mirror decorating ideas? Probably because a mirror is much more than a way to sneak a peek at your hair or the tuck of your shirt. Mirrors can easily be fun to decorate with. We have a number of home decorating ideas with mirrors you can use to give your home style and flair. And we could all use a little design magic.
Types of Mirrors
Mirror styles run the gamut from traditional to ultra-modern. Antique-style mirrors are often silvered mirrors that have the appearance of wear, or they may incorporate ornate gold metal frames ranging from Rococo to Baroque. Rustic mirrors have a simpler farmhouse appeal. A modern mirror may feature a mirrored frame. Whatever the style of your room, you can find a type of mirror to reflect it.
What Decorative Mirrors are Available?
When you're coming up with home decorating ideas with mirrors, consider that decorative mirrors come in all shapes and sizes: round, oval, rectangular, square, and decorative shapes like starburst, hexagon, or quatrefoil. Every shape carries some meaning, which adds a bit of spice to your decorating. Below are just a few of the possible shapes and sizes, as well as creative mirror decorating ideas for each.
• Large round mirrors offer a lot of flexibility and look great over a mantel or console or even over the vanity in a bathroom.
• Horizontal rectangular mirrors work well on a dining room wall or behind the sofa.
• Large oval mirrors can fit well over a bed horizontally, or vertically over a console in the entryway, where there may be little light.
• Small mirrors are often best-hung gallery wall style. Create a salon wall of mirrors, hang them suspended in a group of three, or use one as a central element in a mixed collection.
• Large rectangular floor mirrors can add drama when rested on the floor in a living room, entryway, or hallway. Bassett's oversize Stone Creek Mirror, a 7' rectangular mirror, creates an impressive room element. On a wall without a window, a large mirror becomes another window, adding a view and light, especially when you place the mirror opposite an actual window.
• Starburst mirrors have been around for hundreds of years and became especially popular as a mid-century modern accent.
• Quatrefoil mirrors become more than just an interesting shape in a French-inspired room.
• Abstract shaped mirrors become a bold focal point of the room. Since they draw attention, hang an abstract mirror as art over a fireplace mantel or reflect the chandelier in a dining room.
Whatever the shape and size of the mirror you choose to decorate your home with, make sure it is proportional to the wall space you have available. If you love a mirror but it doesn't seem big enough for that wall behind the sofa, consider repeating two or three of the same shape next to each other.
Bedroom Mirror Decorating Ideas
Decorating with mirrors in a bedroom adds glamour, style, and soft romance to the bedroom. Although your bedroom furniture may include a matching dresser or vanity mirror, rest assured that a completely matched mirror isn't necessary. Other creative bedroom mirror ideas include:
• Full-length mirrors, which are handy for dressing, or can be hung behind the bedroom door if you don't have room elsewhere for it.
• Matching mirrors hung like art above each nightstand.
• A dramatic mirror or a group of three suspended above a headboard as a focal point.
Bathroom Mirror Decorating Ideas
When decorating a bathroom, a mirror over the vanity is a must. How you use that mirror to inject some personality into the bathroom is up to you! If you have a double vanity, opt for two large mirrors rather than one gigantic mirror, matched to create symmetry. You want to make sure you have plenty of room to do your makeup when he's getting dressed as well.
Decorating with mirrors quickly brings light and style to nearly any area in the home. Shop the Bassett Furniture mirror collection to find a beautiful decorative mirror just right for your space. You can also consult with a Bassett designer to help you get more home decorating ideas with mirrors.
FAQs Related to Decorative Wall Mirrors
What size mirror do I need?
Our interior designers say this is the first question you should ask yourself when deciding on a decorative wall mirror. How much space you have available to work with on your wall will tell you what style, size, and shape mirror you should consider.
Why are mirrors important?
There is just something about framed mirrors that seems to bring life and style to any room. They can be used as the focal point of a room or they can double as wall art in a gathering area. At the very least, a decorative wall mirror makes for the perfect piece of home decor when trying to fill gaps that are left by bigger pieces. Browse through Bassett's exquisite selection of decorative wall mirrors to find one that will compliment your home.
Do you need a small mirror for added decoration?
Sometimes you don't need a large mirror to make a big statement. A perfectly placed small mirror can be just as valuable when used in the right way. For example, a small mirror would look great in a hallway or staircase between photos of the family, or beside a coat rack in the foyer or entryway for guests to check their appearance as they leave. With small vanity mirrors, it's all about functionality.
Who sells mirrors near me?
Shop decorative wall mirrors online from the comfort of your home with Bassett Furniture. If you would prefer to see our selection in person, head on down to the Bassett store nearest you to bring that perfect mirror home yourself.